Toronto Showing the Way With Year-Round Cycling Network
Let's hope 2016 sees a more balanced approach take root at City Hall where complete streets become the norm citywide.
By Jason Leach
Published December 23, 2015
I was in Toronto last Friday and really noticed a massive change in their bike lanes over the last year. They were envious of us when we got the Cannon Street Cycle Track, but we've done nothing since then, while they've added at least the bare bones of protected lanes and cycle tracks north-south and east-west through the entire downtown and surrounding area.
Richmond-Adelaide is brilliant. This is exactly what we should do on Main, Wellington/Victoria and Claremont. Sherbourne and Beverly/Simcoe complete the north-south connections.
The new Waterfront Trail and Queen's Quay cycle track are brilliant, of course.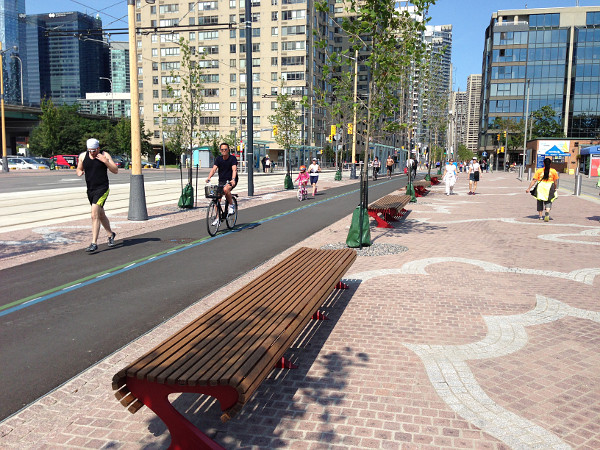 Queen's Quay bike lanes (RTH file photo)
And now they've just announced that the new priority bike lanes will be cleared of snow to make cycling easier through the winter.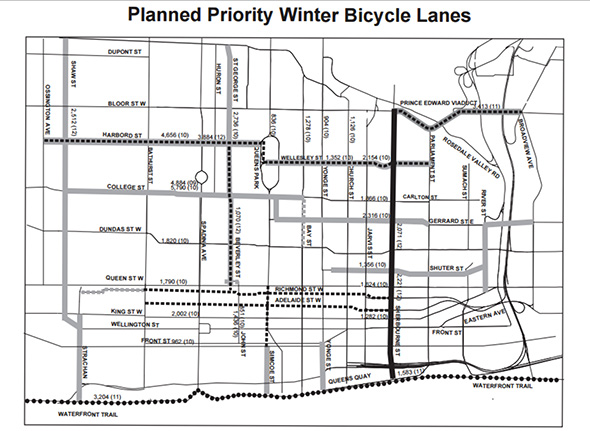 Planned priority winter bicycle lanes, Toronto
Meanwhile, we are still trying to maintain enthusiasm about Cannon, since nothing substantial has happened the last year and a half.
The new cycle tracks on Richmond, Sherbourne, Adelaide and so on are physically protected with knockdown bollards and raised curbs.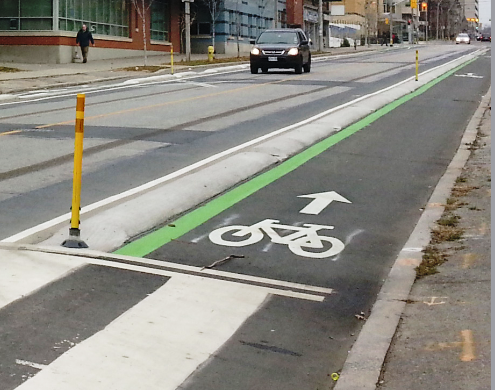 Sherbourne Cycle Track (Image Credit: Blogger)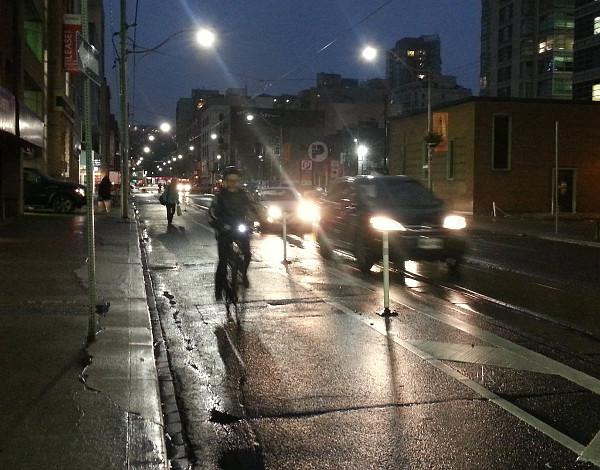 Richmond Street Cycle Track (RTH file photo)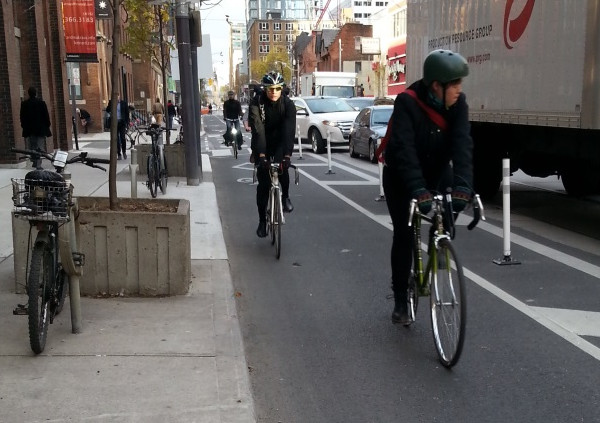 Adelaide Cycle Track (Image Credit: Biking Toronto)
The Richmond and Adelaide bike lanes are former multilane one-way streets (sound familiar, Hamilton?) now with protected bike lanes, two travel lanes and one off-peak parking lane.
Bloor Street is next on the city's list with bike lanes from Shaw Street to Avenue Road coming in 2016.
Local Developments in Development
Here in Hamilton, there are at least rumblings of some good news coming in 2016. Hamilton's long-awaited, many-times-delayed, first parking-protected bike lanes are planned for Charlton and Herkimer from Dundurn to James.
A recent rash of deaths has sparked a movement by City Council to potentially expedite a multi-use path on the Claremont Access. One would hope we would make this a showcase legacy project by extending it north along Wellington Street to the West Harbour, as well as extending it south to West 5th and Fennell Avenue.

Claremont Access (RTH file photo)
In addition, Ward 3 Councillor Matthew Green has announced that he will be bringing a "Vision Zero" motion to Council at its first meeting in January, calling on the City to commit to making our streets safe and inclusive by design.
Finally, a funding proposal has been submitted by the city to the Province for a protected two-way cycle track on Bay Street from Aberdeen to Cannon with traditional bike lanes north of Cannon to Bayfront Park and the new GO Station.
But until details are confirmed and installation is planned, there is no guarantee that 2016 will see any more activity than 2015 saw.
Again, we continually fail to spend even the paltry cycling budget each year, and then wonder why other cities go flying past us with their cycling networks.
Let's hope 2016 sees a more balanced approach take root at City Hall where complete streets become the norm citywide - not just when pedestrians and cyclists are killed and residents yell and scream for them year after year.
Post a Comment
You must be logged in to comment.