Hamilton Can Learn From Toronto's Waterfront
Despite its flaws, the rapidly developing waterfront down the QEW can teach us a lot about creating great public spaces.
By Jason Leach
Published June 30, 2015
A lot of recent discussion has surrounded a possible wave of development around Hamilton's long-neglected West Harbour lands stretching from the base of Dundurn Castle over to the eastern edge of Pier 8 overlooking the HMCS Haida.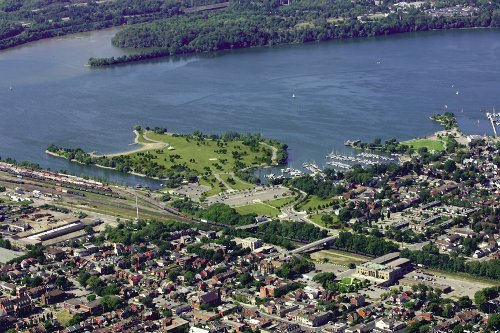 Hamilton West Harbour
Whenever waterfront development comes up, we inevitably hear the refrain, "Let's make sure we don't ruin our waterfront and make it like Toronto's."
Of course, the Gardiner Expressway and Great Wall of Condos completely blocking the city from the water is a giant mistake that should not be repeated in Hamilton.
But at ground level, Toronto's waterfront has done a couple of tremendous things that I'd like to see way more of here.
They've actually been busy building, not just talking, planning and then planning some more like we are famous for in Hamilton. Their waterfront has changed dramatically over the past five-to-ten years while we continue talking about ours.

They've put tremendous attention to detail and to providing a myriad of fun places to go on the waterfront. It's not just one giant park with a walking path.
Hamiltonians can rest easy that Toronto's mistakes won't happen here, in large because we did one thing absolutely right - we developed the public green space first.
This means places like Bayfront Park, Pier 4 Park and Pier 8 Park will remain as public green space forever. Toronto residents would kill to have these fabulous waterfront parks along their shoreline.
But Hamilton needs to start planning for more than just blocks of condos with a walking path around the perimeter.
There are many elements of Toronto's waterfront that I would love to see us replicate here, both at Pier 8 and in the Barton/Tiffany lands.
Learning from Toronto
Our family spent a couple hours at HTO Park on Queen's Quay recently. The kids loved the small sandy beach area with umbrellas bolted down into the pier. It was busy with residents tanning, reading, napping and enjoying life on the water.
Muskoka chairs and umbrellas at HTO Beach: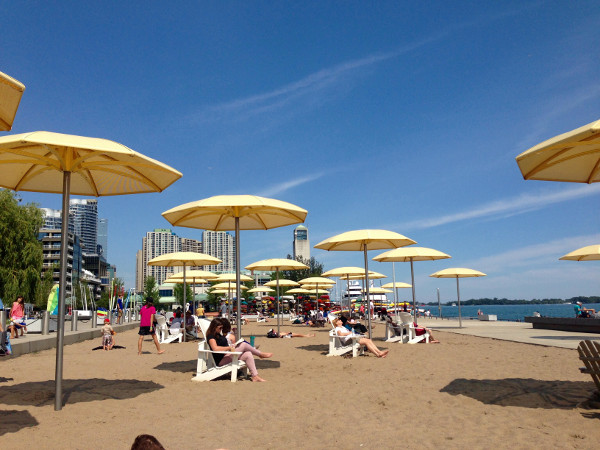 HTO Park
The various 'layers' of the promenade with many seating walls, benches and chairs: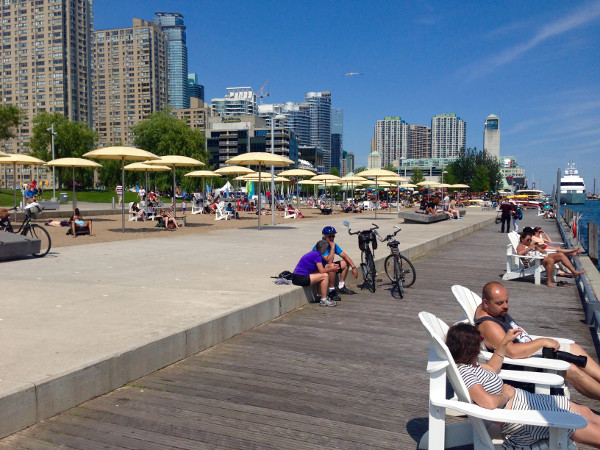 Layers of the promenade
A family enjoying the Muskoka chairs in the shady/grassy area of HTO Park above the beach: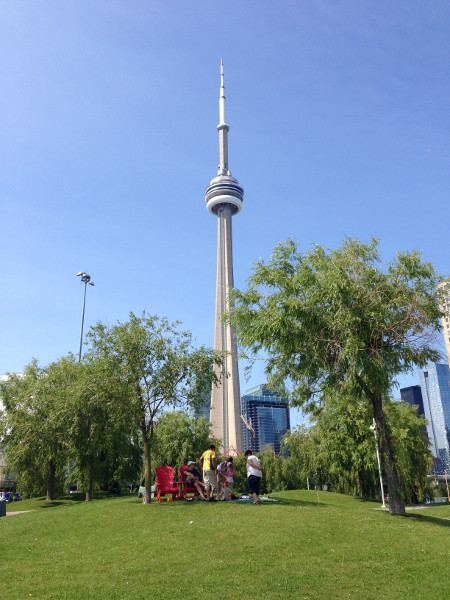 Muskoka chairs with CN Tower in background
Further along the waterfront there are many restaurant and cafe patios with comfortable seating and flower planters. The cobblestone public promenade is wide and continuous: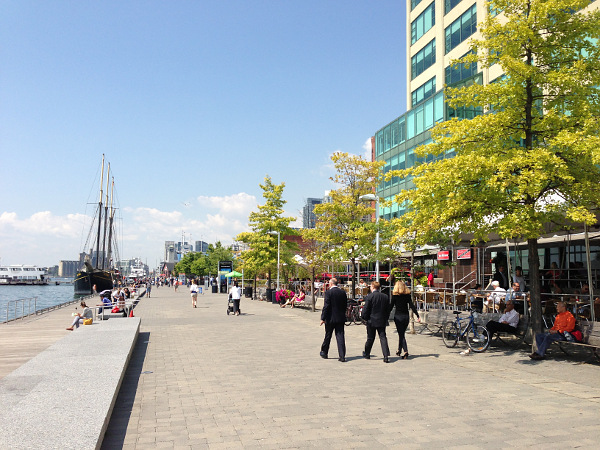 Public promenade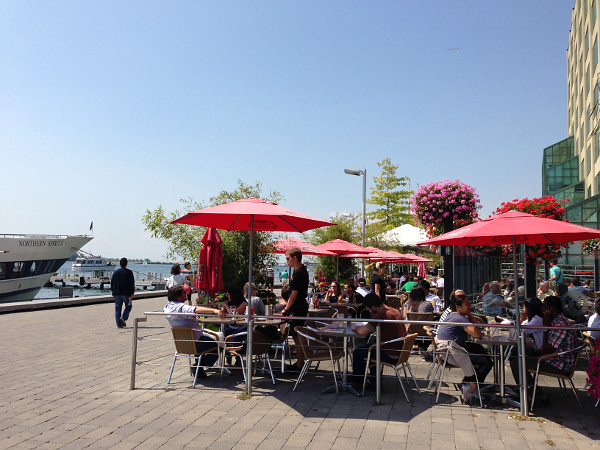 Patio
Speaking of cobblestone, it is very easy to see the long-term vision for Toronto's waterfront slowly being pieced together with each new project.
The recently completed Queen's Quay is a stunning transformation and includes a wonderfully designed cobblestone pedestrian realm: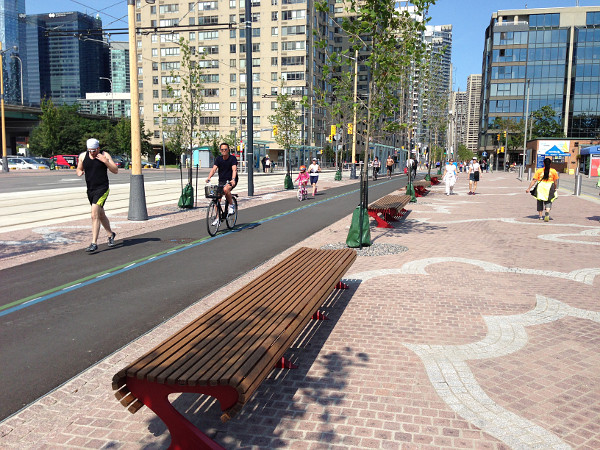 Queen's Quay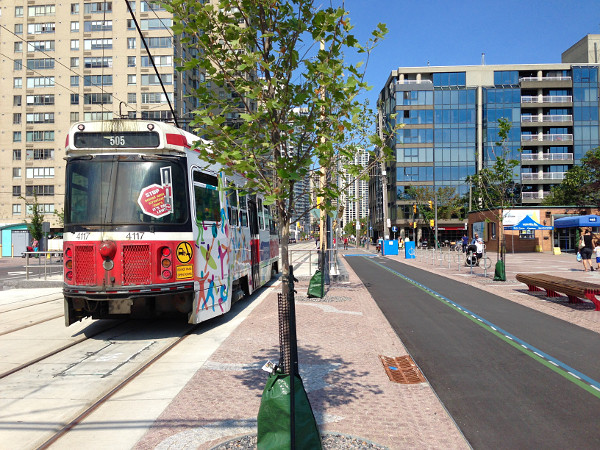 Room for all modes
The bike lanes along Queen's Quay are what Hamilton should be building across our unnecessary, mega-wide streets all over the city.
They are protected from traffic and make highly visible use of paint where needed to clearly mark the lanes. Hamilton's paint-phobia needs to end ASAP.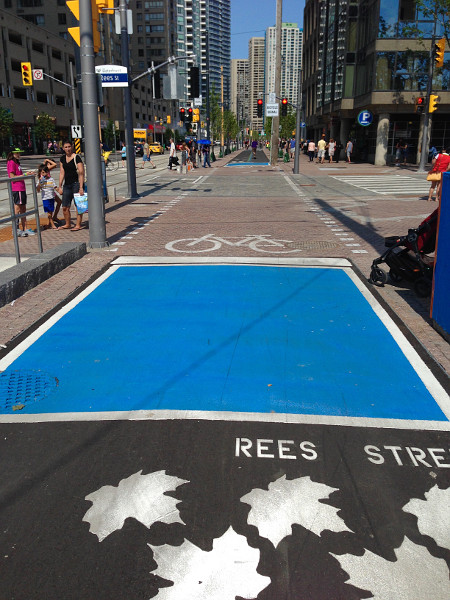 Bike lane road crossing
Hamilton has a rich industrial heritage, yet it seems as though we rarely celebrate it with the use of cobblestone when revitalizing old neighbourhood streets or waterfront districts. Black asphalt seems to be our go-to.
We should make cobblestone a priority all through the Barton/Tiffany lands, as well as Pier 8.
The Distillery District is another fine example of reminding everyone of the industrial past by using appropriate materials. Imagine if this was all black asphalt?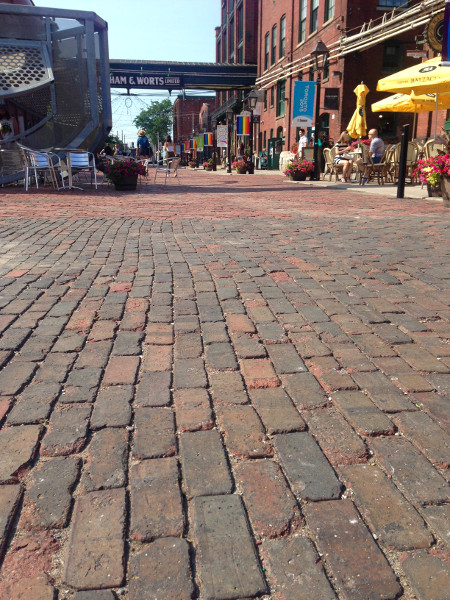 Cobblestone
Sugar Beach further east along the Toronto Waterfront shows the consistency in design being used throughout this waterfront district. Trees, promenandes, cobblestone, ample seating and again, more fun destinations for the entire family.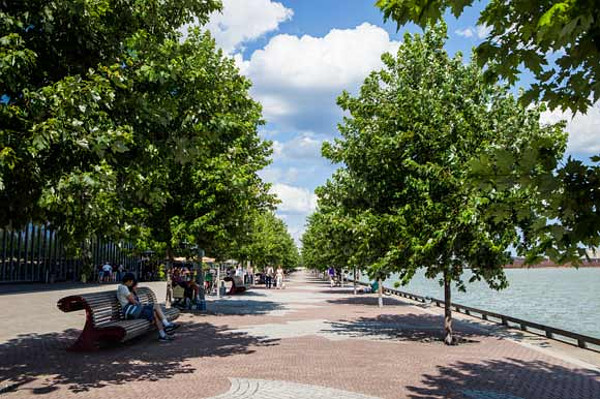 Tree-lined waterfront promenade (Image Credit: Yonge Street Media)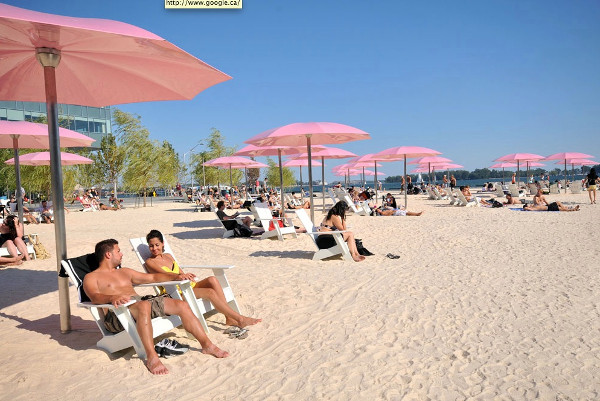 Toronto beach (Image Credit: condo.ca)
Unique, fun urban spaces need to become a priority in Hamilton. Think interactive water-jet fountains, sandy beaches with Muskoka chairs, and artsy splash pad parks with a dramatic canoe.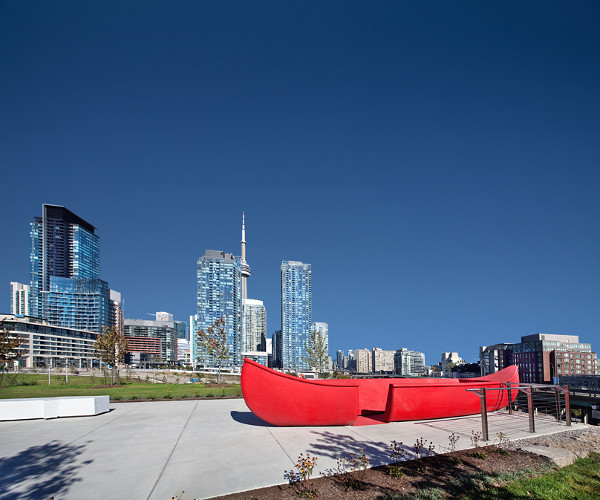 Canoe Landing Park (Image Credit: Reflections Outdoors)
Hamilton should incorporate these various types of elements when planning not only our waterfront lands, but any lands city-wide.
Imagine a large play structure overlooking the harbour from Bayview Park, or a cobblestone promenade along the Caroline Street North pedestrian piazza planned in Barton-Tiffany.
A Queen's Quay-style design with cobblestone and separated bike-lanes along Barton Street, Stuart Street, Caroline Street, Strachan Street and Queen Street in the Barton-Tiffany district.

A Sugar Beach with splash pad jets, chairs, umbrellas and large sandy beach as the focal point at the north/central area of Pier 8 with a tree-lined cobblestone promenade leading around the waters edge, and also from the south, cutting right through the newly developed pier.
The possibilities for these prime pieces of land are endless. We only have one shot to get it right, and we must get it right.
Empty lawns and black asphalt won't cut it.
The development along these two prime pieces of downtown waterfront land must match the best waterfronts in the world.
Despite its flaws, the rapidly developing waterfront down the QEW can teach us a lot about creating great public spaces.
Post a Comment
You must be logged in to comment.