Proposed Design for Bay Street Cycling Improvement
City staff plan to submit an application to the Province for capital funding on a new cycling facility on Bay Street.
By Jason Leach
Published October 05, 2015
City staff plan to submit an application under a $10 million Provincial cycling infrastructure capital fund to build new cycling infrastructure on Bay Street.
The City has not shared any plans yet, but according to Daryl Bender, Public Works manager for cycling, staff are currently working on a concept that would include curbside parking on one side, one-way vehicle traffic and two-way bicycle traffic.
Bender said staff are open to suggestions while developing their proposal, so I have come up with a couple of options. But first, a few points for consideration:
I don't know how much provincial money will be available for this project, but I would suggest we go for the 'best possible design', and leave ourselves room to scale back a tiny bit if necessary.
The best design in this case would be a raised cycle track on the west side of Bay from Herkimer to Cannon.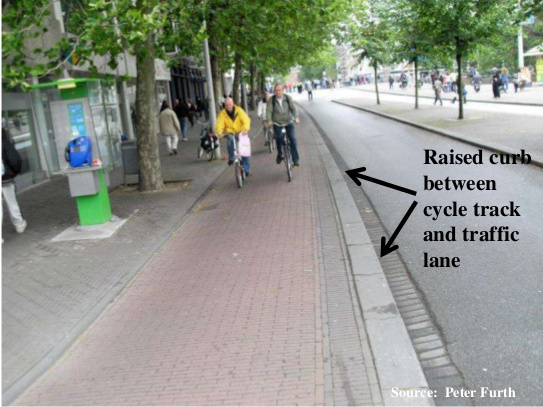 Raised curb cycle track in The Hague
Maintaining the raised profile through intersections will go a long way towards creating a safer pedestrian/cycling environment along this very busy pedestrian street.
A slightly scaled-down version of the same plan would be a concrete curb installed as separation between the cycle track and traffic lanes, a la this example from Montreal: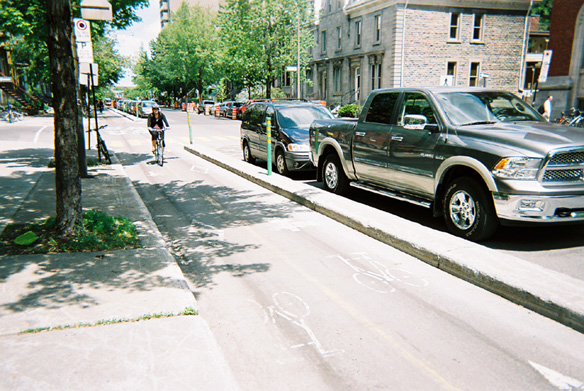 Curb separated bike lane in Montreal
These design elements are exactly what we should be aiming for city-wide with bike design. Those cities are world leaders in cycling precisely because of their safe bike lane designs.
Here then, are my proposed cross sections.
Aberdeen to Herkimer
I suspect wealthy residents here won't put up with losing their street parking on both sides, and it's a super quiet stretch of road, so I suggest northbound bike sharrows with a southbound contra-flow bike lane: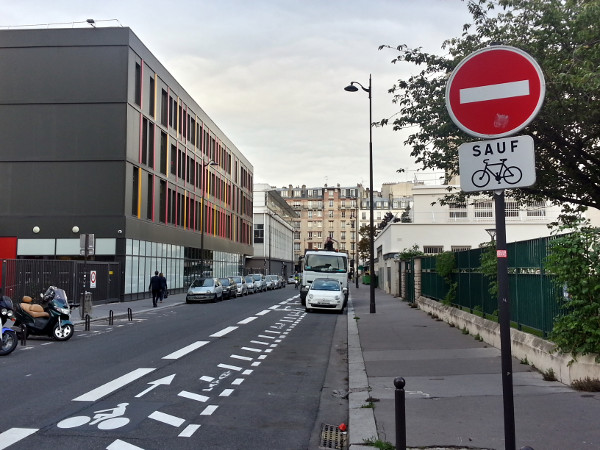 Contraflow bike lane in Paris
Herkimer to Hunter
Two-way cycle track on west side of Bay. One northbound travel lane, curb parking on east side. I choose the west side of Bay for the cycle track as it would receive less interference from the busy one-way cross-streets such as Herkimer, Main and York.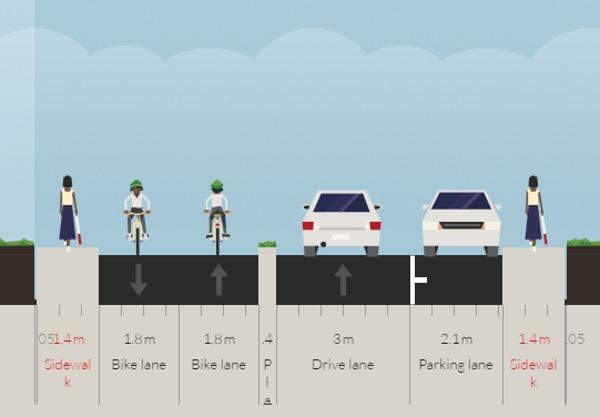 Render of Bay from Herkimer to Hunter (Image Credit: Streetmix)
Being on the 'left' side of Bay, the only real busy crossing is King, and that corner vehicles are used to waiting before turning left due to the high pedestrian volume there. Much greater than the SE corner of Main/Bay.
Also, the west side of Bay avoids busy car movements entering/exiting City Hall, new McMaster Campus, Jackson Square, First Ontario Centre.
Hunter to Cannon
Two-way cycle track continues. 2 NB travel lanes for cars.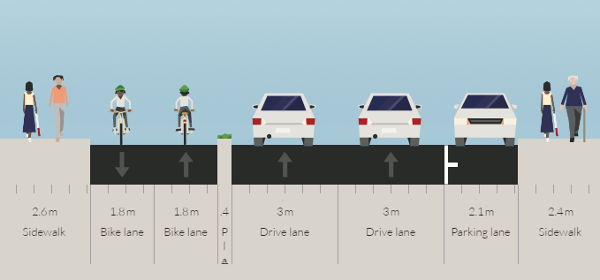 Render of Bay from Hunter to Cannon (Image Credit: Streetmix)
Only have one left turn lane from Bay onto King (with an advance green if it is really necessary). Scale back the pedestrian bumpout on the northwest corner of Bay and King if necessary to allow the cycle track to continue.
For the parking spots on the west side of bay between King and York, veer the cycle track in next to the sidewalk and bump out the parking spots similar to what was proposed in 2014 for the Hunter Street GO Station.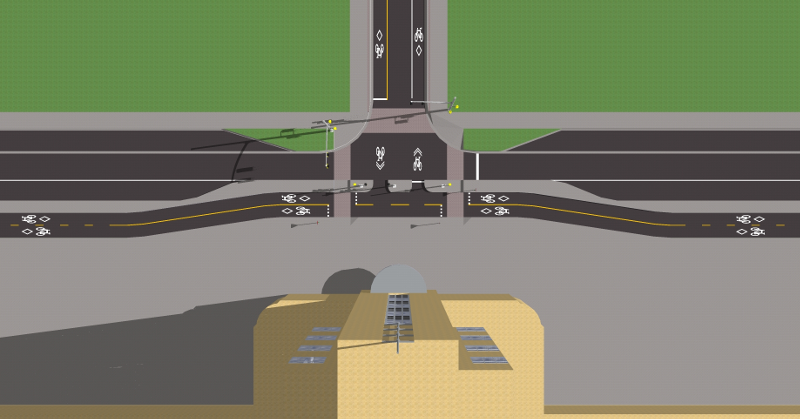 Rendering of Hunter Street bike lanes at GO station, overhead view
North of Cannon
North of Cannon I would suggest raised bike lanes in each direction on their respective side of the road. This would leave one car lane each direction, and the southbound bike lane would be parking-protected.
North of Barton, things get tight. Clear, safe connections to the future Caroline/Central Park Greenway as well as Park Street would probably make sense to continue north to the waterfront, or remove the street parking north of Barton to the new bridge to allow for bike lanes. There are already bike lanes on the CN rail overpass to Strachan Street and Bayfront Park.
I look forward to hearing what comes of this application, and I appreciate the opportunity to share some design ideas. I suspect many others in the cycling community would also love the opportunity to contribute to this much-needed north-south link.
Post a Comment
You must be logged in to comment.