Parkway Traffic Study Needs Broader Scope
The motion to study widening the Linc and RHVP must be expanded to include the full range of policy options with their respective costs and benefits.
By Ryan McGreal
Published November 05, 2015
It's always a good idea to study ideas, so the recent Public Works Committee vote to approve Ward 9 Councillor Doug Conley's motion to look at widening the Red Hill Valley Parkway and Lincoln M. Alexander Parkway to six lanes has merit.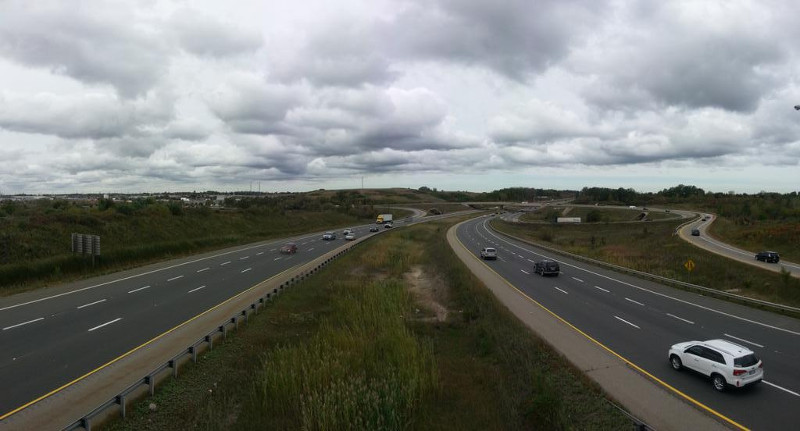 Red Hill Valley Parkway (RTH file photo)
However, before the motion is approved by Council next week, its scope needs to expand to include the full range of policy options to address increasing vehicle traffic on the highways and a comprehensive evaluation of the costs and benefits of each option.
It is unfortunate that the Public Works Committee missed the opportunity to take the comprehensive approach when it approved Conley's motion, which predetermines an outcome in the absence of any actual research.
It should trouble everyone who cares about responsible governance that the committee in charge of guiding the city's transportation infrastructure investment is so blindly prejudiced in favour of expanding vehicle lane capacity that it doesn't even occur to them to ask staff to consider other transportation policy options.
Induced Demand
Any discussion of adding lane capacity to address congestion must start with the law of induced demand, which is a fundamental principle of how transportation networks operate. Induced demand is simply an application of the economic law of demand, which states that when the price of a good goes down, all other things being equal, demand for it will go up.
Likewise with induced demand, as the supply of lane capacity increases, more traffic is generated to consume it. This effect has been proven abundantly over decades of robust transportation studies all around the world and is very well understood by transportation engineers and researchers and planners.
To put it bluntly, if adding lane capacity solved congestion, we would not be talking about widening the Linc/RHVP in the first place.
Incidentally, this is true of every transportation mode, not only vehicle lane capacity. If you increase transit service and/or reduce fares, that attracts more people to use transit. (Likewise, walking and cycling increase when the network's capacity to accommodate walking and cycling goes up.)
Unfortunately, a basic understanding of induced demand doesn't seem to have percolated over to policy makers, who continue to respond naively to traffic congestion by calling for extra lanes, which inevitably generate more traffic until they become congested again.
Council was warned about this back in 2007. When the Red Hill Valley Parkway was being built, Council was advised that peak rush-hour service levels would quickly become poor if the City did not increase transit service to accommodate some of the additional trips being generated by all the new suburban development that the highway's completion enabled on the east mountain.
Yet in the past eight years, the City has invested almost no money whatsoever in increasing transit service anywhere, let alone the east mountain.
In fact, we have stagnated or declined in transit funding and service continuously for the past thirty years, during a time when many other cities have increased transit service - and ridership - dramatically.
Improved Transit
The first and most obvious response to increasing congestion on the highway should be to look at accommodating some of those trips with improved transit service.
It has been astonishingly short-sighted for the City to ignore the warning that it needed to increase transit service in order to avoid traffic congestion on its new highway, and then respond to the predictable emergence of traffic congestion by deciding to look at further widening the highway.
Even now, the City has a Ten Year Transit Strategy that invests not one penny of new levy money into increasing service, but instead loads all of the expansion cost onto riders via fares (which will actually deter some people from using transit) and begs the Province for funding to buy new buses, a request the Province has already declined.
The evidence is clear: when cities increase transit service, more people use transit. More convenient stops, frequent service, better connections - these are proven methods to draw some people out of their cars and into transit.
We need only look up the highway to Waterloo Region, a municipality strikingly similar to Hamilton, with similar size, population and polycentric urban form. Starting in 2000, when Waterloo's regional transit system was amalgamated, service levels have grown steadily and ridership has grown in locksteop right along with it. So much for the claim that good transit won't draw people out of cars.
Area Rating and Fragmented Transit
Ironically, Waterloo is still a region of municipalities whereas Hamilton is an amalgamated city, but unlike Waterloo Region, Hamilton's transit system is still fragemented by area rating.
Under area rating, the various former municipalities comprising Hamilton each pay different tax rates toward transit and receive service levels commensurate with what they pay. What this means is that if a former suburb wants a new transit service, its residents must pay 100 percent of the increased cost rather than distributing the cost among all the city's ratepayers.
That is a huge disincentive to expanding transit service and makes it impossible for the City to design a comprehensive transit system - not that we have actually tried to made any significant changes to the design of our transit system in the past 30 years.
Also ironically, the same Hamilton City Councillors who want to spend $100 million to widen our municipal highway are also opposed to ending the area rating balkanization of transit funding and service operation.
The City was supposed to put an end to area rating by 2010, but the 2006-2010 Council punted the decision to the 2011-2014 Council. That Council managed to resolve area rating for recreation and fire services in early 2011, but punted a decision on fixing transit to the 2015-2018 Council.
Now it's almost 2016 and the current Council has already indicated that it will punt a decision yet again out beyond the 2018 election. This is a staggeringly irresponsible abrogation of Council's fundamental role to lead this city.
Congestion Pricing
People respond to incentives and disincentives. This is a fundamental law of economics and it has been demonstrated to a great level of detail and nuance in people's choices through a growing body of research in cognitive and behavioural psychology. One of the findings that has emerged is that people are not entirely rational in how we value things.
For one thing, we weigh losses more strongly than gains, so we will do more to avoid a cost than to achieve a benefit. This is why, for example, a five-cent cost for a plastic bag at the grocery store is much better at getting people to bring their own bags than a five-cent discount.
For another, we tend to value money more than we value time. So a person who is willing to sit, frustrated, in an extra half an hour of traffic congestion will make a different decision to avoid paying a toll.
A number of cities have implemented congestion pricing on their highways: during peak times, people who want to drive have to pay a little bit of money to use the highway.
What invariably happens when the city gets the price right is that some people change their decisions: they drive earlier or later, take transit instead of driving, carpool or otherwise avoid the toll.
It doesn't have to be that many people, either: traffic congestion is a non-linear phenomenon in which a small increase in the total number of vehicles on the road produces a disproportionate increase in congestion. Likewise, a small decrease in the number of vehicles can turn a snarl of stop-and-go traffic into a smooth flow at the speed limit.
Jonas Eliasson, the director of the Centre for Transport Studies at the Swedish Royal Institute of Technology, explains how congestion pricing works in a lively TED talk from 2012.
The bottom line is that people's choices and options are more elastic and flexible than we normally assume. Not everyone who is driving at a given moment has to be driving - we have choices, and price signals affect the choices we make.
For those who complain that it's not fair to charge people to drive in rush hour, we must note that we are already collectively paying for congestion in lost productivity, stress and disease from long commutes, increased air pollution and various other externalities.
Congestion pricing merely internalizes some of those external costs to the people who are directly causing them.
Comprehensive Approach
An effective, comprehensive solution will likely have to include both increased transit service and some congestion pricing. The good news is that the revenue from the highway tolls can go toward increasing service, which will give more people an alternative to driving.
If we only increase transit without putting a price on congestion, we will only put off the point at which congestion becomes a serious problem.
This is due to the Downs-Thomson Paradox, named after Anthony Downs and J. M. Thomson, which states that the equilibrium speed of car traffic on a street is a function of the comparative speed of an equivalent trip on public transit.
In short, increasing transit service will draw some people out of their cars, and that freed-up lane capacity will in turn draw some people to generate additional car trips until the two systems achieve equilibrium again.
On the other hand, adding lane capacity generates more traffic - including drawing some people out of transit and into cars and making both systems operate less effectively. Holding the line on lane capacity and increasing transit will provide for the maximum overall network carrying capacity at the most effective overall cost.
Of course, putting the right price on congestion to keep traffic volumes free-flowing, as well as increasing transit service at the same time, does have the potential to more or less eliminate congestion.
The absolute worst thing we can do is add lanes and not add transit service or congestion tolls, because we will end up with a system that is still congested, but with one-third more cars stuck in traffic and an even less-utilized transit network.
(Major h/t to Craig Burley for reminding us that the City was warned about service level issues if the City does not invest in increasing transit ridership and other transportation demand management measures.)
Post a Comment
You must be logged in to comment.