Complete Streets Presentation for SPN Workshop
Our streets are our collective property, our shared public resource. Ultimately, we can choose to do what we want with them.
By Ryan McGreal
Published October 02, 2015
This article has been updated.
This article is adapted from my speaking notes for last night's Complete Streets Workshop, organized by the Hamilton Sustainability Professionals Network.
Cities have the capability of providing something for everybody, only because, and only when, they are created by everybody.
— Jane Jacobs, The Death and Life of Great American Cities
To put it simply, a complete street is a street that has been designed with every road user in mind. Complete streets are designed to make space for everyone, not just people in cars. They are designed to give people choices in how to get around.
Complete streets bring people into contact - safely. When two people in cars come into contact, that's a collision. But when two people on foot come into contact, that's a stop-and-chat.
Fundamentally, complete streets seek a better balance between the various uses people have for streets, including various ways of moving around.
It's unfortunate that we use the term "complete streets" for this, because it conjures up some massive, over-engineered street that has been crammed with every transportation mode, lane after lane. Can you imagine how hard it would be to cross a street like that?
I tend to prefer the term "inclusive streets" - streets designed to include everyone, not just people in cars.
The way to make a given street more complete or inclusive will depend on the local context: how big is the street, how much vehicle traffic does it carry, what are the shapes and uses of the buildings around it, what connections does it make to other streets, and so on.
But when you're taking a street that is currently automobile-dominated and making it more complete, that usually - though not always - means taking some space away from automobiles and using it for something else: walking, biking, public transit, parking, plants, trees, seating, and so on.
Safer For All Road Users
We have to ask: why does this matter? Why should we care about how complete or inclusive our streets are? There are lots of important reasons:
Complete streets provide better quality of life for people living near them.

Designing streets around the assumption that everyone drives is deeply unfair to people who don't drive - a group that includes older seniors, people with disabilities, people who can't afford a car and every child under 16.

Complete streets have been proven over and over again to support improved local business and property values.

Complete streets encourage more physical activity - or active transportation as the planners call it. This improves public health by reducing the risk of heart disease, diabetes and other lifestyle-related diseases.
But for me the most important factor is straight-up safety: complete streets are designed to reduce dangerous vehicle speeds and that makes them safer for everyone, including people in cars.
The kinetic energy of a moving vehicle is an exponential function of its speed. Go twice as fast and your car has four times as much energy. Go four times as fast and your car has 16 times as much energy.
Here's how that plays out in terms of what happens when a driver collides with a pedestrian:
| Speed | Risk of Pedestrian Death |
| --- | --- |
| 32 km/h (20 mph) | 5% |
| 48 km/h (30 mph) | 45% |
| 64 km/h (40 mph) | 85% |
So when you reduce dangerous vehicle speeds, you reduce the chance that a collision will cause serious injury or death. In fact, braking distance is also an exponential function of speed, so when you reduce vehicle speeds you also reduce the chance that a collision will happen in the first place.
Unfortunately, the way we engineer arterial streets in Hamilton is to design them for a running speed of 70-100 km/h. You start to get a sense of why Hamilton is the second most dangerous city in Ontario for pedestrians (behind Windsor).
I'll show some photos of those Hamilton streets below. But first I want to show some examples of complete street redesigns.
Before and After
While preparing this talk I came across an awesome website. As you know, Google drives a car up and down basically every street on earth and takes 360 degree photos to generate Street View for its maps. They've been doing this for around eight years now, recently added a function that lets you see historical Street Views of streets back to when they started.
So this website showcases complete street redesigns by using these historical before and after images from Street View. It has hundreds of locations but here are just a few examples to demonstrate some of the ways you can redesign a street to be more inclusive.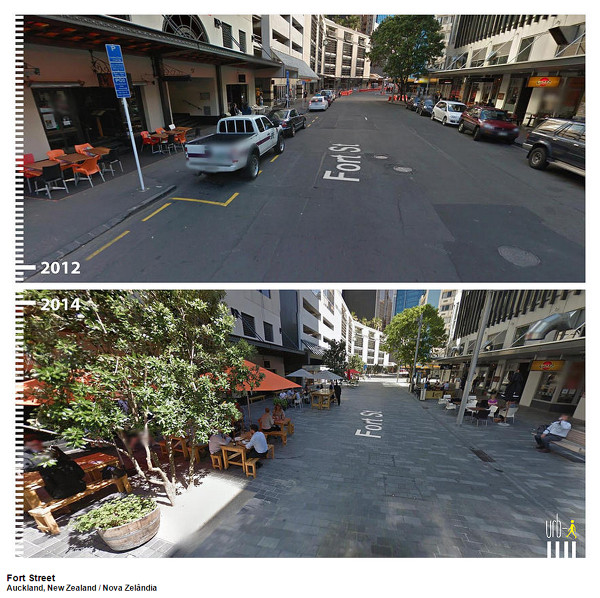 Fort Street, Auckland, New Zealand
On this street they replaced the pavement with brick slabs and replaced the curbside parking with trees, planters and public seating. The restaurants abutting the street now have more room to serve their customers in a beautiful outdoor setting.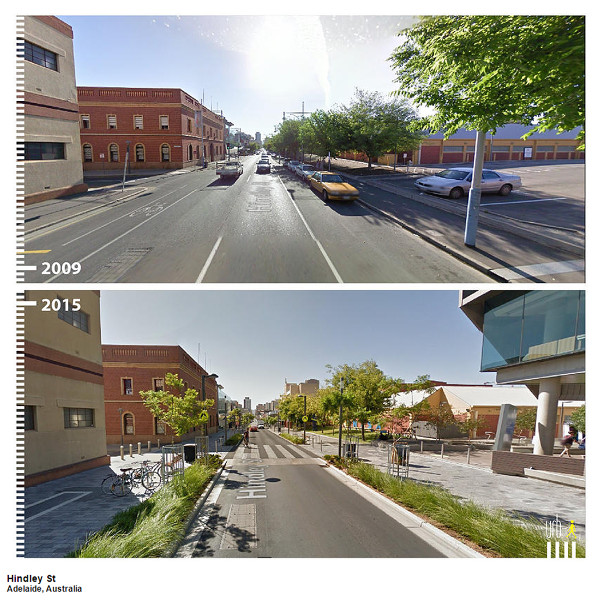 Hindley Street, Adelaide, Australia
This street added a wide ladder crossing and wide, multi-use sidewalks, physically protected from the street by a row of trees and plants. The greenery sends a psychological signal to drivers to slow down.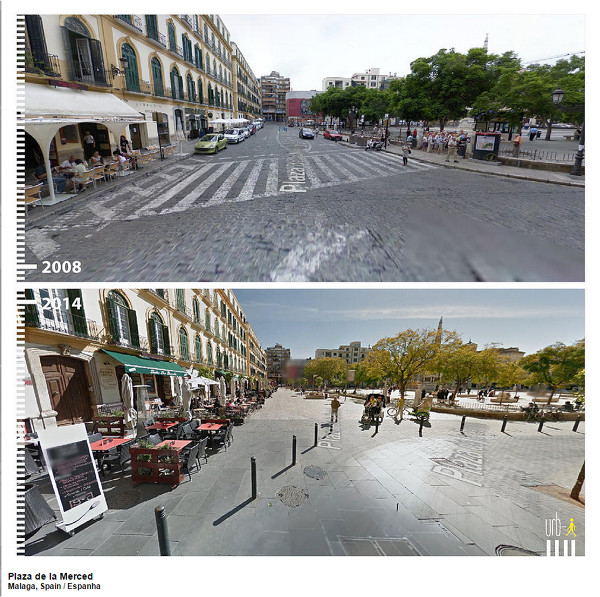 Plaza de la Merced, Milaga, Spain
We think about European plazas as these lovely pedestrian-friendly spaces bequeathed from the city's long history, but this plaza was ringed by a multi-lane road just a few years ago. Look at how much nicer the restaurant patio is, now that it's not budged up next to traffic. This could be Gore Park.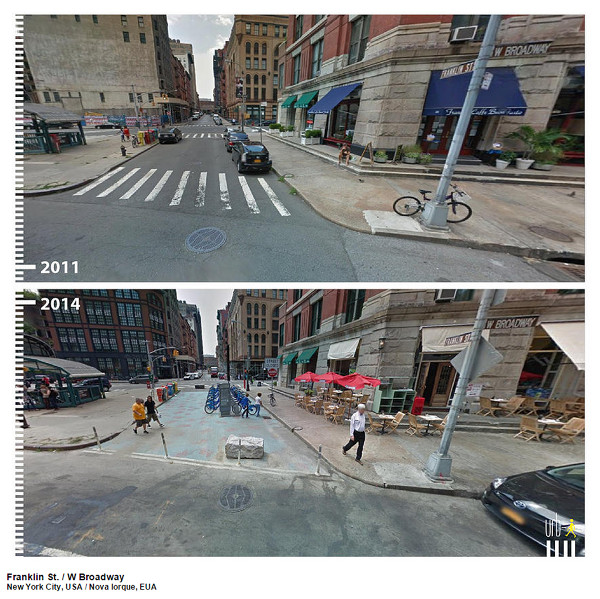 Franklin Street and West Broadway, New York City
The pedestrianization of Times Square gets all the attention in New York, but in fact they pedestrianized a number of locations around the city. In this spot, they blocked off the street with bollards and paint and added a bike share station. Suddenly it makes sense for the restaurant to have a patio.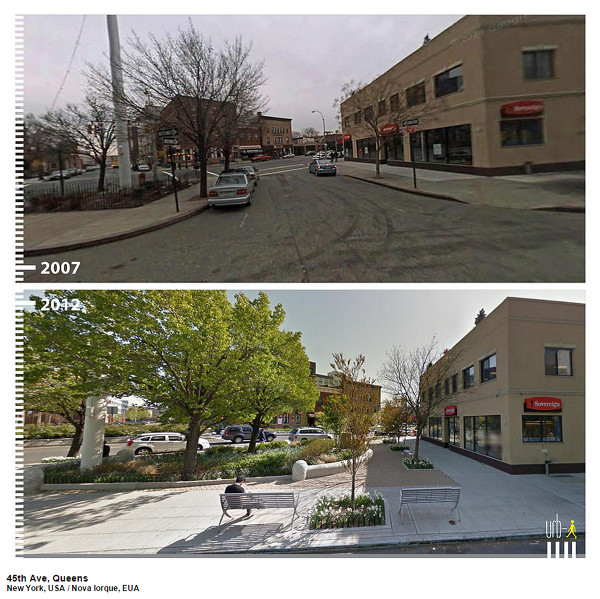 45th Avenue, Queens, New York City
And it's not just Manhattan, either. For this street in Queen's, they actually poured a new raised curb and added planters, greenery and seating.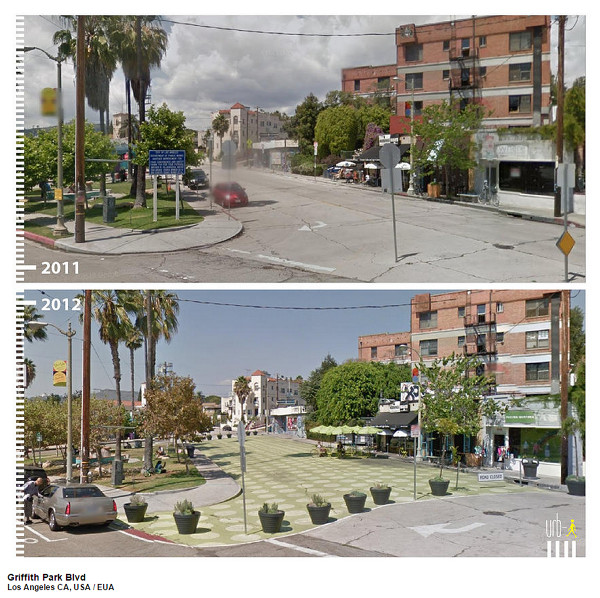 Griffith Park Boulevard, Los Angeles
Los Angeles is famously one of the most car-oriented cities on earth. If they can turn a street into a pedestrian plaza, any city can.

Vester Voldgade, Copenhagen, Denmark
I love this one. We assume great biking cities just magically happen as a bequeath from the past, but Copenhagen is a cycling paradise because it chooses to be one, over and over again, year after year, on street after street. In 2009, this street had no cycling facilities. Today it has a protected off-street two-way cycle track, wider sidewalks and new street trees.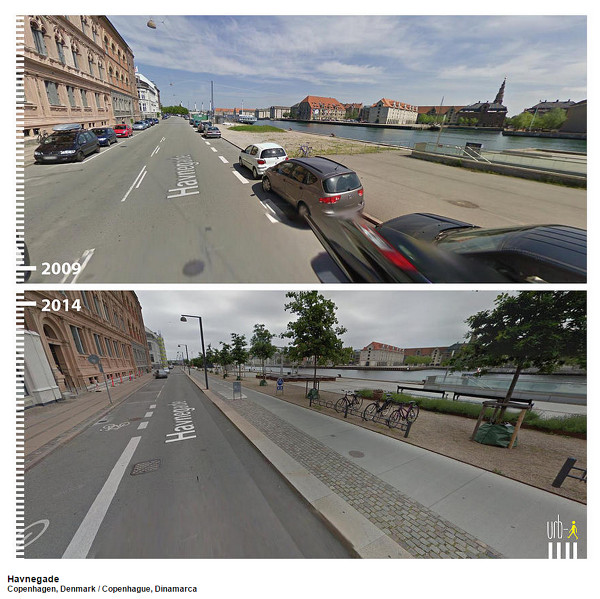 Havnegade, Copenhagen, Denmark
Here's another one from Copenhagen. In 2009 this was a car-dominated street - two driving lanes and two curb parking lanes - with a low-quality surface next to the waterfront. Now it's got a nice wide sidewalk with a lovely waterfront path, new trees and greenery and bike parking.
While cities like Hamilton seem paralyzed by fear of change, great walkable and bikeable cities refuse to stand still.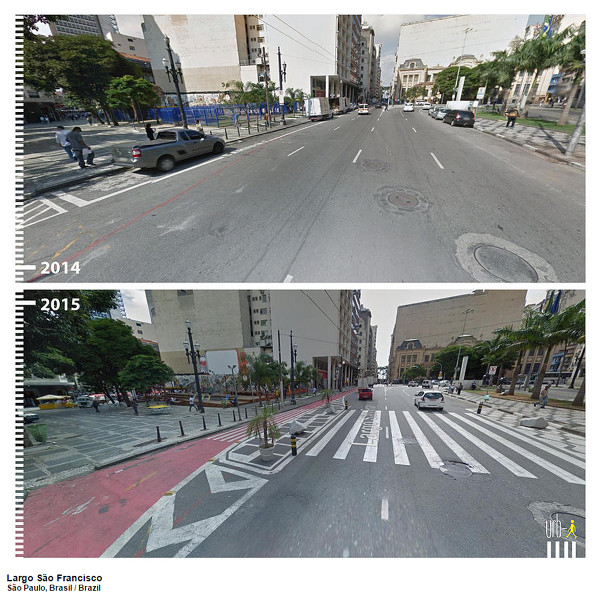 Largo Sao Fransisco, Sao Paolo, Brazil
This urban thoroughfare in Sao Paolo could be Main or King Street. But they decided to tame and reclaim it by adding a protected bike lane, protected bumpouts to shorten the pedestrian crossing distance and a highly visible ladder crossing. This couldn't have cost a lot to design and build: the only barrier is political will.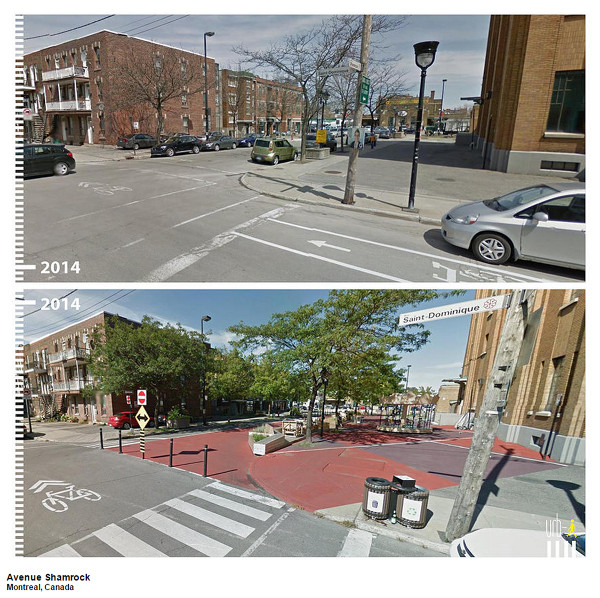 Avenue Shamrock, Montreal, Canada
Here's an example from closer to home. Hamilton could look a lot like Montreal if we were more willing to celebrate our streets and treat them with the dignity they deserve.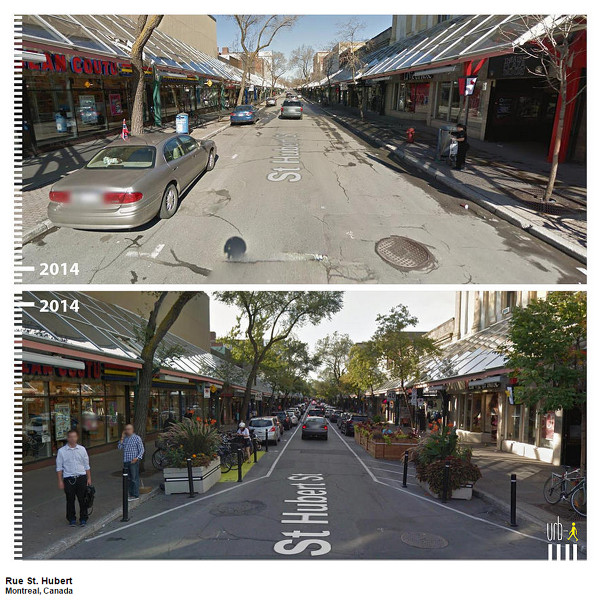 Rue St Hubert, Montreal, Canada
Here's another one from Montreal. It started out as a three-lane one-way street like so many streets in Hamilton, but look what they did: bumpouts with big planters to squeeze the street down to one lane and curbside parking on both sides to protect the sidewalks. If our one-way streets looked more like this, I wouldn't have such a big problem with them.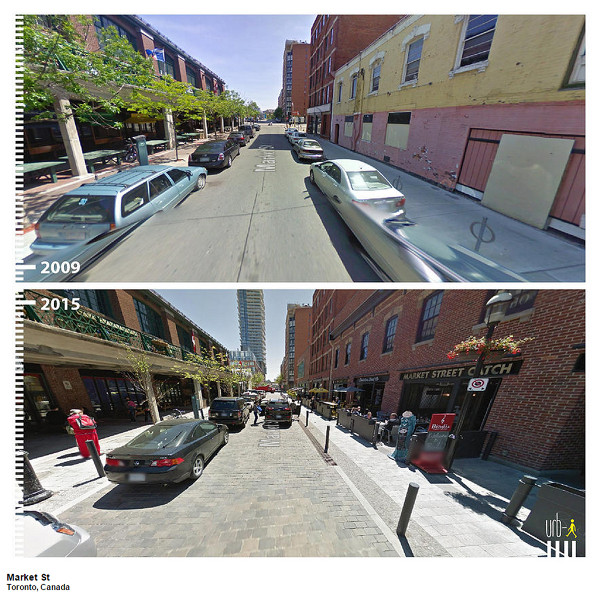 Market Street, Toronto
Finally, an example from just down the QEW. Widen and protect the sidewalk and suddenly you have room for a patio - and voila, a new restaurant opens in what was a boarded-up building.
BUT THIS IS HAMILTON!
I really liked the idea of using Street View to show before and after photos of complete streets, so I decided to do the same thing with some locations right here in Hamilton where we have repurposed some lane capacity for more active uses and the sky didn't fall in.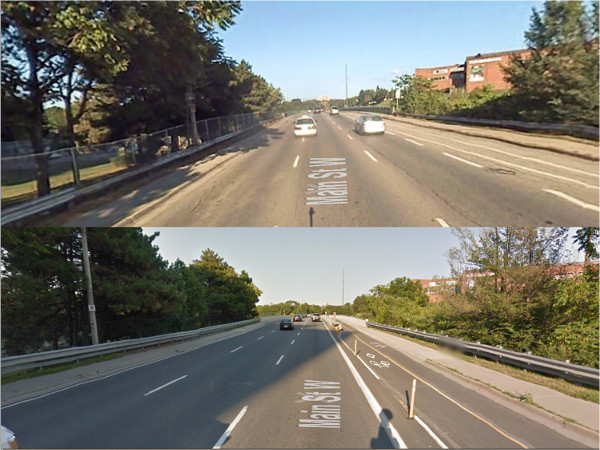 Main Street West
Here's Main Street approaching the Highway 403 crossing. In 2007, it was a white-knuckler to get across the highway on a bike, but we took a lane and added a physically-protected two-way cycle track, with no impact on automobile traffic. The bike connections on either side are poor, but this at least gives us something to build on.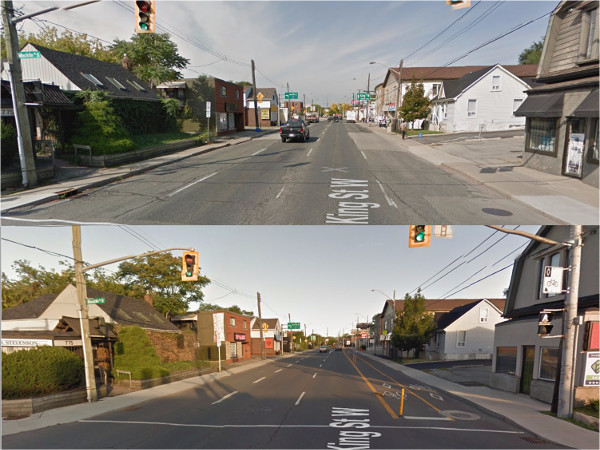 King Street West
A block north, King Street also has a protected two-way cycle track across Highway 403, and again there was no impact on automobile traffic. The bike connections are a bit better on King, but there's still room for improvement - especially for eastbound bike traffic.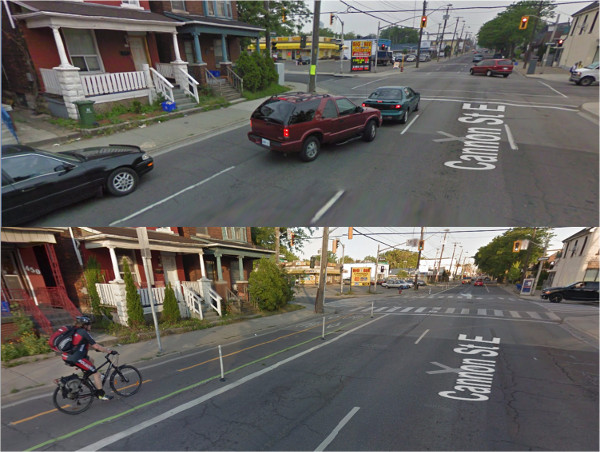 Cannon Street East
Of course, a year ago (has it been a whole year already?) the City officially opened the Cannon Street Cycle Track, a three-kilometre protected two-way cycle track running between Sherman and Hess. Cycling was basically impossible on Cannon before the city built it, but I now see cyclists on the street every time I'm on it.
It took a huge citizen campaign with thousands of supporters to make this happen. I'd love to see the city start building cycling infrastructure like this as a matter of course.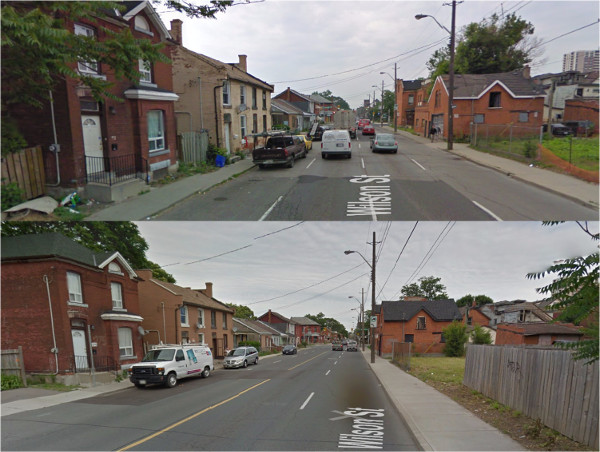 Wison Street East
Definitely not a complete street, but Wilson was converted to two-way and the earth did not open up to swallow the city. In fact that brown building on the left side got a new paint job!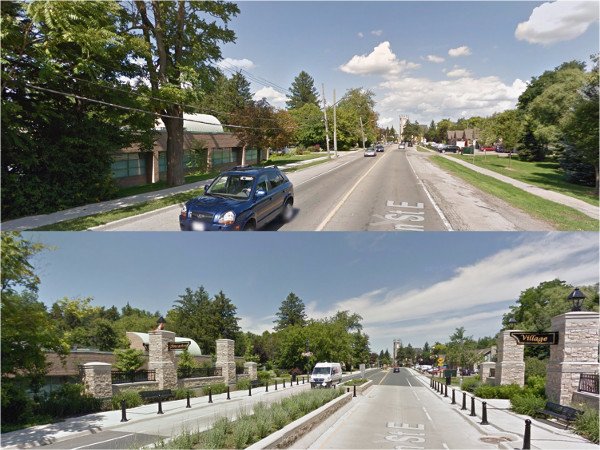 Wilson Street, Ancaster
Here's another Wilson Street, this one in Ancaster, and this is a proper complete streets redesign. Wide, protected sidewalks, bike lanes, a green centre median, benches and landscaping have made this a beautiful stretch running into downtown Ancaster.
I wish Ancaster Councillor Lloyd Ferguson was more open to the idea of streetscaping and placemaking like this in other parts of the city.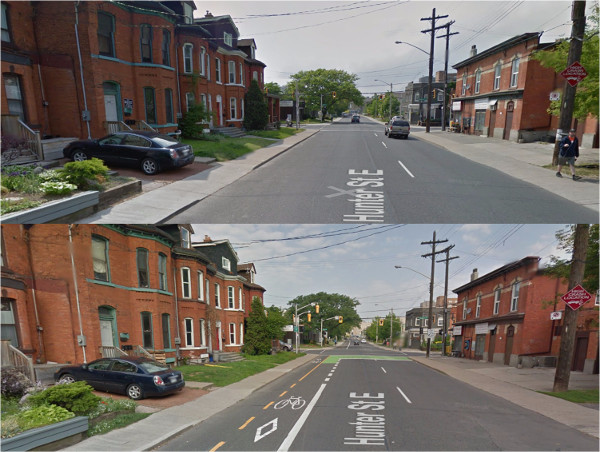 Hunter Street
Look how freaking wide that left lane on Hunter was! Adding a two-way bike lane was really a no-brainer, and has had zero impact on traffic. Unfortunately, the City decided for some reason not to provide physical protection so the lane has less use than it would if it felt safer.
Also, the lane still doesn't actually connect to the GO Station, which is easily the biggest traffic generator on the entire route.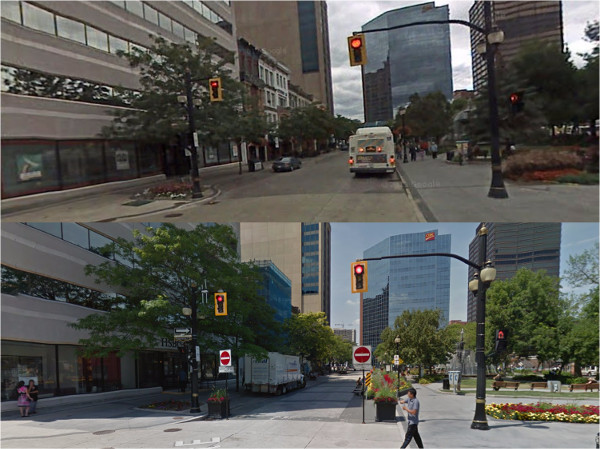 South leg of King Street East at Gore Park
Remember when the south leg of King at Gore Park was a bus stop? Now it's a pedestrian plaza and the Downtown BIA has done a great job promoting it as a lovely spot to enjoy a nice lunch.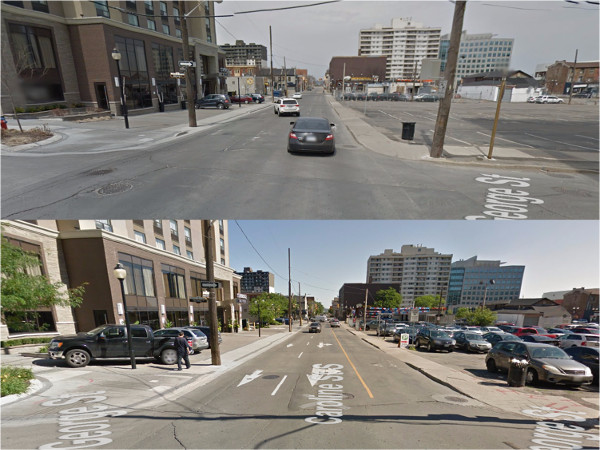 Caroline Street between Main and Bay
The City approved a long list of two-way conversions back in 2001 but has been implementing them at an appallingly glacial pace. We're actually reviewing the Transportation Master Plan again and still haven't gotten through more than a fraction of the changes that were approved almost 15 years ago.
But this section of Caroline Street between Main and King was converted quickly, mainly because a property developer wanted it done.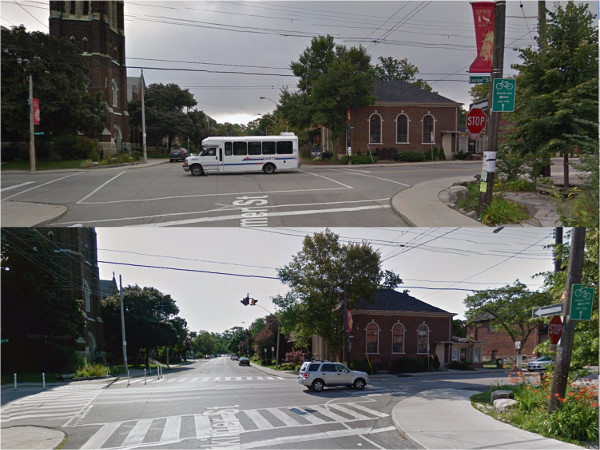 Locke and Herkimer
A group of residents living near the intersection of Locke and Herkimer got tired of waiting for the City to take action on this dangerous corner, where large numbers of pedestrians including students going to and from St. Joseph's School mixed with high-speed vehicle traffic roaring through the intersection. So one night, they engaged in some tactical urbanism and screwed pylons onto the street to create guerrilla bumpouts.
Bumpouts serve several useful functions simultaneously:
They increase the size of the sidewalk, making more room for pedestrians.
They reduce the distance that people have to walk to get across the street. This also reduces the amount of time spent crossing.
They squeeze down the width of the street so drivers can't easily accelerate and pass each other through the intersection.
The larger corner radius forces drivers to slow down when make turns.
I talked to the crossing guard a day or so after the pylons were installed and she reported that they made an immediate difference in terms of safety and comfort. At first, the City was furious, but they soon recognized the opportunity to partner with the neighbours and build some goodwill by installing permanent bumpouts.
Like the Yes We Cannon campaign, it was a real accomplishment for civic engagement in a city that too often has a reflex of chewing up engaged citizens and spitting them out.
So What's Next?
The evidence for complete streets is overwhelming. We have countless examples and case studies from all kinds of streets and all kinds of cities around the world and even here at home, showing us that we can make our streets better for everyone without making them worse.
It's time we apply that knowledge and start converting all of our ugly, fast, dangerous thoroughfares into safe, inclusive and complete streets that serve everyone's needs. Here are some examples of streets that need your help: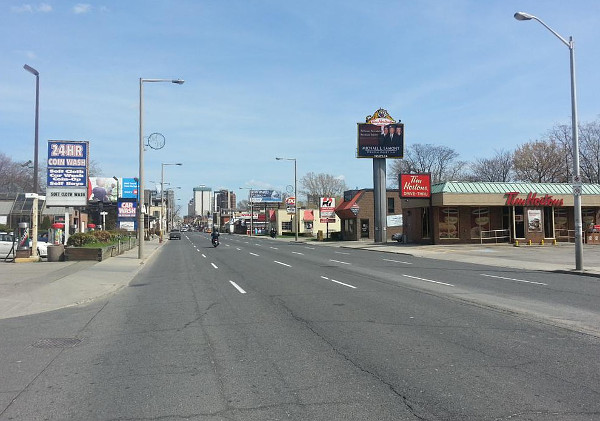 Main Street West
This is the gateway to downtown, the view people have when they get off Highway 403 on their way into the city. This street is an embarrassment. It's hurting us. We need to stop making excuses for it and start fixing it.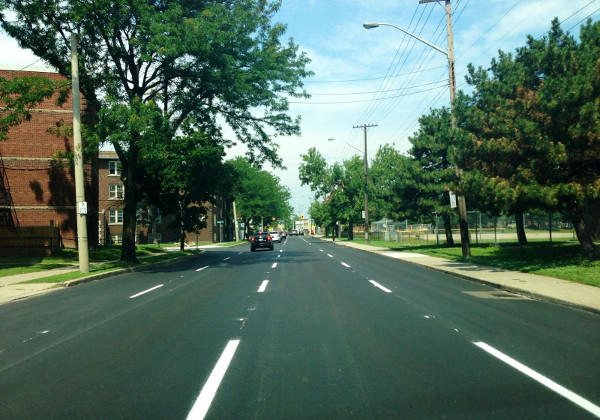 King Street East
For years we were told we couldn't do anything to change King Street because LRT might be coming, but that didn't stop the City from resurfacing the street and repainting the lanes exactly the way they were before.
Now that LRT is definitely coming, it's imperative that we redesign King Street (and Main) to be compatible with integrated walking, cycling, transit and urban living so that we maximize the benefits of this historic investment.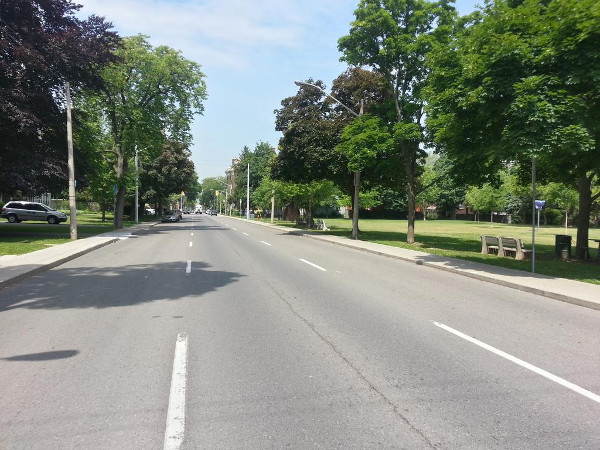 Herkimer Street at Durand Park
Earlier, I mentioned that Hamilton arterials are engineered for running speeds of 70-100 km/h. This is what that looks like on a minor arterial running next to a public park and children's playground.
In March 2014, the City installed a mobile speed radar here at Durand Park to record speeds. The radar also flashes the speed at the driver as an inducement to slow down, so if anything it likely understates normal driving speeds when there isn't a flashing sign.
Following is a table of the top speeds recorded each day the radar was in operation and the times they were recorded:
Maximum Recorded Speeds

| Date | Highest Speed | Time |
| --- | --- | --- |
| Mar 25 | 80 | 11:00 PM |
| Mar 26 | 80 | 6:00 PM and 11:00 PM |
| Mar 27 | 80 | 8:00 AM |
| Mar 28 | 80 | 11:00 PM |
| Mar 29 | 80 | 2:00 AM, 6:00 AM and 10:00 PM |
| Mar 30 | 90 | 3:00 PM |
| Mar 31 | 80 | 8:00 AM |
| Apr 01 | 80 | 9:00 AM |
Look at those times: 8:00 AM on March 27, 3:00 PM on March 30, 8:00 AM on March 31 and 9:00 AM on April1. Cars are driving past this park at highway speeds - 80 and 90 km/h - while children are walking to and from school and the park.
Again, what happens when we design streets for highway speeds is that people drive at highway speeds.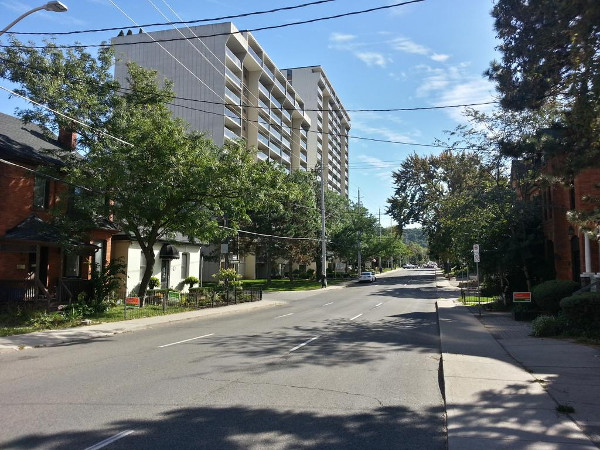 Queen Street South
I have yet to receive a sensible explanation from anyone as to why Queen Street needs to be three one-way lanes. I'm often told that it's a route for people to get up to the Beckett Drive escarpment access and the West Mountain, but Beckett Drive is one lane in each direction and manages to carry over 20,000 cars a day.
Meanwhile, Queen has been the site of some horrific pedestrian collisions in recent years. Until I see clear evidence to the contrary, I'm going to assume that getting home a couple of minutes faster is worth more than the lives of people trying to cross Queen Street.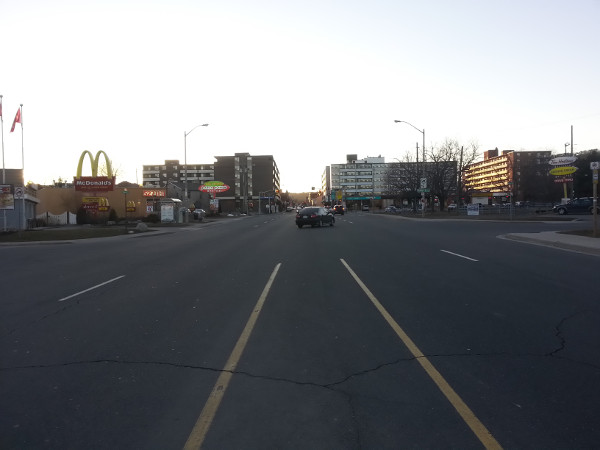 Cootes Drive
This is literally a couple of blocks from downtown Dundas, where the five-lane Cootes Drive highway turns into King Street West, an urban commercial street with one lane in each direction and curbside parking.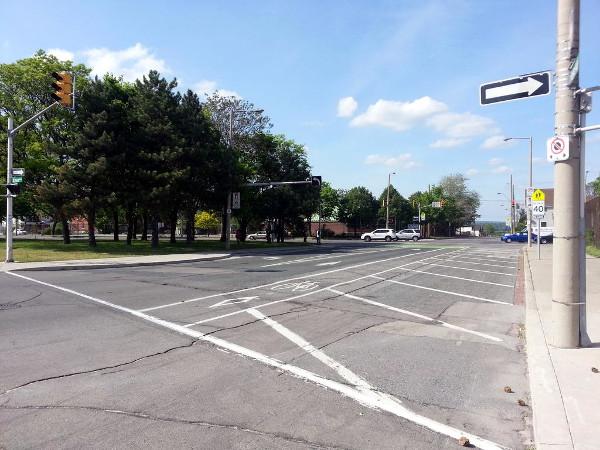 Hess Street between York and Cannon
The one-way northbound Hess Street is so unnecessarily wide at York Boulevard that the City simply hashed out an entire lane. We would literally rather waste a lane than use it to add a southbound cycling connection from the end of the Cannon Cycle Track into Strathcona neighbourhood. That is utterly incomprehensible to me.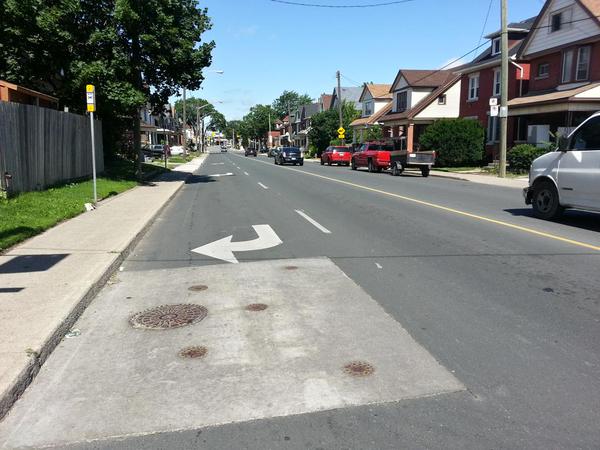 Cannon west of Lottridge
The Cannon Cycle Track ends at Sherman Avenue. East of Sherman, instead of extending any kind of cycling infrastructure, the City decided instead to make the entire right eastbound lane into a dedicated right-turn lane. This is a street that gets a paltry 9,000 cars a day.
What an incredible waste of expensive-to-maintain asphalt and missed opportunity to improve the connectivity of the Cannon Cycle Track.
We Make the Rules
Hamilton is riddled with overbuilt multilane thoroughfares that carry only a fraction of the automobile traffic they were designed to carry. The good news is that we have a tremendous opportunity to repurpose all that surplus lane capacity to build a truly high-quality, connected, integrated active transportation network in Hamilton.
All we need is enough civic engagement and political will to make it happen. The only thing holding us back is fear of change.
A final note about our street: ultimately a street is nothing more than publicly owned space.
The City of Bogota, Colombia has had a rough time of it. Wracked by violence, deep poverty and the legacy of the drug war, the city was also mired in traffic congestion on a road network that excluded residents who couldn't afford to drive.
Starting in the late 1990s, the municipal government made the courageous choice to carve out almost 100 km of roadway to build a network of dedicated bus rapid transit lanes. That system now carries over 2 million passengers a day.
There are 144 BRT stations and the lines are fed by local buses as well as an extensive, 300 km network of bicycle paths, which was built at the same time. Cycling has quintupled to 400,000 rides a day since the city started building its network.
But Bogota also does something else really exciting: on Sundays and holidays between 7:00 AM and 2:00 PM, the City closes a 120 km network of main streets to vehicle traffic for Ciclovia: a celebration of open streets.
Basically, the city transforms its street network into a huge public park - a linear, connected web of public parkland for walking, jogging, cycling, rollerskating, soccer, yoga, aerobics, live music, hanging out and more. On a normal week, 2 million people take advantage of the chance to enjoy their public space.
Our streets are our collective property, our shared public resource. Ultimately, we can choose to do what we want with them - the only rules are the ones we choose to make.
Now let's go out and start creating our city!
---
Strong: thanks to Renew Hamilton for posting an audio recording of this talk.
Post a Comment
You must be logged in to comment.