Invigorating Tactical Urbanism Talk Inspires Action
The essence of tactical urbanisim is to undertake short-term, low-risk, high-benefit actions that precipitate positive long-term changes.
By Ryan McGreal
Published May 08, 2013
The City of Hamilton's political leadership has hardly any appetite for what we might call strategic urbanism, i.e. carrying out a plan to revitalize the urban area by transforming its transportation system and land use rules and investing in necessary public infrastructure and services.
That is not to say we don't have plans to do this. Indeed, the city's planning processes since the mid-1990s have been dedicated to the principles of urban revitalization. The problem is that the city almost never executes on those plans.
Into the leadership gap comes tactical urbanism - direct actions that citizens can take without waiting for city leaders. Last week, the Hamilton-Burlington Society of Architects (HBSA) organized a talk on tactical urbanism by Mike Lydon, a principal at The Street Plans Collaborative.
Lydon is the author of Tactical Urbanism and Tactical Urbanism 2, free e-books that articulate how it works.
The talk was invigorating and inspiring, and Lydon was kind enough to share his slides (images in this article are from Lydon's slide show unless otherwise noted). I understand the HBSA plans to post a video of the talk; in the meantime, here is my review.
Get it Done
Lydon repeatedly emphasized the point that the essence of tactical urbanism is to take short-term action that precipitates a long-term change. Indeed, many cities are held back by "analysis paralysis" in which study after study and plan after plan is never put into action. (Sound familiar?)
He cited the main criteria that inform tactical urbanism:
Vision - a deliberate, iterative approach to instigating change
Context - the offering of local ideas as a response to local challenges
Agility - short-term projects
Value - Low risk, high reward
Community - the development of social capital and the building of organizational capacity
Keeping these values in mind will help to guide tactical urbanists toward the most promising actions.
Four Steps
Using the iterated conversion of New York City's Times Square into an active pedestrian space as an example, Lydon identified four steps of successful tactical urbanism.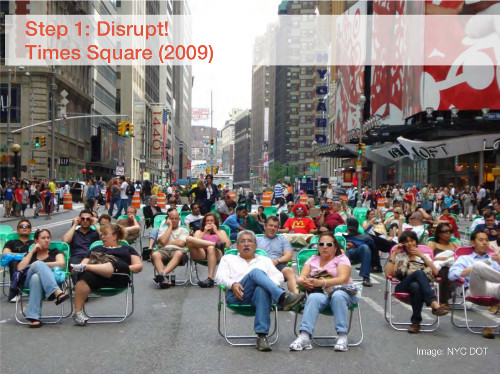 Step 1: Disrupt
The first step was to close the square temporarily and put out deck chairs. This demonstrated an interest in the concept and exposed a wide variety of people to the potential of a pedestrianized square.

Step 2: Iterate in Increments
In step two, the initial change is tweaked with incremental improvements to improve the experience. Barricades and deck chairs are augmented with painted ground, umbrellas and small tables.

Step 3: Measure and Learn
While experimenting and iterating, observe what works, measure the local impacts, and refine the process.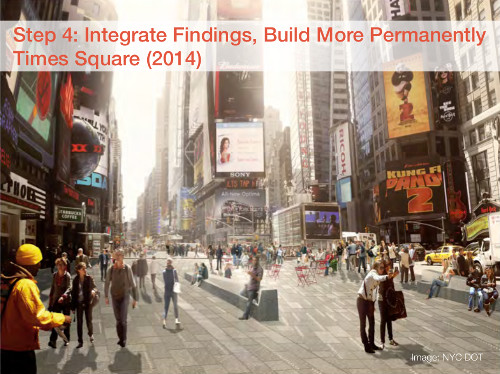 Step 4: Integrate Findings
Finally, integrate the findings and build a permanent change that incorporates the lessons from the iterative process.
Tactical urbanism is a cycle of step-by-step change that feeds back into itself to foster continuous improvement.

Build, Measure, Learn.
Lydon also stressed that tactical urbanism is not only bottom-up, but also works top-down as leaders recognize the proof of good ideas in action and extend official support to build on them.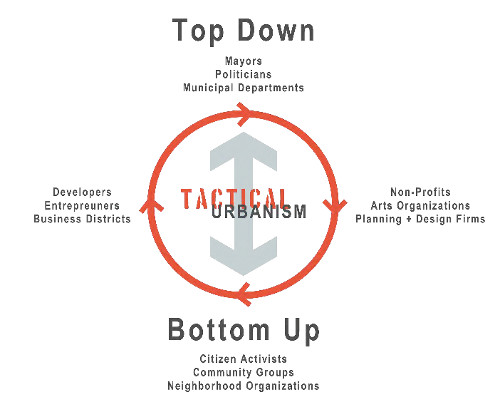 The circle of tactical urbanism (in Hamilton, this is a U-shape)
As such, the actions of tactical urbanism move along a spectrum from bottom-up and unsanctioned to top-down and sanctioned.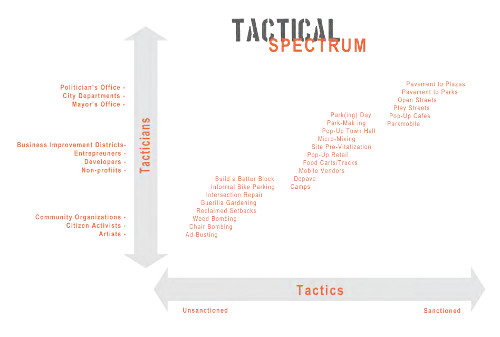 Tactical Spectrum
Promising Tactics
In recent years, several highly promising tactics have emerged in one city and quickly spread to others, including Intersection Repair, DIY Crosswalks, DIY Bike Lanes, Open Streets, Build a Better Block, Park(ing) Day, Walk [Your City], Pop-Up Retail, Pavement to Plazas, Guerrilla Gardening, Street Seats, Food Trucks, and Future-tising.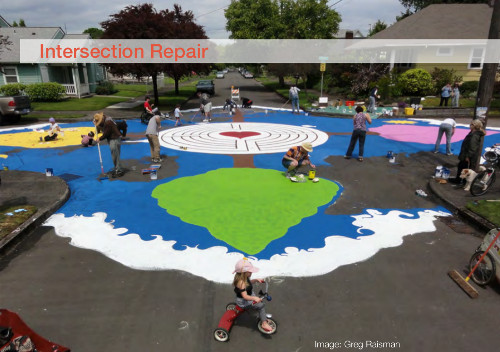 Intersection Repair
Intersection repair is about painting and decorating dangerous intersections to remind drivers that there are people living, working and playing nearby and that they need to slow down to maintain a safe environment.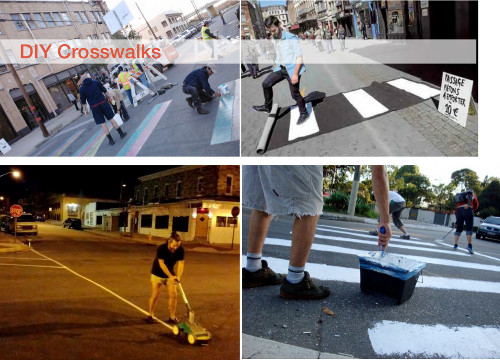 DIY Crosswalks
When the city takes too long to install a crosswalk - or flat-out refuses - residents can paint their own.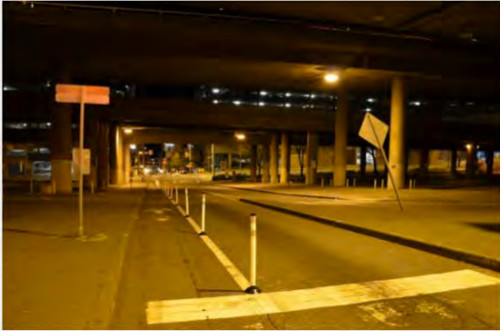 Guerrilla separated bike lanes
A group in Seattle actually installed reflectorized posts along a painted bike lane to provide more visibility and protection for cyclists. In that case, the city had to remove them for safety reasons, but they were very polite about it and agreed that a safer, more permanent separator really would make the lane better.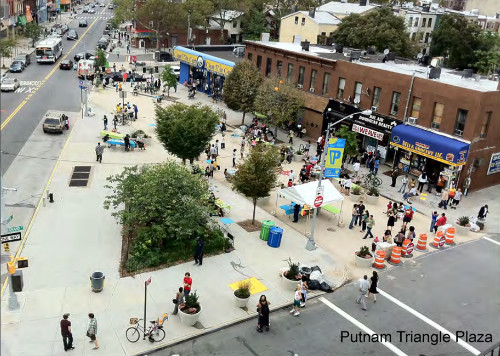 Pavement to Plazas
In cities that evolved incrementally, there are sometimes left-over parcels of land that get allocated to automobiles by default. With creativity and minimal resources, those spaces can be transformed into people places.
As always, early prototypes can demonstrate both a demand for local public space and a measurable benefit, which can then be used to push for a more permanent change.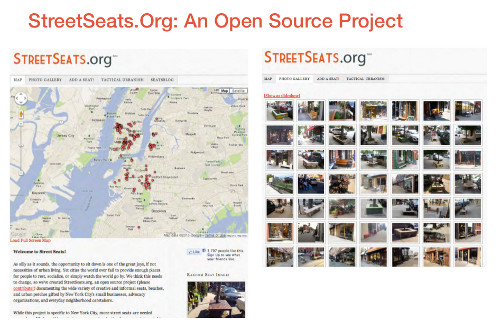 Street Seats
Sometimes taming and humanizing a street can be as simple a matter as giving people a place to sit down.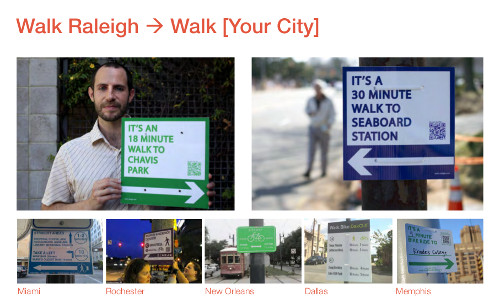 Walk [Your City]
In each case, the important thing is to start with a cheap, low-risk, high-benefit prototype. See what works, tweak the design, measure the effects on the surrounding area, and organize toward a more permanent solution.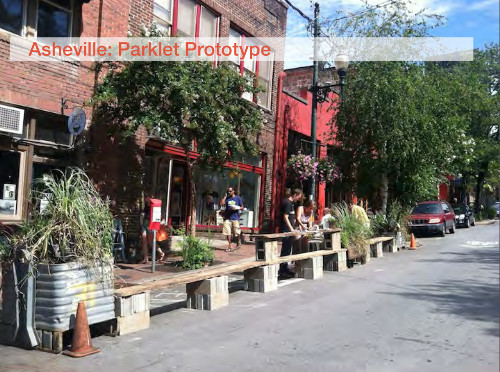 Parklet prototype in Asheville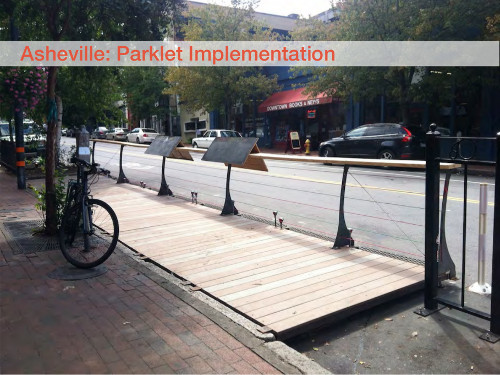 Asheville Parklet implementation
Future-tising creates energy and anticipation for a new project by announcing it. Lydon spoke of a campaign in El Paso, Texas, that announced the return of streetcars to its historic downtown streets - before any such plan existed. The guerrilla billboards advertising the plan generated so much excitement and support that the Texas Department of Transport eventually agreed to fund a new line!
Bootstrapping Startups
Lydon repeatedly compared tactical urbanism to the lean startup industry: a culture of using innovation, sharing and open source tools to build sustainable businesses by bootstrapping from simple, low-cost initial products.
He made reference to the diffusion of innovation as a model to understand how tactical urbanism can create an initiative that ripples out and becomes more normalized as people experience it and evangelize it to others.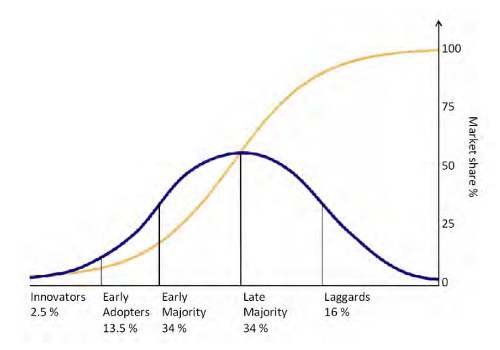 Diffusion of Innovation
He also argued that urban advocates need to understand what he called the continuum of engagement, a bell curve that runs from hostile and angry on one end through bored, neutral and curious and over to engaged and committed on the other end.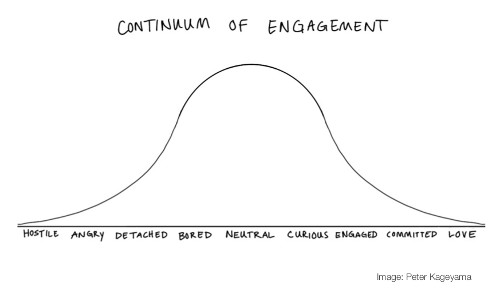 Continuum of Engagement
Tactical Urbanism in Hamilton
Looking at Hamilton specifically, Lydon reported on the results of a workshop from two weeks earlier that looked at a few specific spots: The Delta (King and Main), Herkimer and Queen, Upper James and Mohawk, and Cannon and Mary.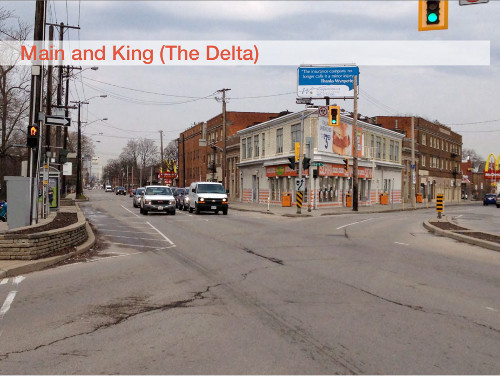 The Delta
The Delta is a pedestrian-unfriendly intersection surrounded by residential and street retail. As a first step, tactical urbanists posted signs on nearby utility polls that read, "I would walk The Delta, but..." and left a space for passersby to leave remarks. (They also launched the hashtag #walkthedelta on twitter).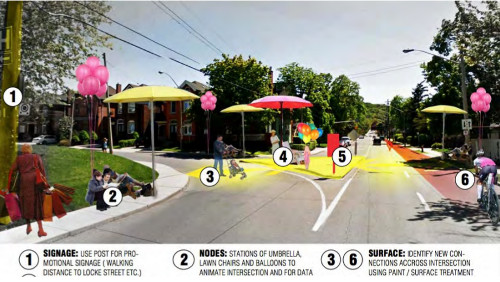 Herkimer and Queen reimagined
At the dismal intersection of Herkimer and Queen, the workshop participants imagined a lively, activated corner with bike lanes, a safe crossing and places for people to congregate.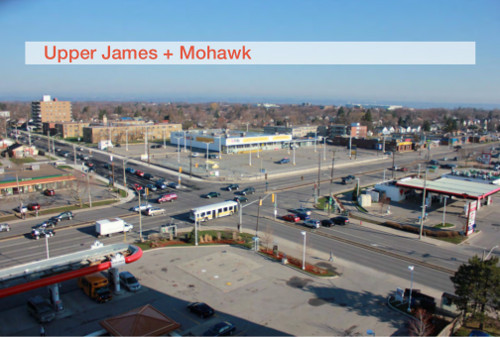 Upper James and Mohawk
Upper James and Mohawk is a particularly bad intersection. There's no sense of place at all, with the nearby retail buildings set far back from the street behind huge parking lots. The workshop participants imagined a radically different corner functioning as a shared space where drivers slow down and various modes intermingle.

Upper James and Mohawk rendering
A group of activists went to Upper James and Mohawk and staged a friendly demonstration to let drivers know "Upper James and Mohawk is Not Working for Everyone" and to suggest the alternative:
The last corner the workshop considered was Cannon and Mary, the site of the Cannon Knitting Mills and a potential redevelopment.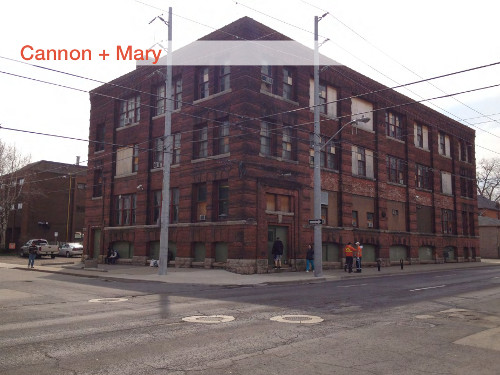 Cannon and Mary
Today, the intersection is held back by Cannon, a four-lane, one-way thoroughfare that is brutally inhospitable to pedestrians and cyclists and just crying out to be made into a complete street.
Locke and Herkimer
On Locke and Herkimer, an intersection with St. Joseph's School at the southwest corner, the first act of tactical urbanism is already paying dividends. A group of volunteers placed painted cones at the northeast and southwest corners to 'bump out' the sidewalk, slow traffic, and give pedestrians more space.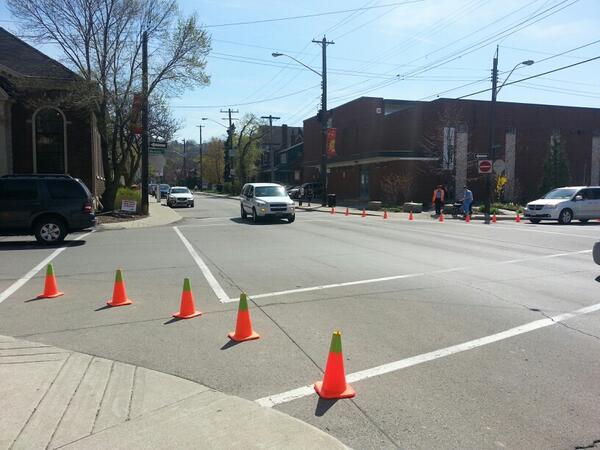 Guerrilla Bumpouts at Locke and Herkimer (RTH file photo)
During morning and afternoon rush hours, when large groups of children are crossing, the bumpouts shorten the distance pedestrians have to cross while slowing and taming the automobile traffic.
On Friday I asked the long-time crossing guard what she thought of the project. With immediate enthusiasm, she said, "I like it!" The guard did not know who had installed the cones or why, but she was highly supportive, saying it makes the corner a lot safer.
The traffic calming "really controls the traffic. It was getting scary," she said, noting that the bumpouts force the cars to slow down instead of racing aggressively through the intersection.

Locke/Herkimer crossing guard says guerrilla traffic calming 'really controls the traffic' (RTH file photo)
What's Next?
There are a huge number of opportunities for tactical urbanism in Hamilton: low-risk, high-reward quick wins that don't need to wait for Council approval and can demonstrate their benefits immediately.
If you have any ideas to suggest, post them in the comments!
Post a Comment
You must be logged in to comment.