Charlton-Wentworth Traffic Calming Proposal a Cop-Out
This back-handed recommendation is typical of a city that does everything it can to avoid inconveniencing people in cars for the sake of people not in cars, even when people are being killed.
By Ryan McGreal
Published March 25, 2015
The Escarpment Trail crosses Wentworth Street South just north of the bend in which Wentworth turns into Charlton Avenue East. On the east side of Charlton, the Trail connects with the bottom of the Wentworth Stairs. This is a high-traffic multi-use path that carries lots of people walking, jogging and biking for various reasons.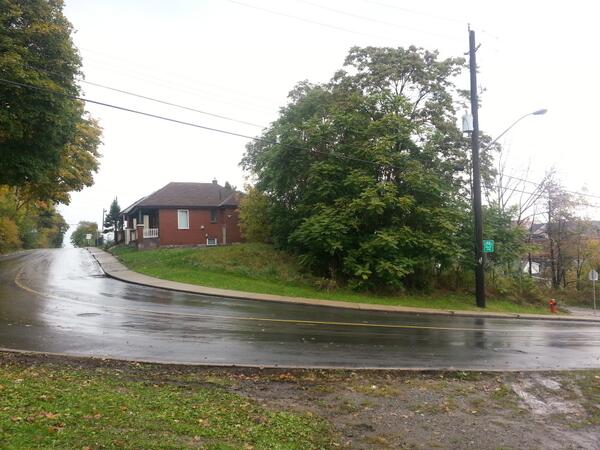 Charlton Avenue East, left, turning into Wentworth Street South (RTH file photo)
On October 31, 2013, 33-year-old Zoe Nudell died after being struck by a driver at Charlton and Wentworth.
After years of demanding changes to this dangerous conflict area, local residents finally got an answer to the question: Does someone have to die before City decides to act?
The answer, unfortunately, was that even a death was not enough to spur the City to action. So in 2014, Ward 2 residents voted through the Participatory Budget process to fund safety improvements to the intersection through the Area Rating Capital Levy.
Public Works staff have now come forward with a proposal to achieve that - and it is not likely to make anyone happy.
Proposed Crosswalk at Cumberland
The April 1, 2015 Public Works Committee meeting will receive a staff recommendation (item 8.3 on the agenda) to address the dangerous intersection of Charlton, Wentworth and the Escarpment Trail by ... installing a crosswalk at Wentworth and Cumberland.
Cumberland is almost 100 metres north of the Escarpment Trail, across a set of train tracks and down a rather steep slope. It's a good idea to put a pedestrian crossing at Cumberland and Wentworth, but it won't do a damn thing to make things safer at Wentworth and the Escarpment Trail.
Staff also recommend reducing the speed limit to 40 km/h from Charlton at the Sherman Access to Wentworth at Cumberland. They will add "roadway markings with hatching" along the curbs on Wentworth to narrow the automobile lanes and provide an additional buffer.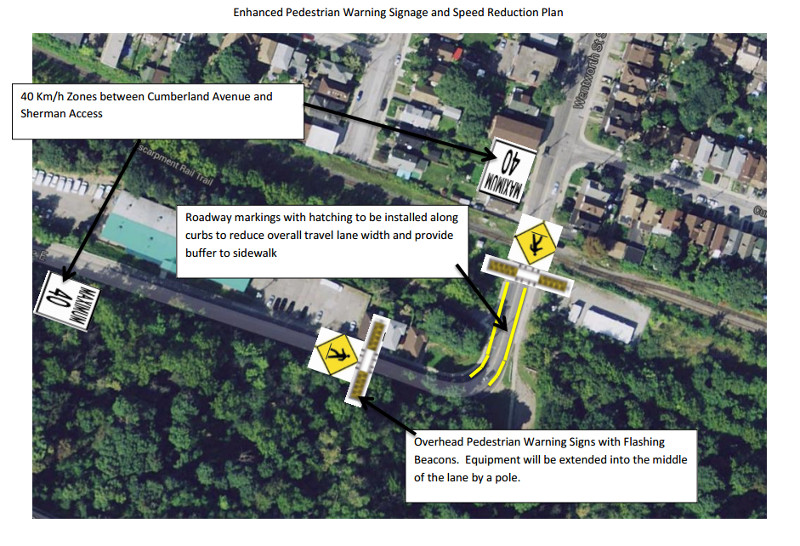 Enhanced Pedestrian Warning Signage and Speed Reduction Plan
In addition, a flashing overhead Pedestrian Warning sign will be installed on Charlton just before the left turn to Wentworth.
Let's be completely clear: this crosswalk will not do what staff were directed to accomplish. Absolutely no one is going to walk almost 200 metres out of their way to cross Wentworth at Cumberland instead of the Trail.
Not a Solution
The rationale for not putting the crosswalk at the Escarpment Trail, which is where the community wants it and where the actual danger resides, is pretty lame:
It was concluded that it would be unsafe to install a Pedestrian Crossing with signals at the Escarpment Trail location as the sightlines are below the required standard and the downward grade of the roadway and horizontal curve make it impossible for motorists to observe and stop safely for the pedestrians at this location.
It is not clear why staff can't do the same thing they did on the downbound lanes of the Jolley Cut as they bend to the right to a signalized intersection at John Street South and St Joseph's Drive. At that location, a traffic signal placed up along the bend alerts motorists that they are approaching a signalized stop.
But the proposed crosswalk at Wentworth and Cumberland will not be button-activated or even signalized. Unlike recently-installed crosswalks at Hunter and MacNab, Locke and Hunter and Herkimer and Caroline, this crosswalk will be controlled only by zebra markings on the walk, painted yield lines before and after the crosswalk, and Pedestrian crossing signs.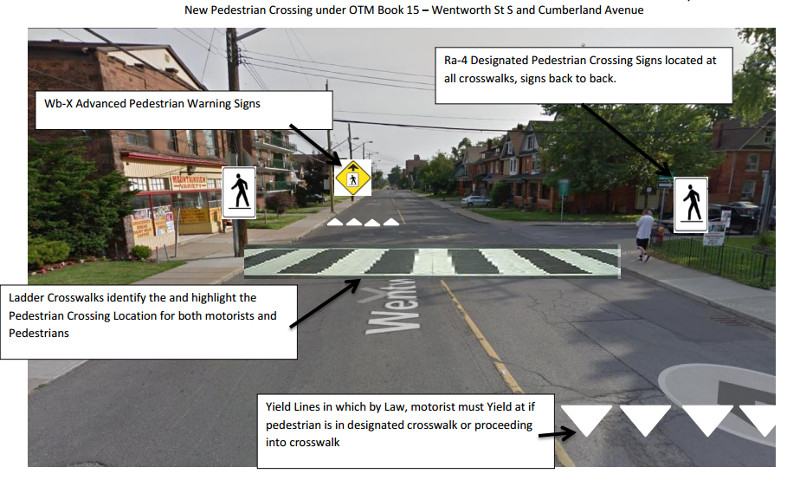 New Pedestrian crossing under OTM Book 15
This is designed to take advantage of pending changes to the Ontario Traffic Manual, Book 15, which specifies pedestrian crossing facilities. The new edition will define a number of pedestrian crossing designs that are cheaper to install than signalized crosswalks.
The City is planning on introducing new pedestrian cross-overs once the changes are passed into law. There many sites that would benefit from a crosswalk but where a signalized, button-activated setup is overkill.
This is not one of those sites. There should be a fully signalized crosswalk on Wentworth at Charlton, and it should trigger a signal around the bend so that downbound motorists see it and know to stop.
Not Good Enough
This proposal is not good enough. It goes against what the community has been demanding for years and what residents explicitly voted for in the Participatory Budget process.
Addressing the danger on the Trail by installing asphalt markings and signage almost 100 metres farther down the street is an insult to the large number of people regularly trying to cross Wentworth. It amounts to road safety theatre - a way to point out a nearby crosswalk the next time someone is injured or killed while crossing at the Trail.
It does nothing to help people crossing Wentworth on bikes, of whom we can expect there will be more now that Hamilton Bike Share has a station in operation right at the bottom of the Wentworth Stairs.
This back-handed recommendation is typical of a city that does everything it can to avoid inconveniencing people in cars for the sake of people not in cars, even when people are being killed.
with files from Jason Leach
Post a Comment
You must be logged in to comment.