Active Transportation Roundup, October 2014 Edition
It has been a beautiful autumn in Hamilton, but with cold weather approaching, the City is winding down its outdoor Public Works so this will probably be the last roundup until next spring.
By Ryan McGreal
Published October 30, 2014
Over the past couple of months, I have enjoyed posting a monthly overview of recent changes to the City's public infrastructure to promote more active transportation. You can read the roundup from August and from September.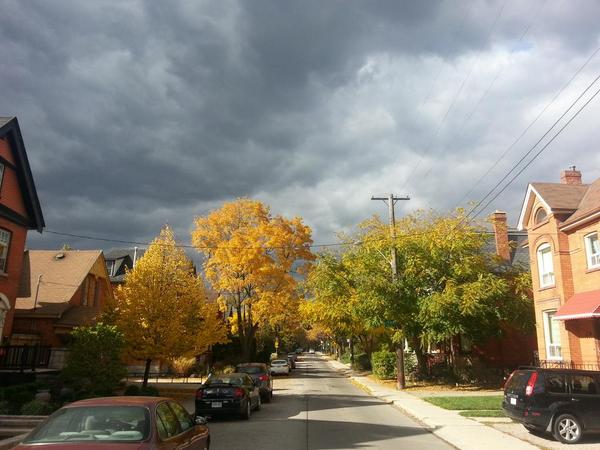 Charlton west of Queen, just because
It has been a beautiful autumn in Hamilton, but with cold weather approaching, the City is winding down its outdoor Public Works so this will probably be the last roundup until next spring. With that, let's jump in.
Pearl Street Bridge
With much fanfare, the long-awaited Pearl Street Bridge opened officially on October 2 after almost six months of work.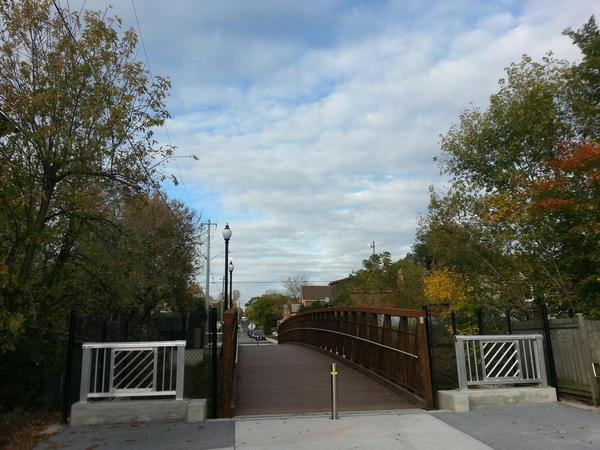 Pearl Street Bridge
The new bridge, which spans the sub-grade TH&B train tracks on Pearl between Hunter and Canada Street, is open to pedestrians and cyclists but not automobiles.
One of the last projects outgoing Councillor Brian McHattie started working on was a proposal to turn Magill, Pearl and Kent Streets into a north-south neighbourhood greenway for active transportation, and the Pearl Street bridge is a vital link in that chain.
Neighbourhood greenways are mainly residential streets that are designed to prioritize cycling over driving - especially cut-through rat-running.
They are marked with signage, bicycle stencils and sharrows, while speed bumps and diverters are used to discourage cut-through driving while encouraging walking and cycling.
This neighbourhood greenway could start on Magill Street at Barton and progress south to York Boulevard. Crossing York, it could continue on Pearl Street, take advantage of the pedestrian crosswalks at King and Main and continue south on Pearl to HAAA Park.
At Charlton Avenue it could continue south on Kent Street to cross Aberdeen at the pedestrian-activated crosswalk there and continue south on Kent to Glenfern, then on to Mountain Avenue and the Hamilton-Brantford Radial Trail.
Eventually, when a pedestrian walkway is built connecting the north end of Strathcona neighbourhood to the waterfront trail (a project that has been in the works for years), the Magill/Pearl/Kent greenway could directly and continuously connect the Radial Trail to the Waterfront Trail.
We hope Ward 1 Councillor-elect Aidan Johnson will pick up the torch on this particular file.
Make Mary Street Complete
Mary Street is a no-brainer for conversion to a complete, two-way street. Earlier this year, Allison Chewter and John Neary wrote a proposal to redevelop Mary Street to fulfill its potential as a "natural walking and cycling route (together with Walnut Street) from the waterfront to the escarpment".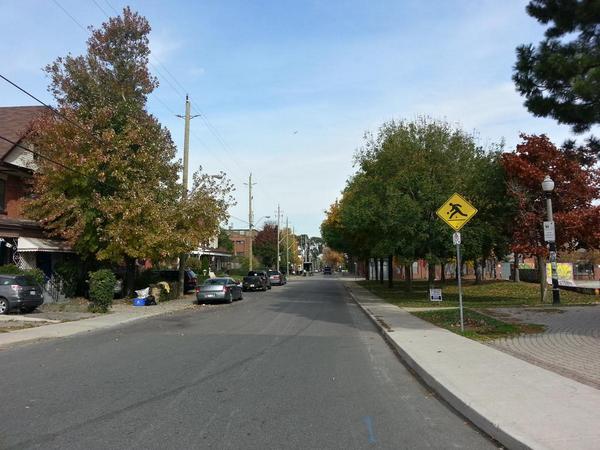 One-way Mary Street
Neary recently launched a petition calling on Ward 2 Councillor Jason Farr to "redevelop Mary Street as a complete street from King to the CN tracks".

Proposed cross-section, Mary and Rebecca
The petition already has more than 120 signatures, and Councillor Farr recently indicated that he "will be happy to work with you on this".
You can follow the progress of this project on twitter @CompleteMarySt.
Bicycle Traffic Signal on Hunter at MacNab
Earlier this year, the City installed two-way unprotected bike lanes on Hunter Street between Liberty and Catharine and between MacNab and Queen. Eastbound cyclists on the western leg of the disconnected bike lane need to turn left at MacNab, head north to Jackson and continue east in mixed traffic.
Then the City installed a pedestrian-activated crosswalk on Hunter at MacNab that wasn't actually pedestrian-activated.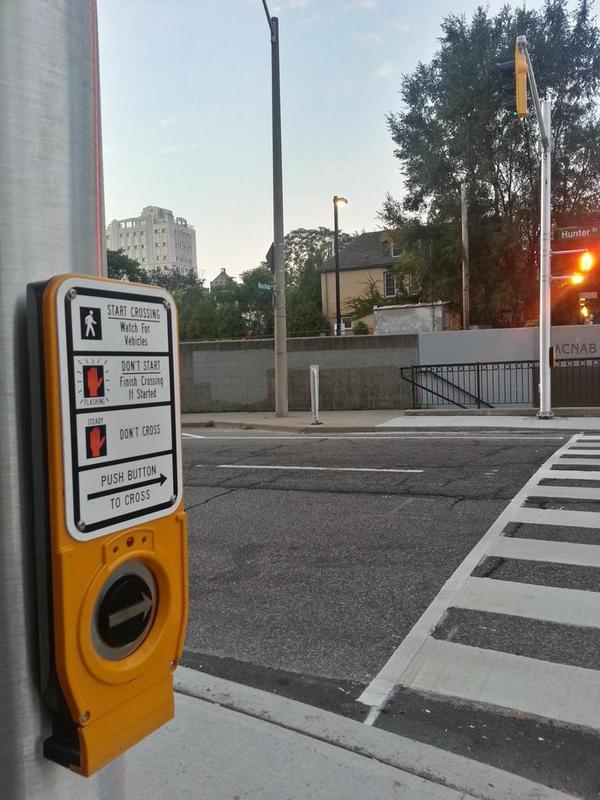 Crosswalk at Hunter and MacNab
Despite the proposal that was approved through the Ward 2 Participatory Budget process, Traffic staff decided that the traffic signals should be on a cycle synchronized with the "green wave" of timed traffic signals on Hunter.
After a sharp pushback from residents and the intervention of Ward 2 Councillor Jason Farr, staff backtracked and fixed the crosswalk.
Meanwhile, Reuben Vanderkwaak noticed that the new signalized crosswalk had no traffic signal facing west for eastbound cyclists. As Vanderkwaak put it, "So, as a cyclist flying down the hill on Hunter, you have to make a quick judgement call on whether or not the cars will jump through the intersection while you are turning through their lane. Very dangerous."
Fortunately, the City agreed. Not long after fixing the crosswalk, they came back and installed two traffic signals to face eastbound cyclists.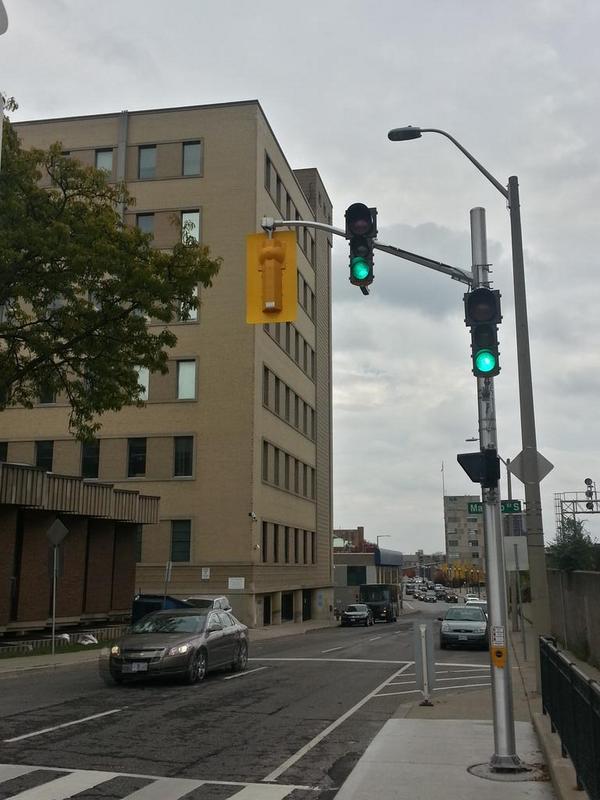 Traffic signal facing west for eastbound cyclists on Hunter at MacNab crosswalk
That's the good news. The bad news is that an unfortunately-placed street sign blocks one of the traffic signals right at the spot where it would be really useful to know whether the signals are green or red.

Bike Lane Ends sign blocks visibility of traffic signal
Adding insult to (increased risk of) injury, it is the sign advising cyclists that the bike lane ends.
It's almost as if no one working for the city has actually ridden a bike on the bike lanes they installed.
Bicycle Traffic Counts on Hunter
One of the reasons we spent the past two years advocating for the Hunter Street bike lanes to be physically protected is that the evidence clearly tells us a lot more people will ride on protected bike lanes than on unprotected bike lanes.
The City of Portland has a handy graphic defining four categories of people with respect to cycling:
Strong and Fearless: risk-taking young men who are willing to ride in mixed traffic: less than 1 percent
Enthused and Confident: People who will ride if bike lanes are available: 7 percent
Interested but Concerned: People who are interested in cycling but afraid of perceived danger: 60 percent
No Way No How: People who cannot or will not ride under any circumstances: 33 percent


Four types of transportation cyclist in Portland (Image Credit: City of Portland)
Assuming the goal of the City's Cycling Master Plan is to increase the number of people who choose cycling, the cycling infrastructure we build should favour designs that are proven to achieve this.
An October 21, 2014 memo from the Public Works department details their preliminary findings on the change in cycling activity on Hunter Street since the bike lanes were installed.
Unfortunately, it only took baseline "before" bike traffic counts at one location, but it took "after" bike traffic counts at three locations, including the one "before" location.


Map of bike traffic count locations on Hunter Street (Image Credit: City of Hamilton)
The location that received both "before" and "after" traffic counts was on Hunter west of Bay. The baseline count was a week in May 2013, before the bike lanes were installed. During the week, automatic bike counters detected 333 trips in total.
After the City installed the bike lanes, it conducted a second bike traffic count in the first week of October, 2014. During that week, the bike counter detected 634 bike trips in total.
So total bike trips doubled. Good news, right?
Not necessarily. In May 2013, cyclists on Hunter were riding in mixed traffic or on the sidewalk, and Hunter was a one-way street westbound. This is reflected in the traffic counts: 289 trips, or 89.5 percent, were westbound and 35 trips, or 10.5 percnet, were eastbound.
In October 2014, once there was a two-way bike lane on Hunter, it was legally possible to ride a bike eastbound. There were twice as many total trips, but most of the increase was in new eastbound trips. 405 trips, or 63.9 percent, were westbound while 229 trips, or 36.1 percent, were eastbound.
Traffic counts in the other two locations are similar to the counts west of Bay, though we don't have baseline data with with to compare them.
A count west of MacNab in August 2014 counted 852 trips in total, with 526 trips (61.7 percent) westbound and 326 trips (38.3 percent) eastbound. A second count at that location in October 2-9, 2014 counted 752 trips in total, with 453 (60.2 percent) westbound and 299 (39.8 percent) eastbound. The week of October 9-16 yielded 700 trips in total, with 423 westbound and 277 eastbound.
The third location was on the eastern section of Hunter at Ferguson. That count, conducted October 2-9, 2014, detected 654 trips in total, with 414 (63.3 percent) westbound and 240 (36.7 percent) eastbound.
We only have comparative data for one location, but since the post-bike lane counts are similar in the three locations, let's assume the pre-bike lane counts were also similar in the three locations.
Before the two-way bike lanes went in, a cyclist going westbound on Hunter with the flow of automobile traffic would have to use a different route to return to their point of origin. For most cyclists, that was either Jackson Street or Bold Street.
The number of cyclists going westbound on Hunter west of Bay increased from 289 in May 2013 to 405 in October 2014. That's an increase of 40 percent - not a trivial number, but not really game-changing.
We may assume that some of the people who were riding west on Hunter and east on a different route before the bike lane have simply continued to do so. Anecdotally, I've talked to some area cyclists who confirm this.
Unfortunately, Hunter is still marred by the dead end at MacNab, which requires eastbound cyclists to detour onto Jackson. It also remains marred by an almost complete lack of physical protection (aside from a few knockdown bollards at Park Street).
Not only are cyclists not protected from vehicles in the adjacent lane, but the lanes themselves are not protected from being blocked by vehicles parked illegally.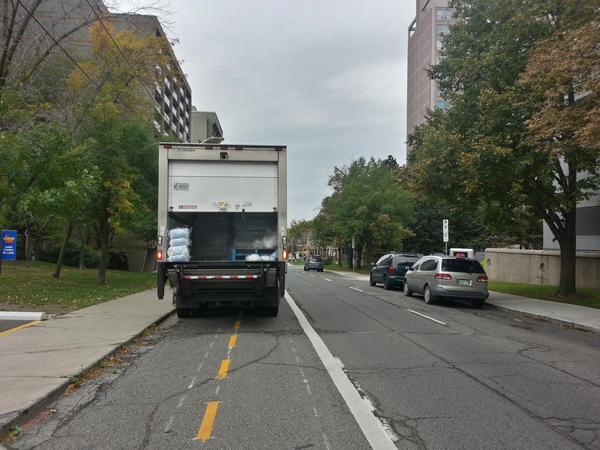 Delivery truck blocking Hunter Street bike lanes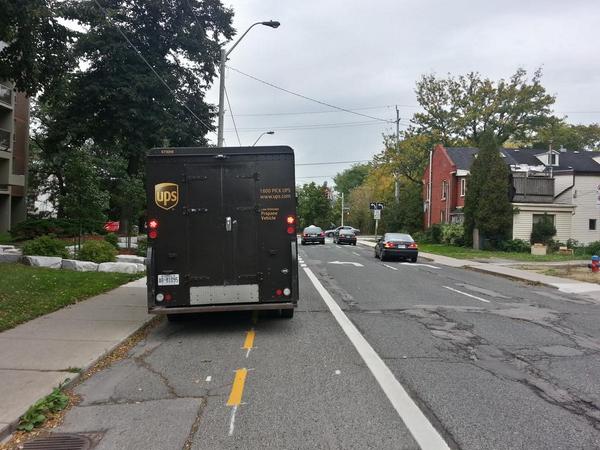 UPS truck blocking Hunter Street bike lanes
Until these issues are fixed, Hunter will continue to underperform in attracting new cyclists.
Bicycle Traffic Counts on Cannon
Now contrast the bike traffic volumes on the two-way Cannon Street Cycle Track, which runs between Sherman and Hess. Unlike the Hunter Street bike lanes, the Cannon Street cycle track is continuous and physically protected from automobile traffic.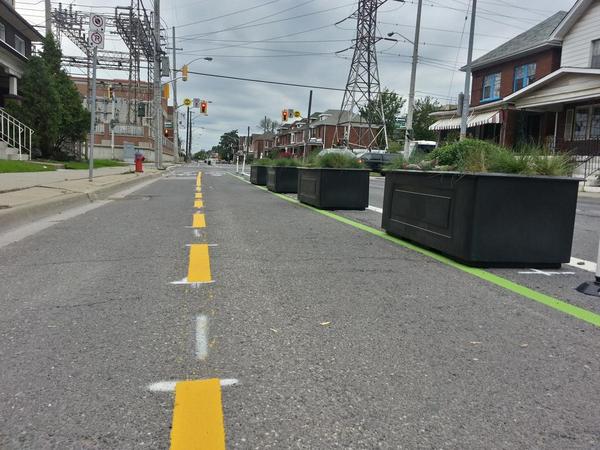 Cannon Cycle Track (RTH file photo)
It was designed for the City by IBI Group as part of a three-year pilot project championed by the Yes We Cannon advocacy group and approved directly by Council earlier this year.
Public Works released an information update on October 15, 2014 detailing their preliminary findings. Whereas Hunter Street attracts between 700 and 852 bike trips a week, Cannon Street was attracting between 250 and 400 bike trips a day within weeks of opening in mid-September.
Unfortunately the update didn't include a detailed breakdown like the update on Hunter Street, and Public Works staff earlier told me they hadn't done any baseline bike traffic counts before installing the cycle track.
Still, we're seeing on the order of four times as many cyclists at a given spot on Cannon as we observe on Hunter - and that's literally within a couple of weeks of the cycle track opening in mid-September.
Another note: When the Cannon Cycle Track opened, we noticed that it did not include pavement markings through intersections (a major "conflict zone" between automobile and bike traffic), even though the design had called for them. The Information Update notes that staff have decided to install intersection markings after all.
New Zebra Crosswalks
It's small compared to last year's Zebrapalooza, but the City continues to install zebra-style crosswalks, like the new ladder crossing at Main and Dundurn.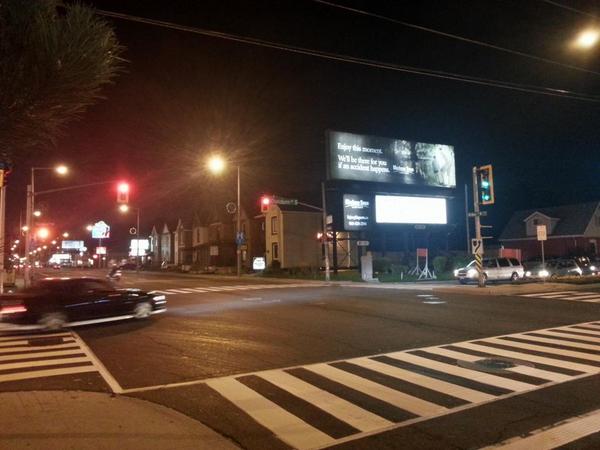 New zebra crosswalk at Main and Dundurn
According to Public Works, "Staff conducted a review of the intersection and wanted to highlight the crossing. They have installed many locations throughout the city and plan to install many more next year."
It's hard to believe that just a few years ago, the Traffic department wanted to address the nasty pedestrian experience at that intersection by banning pedestrians from crossing Main on the east side of Dundurn (in much the same way that pedestrians are banned form crossing King on the west side of Dundurn).
The grocery store plaza on Dundurn between Main and King is hard to reach on foot or on bike, thanks to being bracketed by Main Street, Highway 403, King Street and a large off-street parking lot fronting Dundurn.
Despite this, a surprising number of people still use active transportation to get there. This summer, the property management installed a bike corral near the front door of Fortinos and it is consistently occupied with bikes.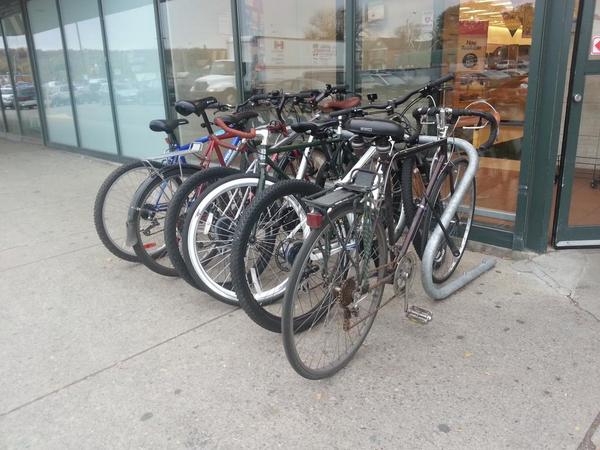 Bikes parked at Dundurn Fortinos on October 29
Yesterday afternoon, the bike rack was completely full and there were additional bikes locked against the buggy corral.
Bike Share
The Hamilton Bike Share bikes are not yet on the road, but all of the Hamilton Bike Share racks are now installed across the service area and identifying signs have started going in.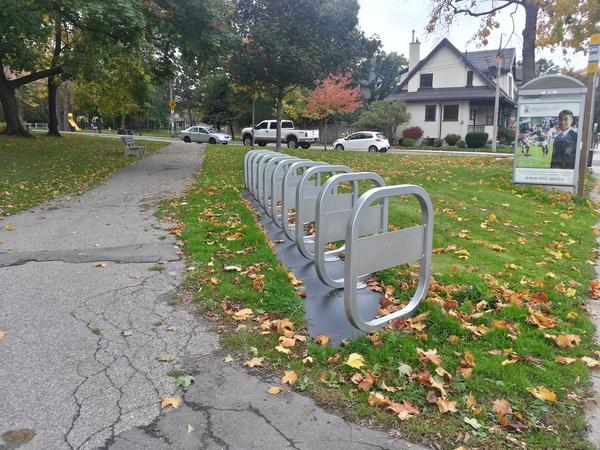 Bike share station, Aberdeen and Queen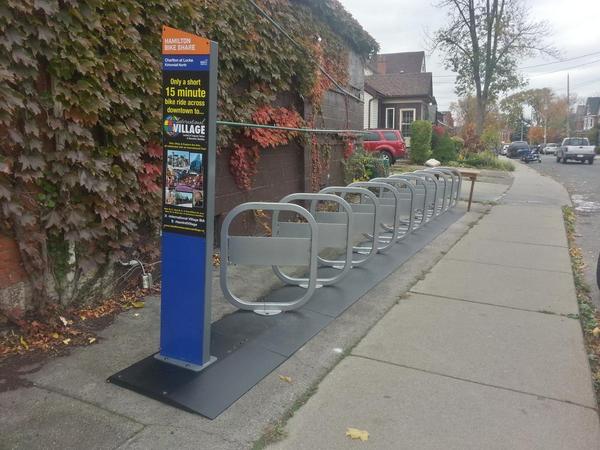 Sign up at bike share station, Charlton and Locke
The organization hopes to have bikes on the road for free "beta" use by anyone who has bought a membership in the near future. The system will open officially on the first day of Spring 2015. If you buy an annual membership between now and then, the clock won't start ticking on your year until a month after the launch.
Hamilton Bike Share has launched an "Everyone Rides" initiative with an application to the Aviva Community Fund to provide subsidized memberships to low-income Hamiltonians. With a registered Aviva account, you can vote for this initiative every day between now and November 3.
Post a Comment
You must be logged in to comment.