Active Transportation Infrastructure Roundup
Reviewing the good, the not-so-good, and the downright bizarre in recent additions to the city's network of active transportation infrastructure.
By Ryan McGreal
Published August 18, 2014
It's been a busy summer for road work of all kinds, but I want to take a few minutes to note some of the recent additions to the city's network of cycling and walking infrastructure.
Cannon Street Cycle Track
The south curb lane of Cannon Street has been marked with a stencil for the protected two-way cycle track that Council approved last year.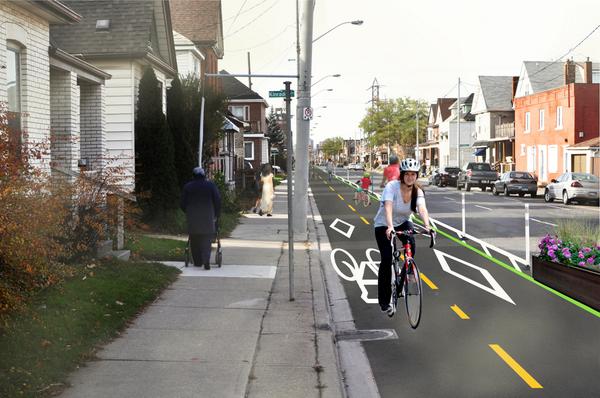 Conceptual design for Cannon Street cycle track (Image Credit: City of Hamilton)
The track was approved after an extensive public engagement campaign and has been developed by an outside company, IBI Consulting, so it is not subject to the incorrigible quirks of the City's cycling office.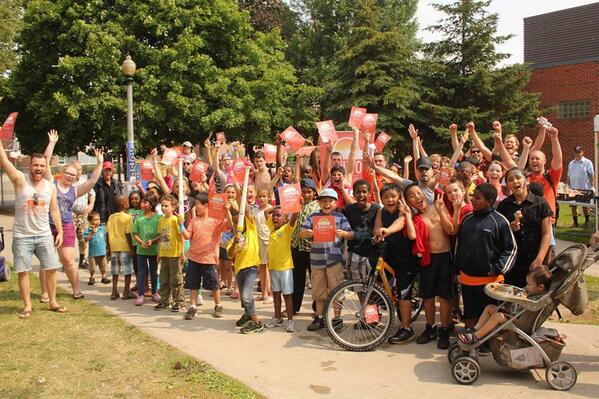 Community support for Yes We Cannon (Image Credit: Beasley Neighbourhood Association)
That means the lanes will actually be physically protected from automobile traffic, which makes a vast improvement over the unprotected lanes that recently opened on Hunter Street.
It also means the cycle track will run continuously for its full length instead of having an almost half-kilometre gap across the most crucial destination on the street.
But this is Hamilton, and even high quality cycling infrastructure is subject to the overriding priority of automobile traffic.
East of Victoria Avenue, the physical buffer between the cycle track and the adjacent automobile lane is nice and wide, leaning plenty of room for planter boxes. The consultant was able to achieve this by reducing the north curb lane to just a curbside parking lane and using the extra space for more protection.

Pavement markings east of Victoria with wide buffer
West of Victoria, the buffer is much narrower because the north curb lane is being retained as a traffic lane during rush hour. The rationale is that the Cannon bus would otherwise fall behind schedule during rush hour.

Cannon cycle track markings: buffer is narrower west of Victoria
As a result, it can only be separated with slender knockdown bollards, which not only provide less physical protection but also provide less of a psychological sense of safety.
At its busiest point, Cannon carries only 16,700 cars a day (west of Mary Street), which is a perfectly reasonable volume for two lanes to accommodate.

Cannon cycle track ends at Hess
The Cannon Cycle track ends at Hess Street. I look forward to seeing how the City will maintain a continuous cycling route to the bike lanes on York that are being extended to connect between Hess and Dundurn.
One easy thing they could do to improve connectivity is to wrap the two-way cycle track north on Hess up to at least Peter Street so that cyclists have a better connection between the cycle track and Strathcona neighbourhood.
Hess Street has so much excess lane capacity here that the City literally blocked out a huge swath of pavement on Hess between York and Cannon that is doing absolutely nothing:

Blocked-out swath of pavement on Hess between York and Cannon
Longwood Cycle Track (?)
Speaking of streets with excess lane capacity, I recently noticed something strange about Longwood Street South: a totally unmarked strip of asphalt running parallel to the sidewalk on the east side.

Asphalt strip on Longwood starts at Aberdeen
Apparently this is a cycle track, or so I have been advised by a few city staffers. It's just a little wider than the sidewalk and runs between Aberdeen Avenue and Frid Street.

Unmarked cycle track on Longwood Road
I suppose it might be wide enough to be a two-way cycle track, but without any markings it's impossible to tell what the designer had in mind. In any case, there is no parallel asphalt ribbon on the west side of the street.

No cycle track on west side of Longwood
The routing next to the sidewalk is, um, awkward. At one point it is obstructed by guy-wires, which will surely make for a fun slalom at night or during inclement weather.

Guy wires obstructing the cycle track
After just 230 metres, it stops dead at Frid Street.

Cycle track ends at Frid Street
North of Frid, any cyclist who has not already reached their destination is thrust back into four lanes (soon to be five lanes) of fast automobile traffic.
It is not at all clear how a southbound cyclist on Longwood might be able to make use of it. (This is similar to the two-way cycle track on Main Street over Highway 403: there does not seem to be any legal way for a cyclist to access the westbound lane without getting off their bike and schlepping.)
The cycle track doesn't do much better on connectivity on the other end, either. There's a westbound bike lane on Aberdeen Avenue that runs for around 200 metres from just west of Studholme Road to just before the highway-style on-ramp for cars turning north onto Longwood.
However, the lane ends before the cycle track starts:

Aberdeen bike lane ends before Longwood
All in all, this is a particularly bizarre dispatch from a city transportation office already not known for engaging with to the constituencies it is supposed to represent.
Bicycle Detours Done Well and Badly
Just a passing note, but after years of requests from customers, the Fortinos supermarket on Dundurn Street between Main and King has finally installed a bike rack near the front entrance, and it is already seeing regular use.

Bike rack at Fortinos
Kudos to Fortinos for making space for its customers to ride a bike. If you shop at Fortinos and need to stop in for a smaller haul, consider taking your bike instead of driving.
Moving south on Dundurn, road construction work has been ongoing at Dundurn and Melbourne Street for the past couple of weeks. I was delighted to see that the detour pylons have defined a continuous cycling route through the construction zone.

Bicycle detour route on Dundurn at Melbourne
Never mind that the bike detour sign was hand-made. The important thing is that someone decided to make it. This is the first time in my memory that a bike lane was taken into account during a road work detour.
Cyclists trying to use York Boulevard during that street's road work aren't as lucky. The lane was partially and in some cases entirely blocked by pylons:

Pylons in bike lane on York Boulevard (Image Credit: Bob Berberick)
Is there some particular reason the pylons need to block the bike lane? Or were they just dumped there out of indifference?
Perhaps a similar thinking was at work when staff installed a small number of knockdown bollards on the Hunter Street bike lanes just east of Park Street.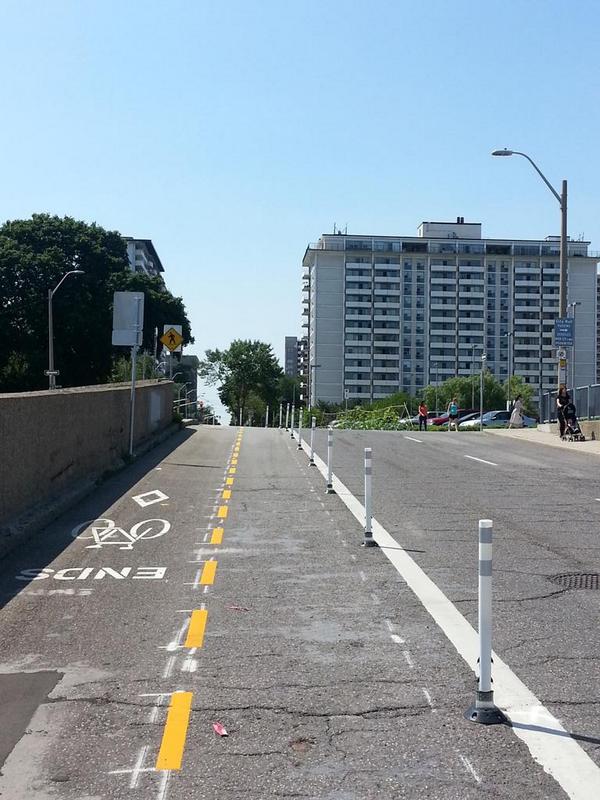 Knockdown sticks installed on Hunter Street, looking west toward Park Street
They're certainly an improvement over nothing, but we can't help but notice that the sticks themselves were mounted onto the road on the bike lane side of the painted bike lane boundary, and not on the painted line itself or on the automobile lane side.
New Crosswalk
But let's end on a brighter note with the new pedestrian-activated crosswalk on Locke Street South at Hunter Street is up and running:

Crosswalk at Locke and Hunter
I've tried it out a couple of times and it seems to work properly, i.e. you push the button and the traffic lights turn yellow. Then they turn red, and then the walk signal activates.
This is very encouraging. Other pedestrian-activated crosswalks installed in the past few years were programmed to provide a much lower level of service for pedestrians, with long delays that caused frustration and encouraged people to just give up and cross against the light.
Another encouraging observation is that the light was installed and turned on a lot more quickly than previous installations. It took several months to install the crosswalk at Aberdeen and Kent, but the city seems to be getting faster at putting these things in the ground.
Post a Comment
You must be logged in to comment.