Easy Fixes for Hunter Street Bike Lanes
Surely we can find the cost of paint, knockdown sticks and some signage to protect the bike lanes with painted buffer zones and extend them past the GO Station.
By Jason Leach
Published June 23, 2014
this article has been updated
As we have been watching the Hunter Street bike lanes take shape over the past few weeks, I wanted to share a few thoughts about some simple, easy solutions to some of the lanes' much-publicized problems.

Green bike box on Hunter at Bay (Image Credit: Ryan McGreal)
But first off, it's really nice to see green bike boxes in the Hammer! They look great. Kudos to all involved.
That said, there are two well-known problems with these bike lanes. They both have fairly simple, straightforward solutions.
1. The lack of separation between cars and cyclists. I've ridden Hunter both ways, and westbound is not enjoyable or safe. The cars are whizzing right past cyclists. Also, cars are constantly parked in the bike lanes.

Car parked in Hunter Street bike lane (Image Credit: Jason Leach)

Trucks parked in Hunter Street bike lanes (Image Credit: Bob Berberick)
Solution: Paint a two-foot-wide buffer zone and add bollards along its length.
The painted buffer zone will do two things. It will introduce some physical separation between the auto and bike lane, and a slightly narrower nine-foot auto lane will slow down drivers.

Two-foot buffer with bollards in Washington DC
Nine-foot car lanes are common and becoming more common. The car lane on Hunter, especially Hunter East, is crazy wide. The curb parking lane is also a full width lane instead of a more apprpriate 6-7 foot parking lane.
That means there is over 15 feet of wide open space in front of drivers from the edge of the bike lane to the parked cars! It's a recipe for speeding and disaster.
Jeff Speck, the renowned author of Walkable City, recently posted pictures from Philadephia. Their main retail/pedestrian streets downtown are one-way with nine-foot lanes and seven-foot curb parking. He said the walking experience is fantastic due to the narrower lanes and constant parking.

Lively streets in Philadelphia
2. Please finish the lanes.
I would be happy to walk the GO Station section with anyone from the City and show how the lanes can extend through there using only paint and bollards, no construction necessary, while maintaining parking on both sides of Hunter and maintaining the right turn lane at John and left turn lane at James.
This is a public danger to have eastbound lanes suddenly end into on-coming traffic after picking up speed down a huge hill.

Hunter Street bike lanes at MacNab (Image Credit: Ryan McGreal)

Bicycle sign at MacNab indicates eastbound route but bike lane is not continuous (Image Credit: Ryan McGreal)
Not to mention, any potential cyclist will plan their trip and decide their mode based on the most dangerous part of the trip. These lanes are effectively useless until they connect across their full length.
Hunter, however, is a perfect street for this and, thanks to its very low traffic volumes, an excellent candidate for one lane of auto traffic. If any zone in the city should be a slow, mixed zone it's the entry to our main transit hub. We don't need a freeway there!
The best solution is the same option that has been presented for a couple of years, including this design by a co-op student who was working for the City (but submitted the design as an individual):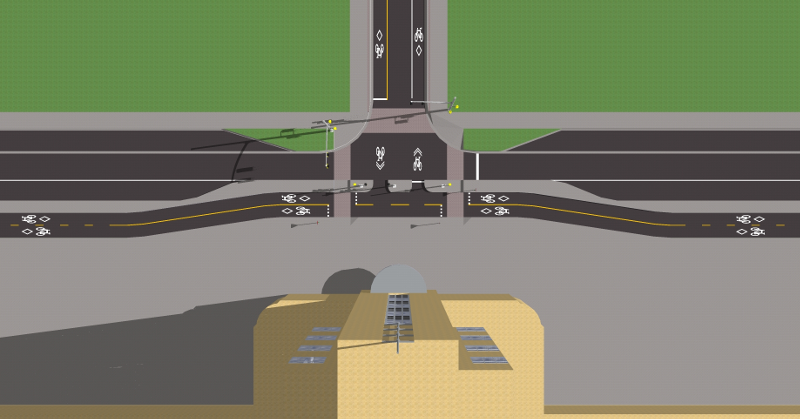 Rendering of Hunter Street bike lanes at GO Station, overhead view
It doesn't even have to be done with concrete curbs. The exact cross-section can be built with paint and knockdown sticks. Viola:

Protected bike lane with paint and knockdown sticks (Image Credit: City of New York)
The painted buffer zone is a cheaper way of avoiding concrete curbs the entire length. And it provides a safe 'door zone' for loading/unloading of vehicles.
At Hughson, directly in front of the GO Station, there is no curb parking. The bikes curve around the sidewalk bumpout and then back to the current parking zone west of the station. Again, parked car areas are painted in the current south travel lane. Approaching James, the parking ends on the south curb so the left turn lane can remain. Bikes stay on the curb all the way to MacNab.
Surely we can find the cost of paint, knockdown sticks and some signage to protect the bike lanes with painted buffer zones and extend them past the GO Station.
---
Update: this article originally stated that the Hunter Street bike lane design around the GO Station was made by an intern at City Hall. It was actually designed by a co-op student who did the work independently. RTH regrets the error. You can jump to the changed paragraph.
Post a Comment
You must be logged in to comment.