Two-Way Bike Lanes Coming to Hunter Street
This Monday, staff will begin installing two-way bike lanes on Hunter Street between Liberty and Catharine, and between MacNab and Queen.
By Ryan McGreal
Published May 28, 2014
The City's Public Works Department is set to begin installing the planned two-way bicycle lane on Hunter Street. The street will remain one-way westbound for motorists.
City workers have already installed traffic lights for the two-way cycle traffic.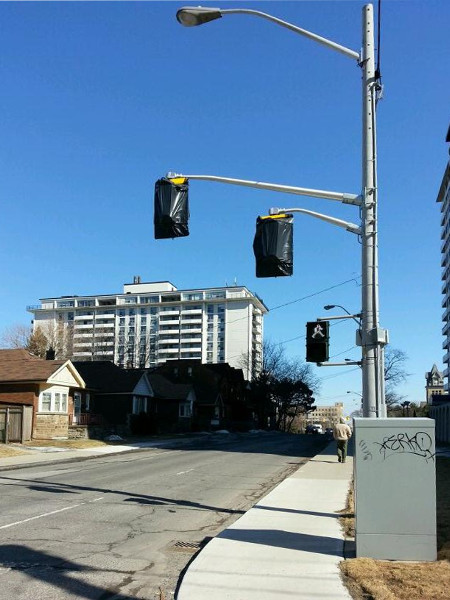 Contraflow traffic lights have been installed on Hunter Street since March (RTH file photo)
The work was supposed to be completed in 2013, but staff responsible for the bike lanes were redeployed to implement the transit-only lane on King Street. The bike lane work will begin on Monday, June 2 if the weather allows for road paint.
Public Works Staff will start on the eastern segment, which will run between Liberty and Catharine Streets. Once that is completed, workers will install the western segment, which will run between MacNab and Queen Streets.
Curbside parking on Hunter will move from the south side to the north side of the street between Liberty and Catharine. West of MacNab, there will be no change.
Discontinuity Between Catharine and MacNab
Unfortunately, the section of Hunter Street between Catharine and MacNab, which runs past the Hunter Street GO Station, will not have bike lanes installed at this time.
City staff have explained that the section between Catharine and MacNab will not be installed yet because they have not yet determined how to run the bike lanes through that stretch.
Earlier this year, an urban planning student prepared renderings for how the bike lanes could run past the GO Station. It allows for a bi-directional bike lane protected from the automobile lane, and it preserves curbside in-and-out parking while improving safety and clarity for pedestrians, cyclists and motorists at the corner of Hunter and Hughson.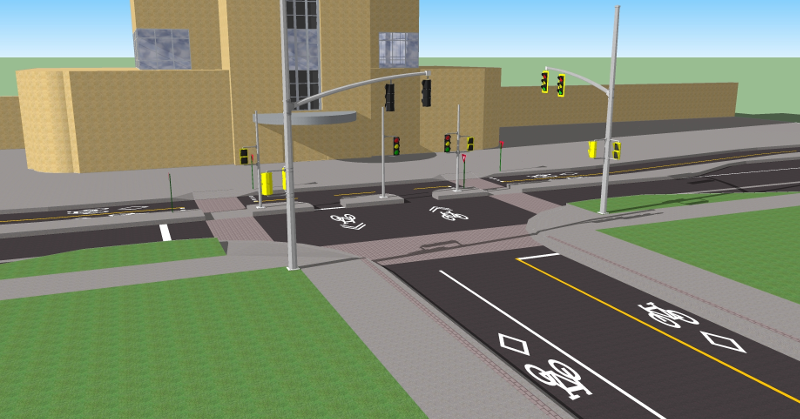 Rendering of Hunter Street bike lanes at GO Station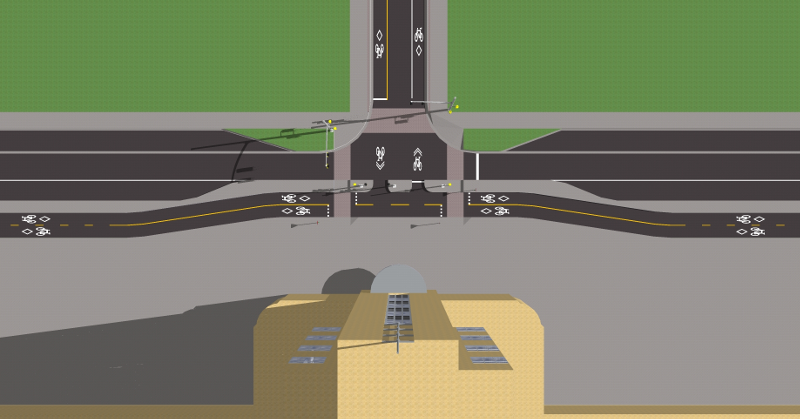 Rendering of Hunter Street bike lanes at GO Station, overhead view
It is not clear why the City cannot proceed with such an installation, since much of the design work is already complete. Without continuity across the stretch between Catharine and MacNab, the usefulness of the bike lanes is severely reduced - especially for eastbound bicycle traffic, which doesn't even have the option to ride in mixed traffic.
Bike Boxes but No Barriers
The bike lanes will include bike boxes, or advanced stop lines for cyclists, at Walnut Street, Bay Street, Caroline Street, Hess Street and Queen Street.
Unlike Hamilton's infamous invisible bike box at Studholme and Aberdeen, these bike boxes will be painted green and marked with bike stencils for visibility.
Unfortunately, the bike lanes will not be physically separated from the automobile traffic on Hunter - not with curbs, bollards, planter boxes, parked cars or anything else.
Instead, the bike lanes will be buffered from traffic with "atypically thick pavement markings," according to the manager in charge of the project. In other words, painted lines.
The clear evidence from cities around the world is that physically separated bike lanes are both the safest design and also the most successful at attracting new riders. It is a real shame that the City of Hamilton is not following best practices for this project, which has been in the works for several years.
However, staff suggested that they might revisit the idea of physical separation in the future.
Post a Comment
You must be logged in to comment.