Suggestions to Make the Farmers' Market More Appealing
The market feels barren and disconnected from the street and is inhospitable to families looking to enjoy a meal together.
By Jason Leach
Published January 27, 2014
My wife and I spent some time at the Market a week ago Saturday. Our kids wanted to eat lunch there so we took them for some shopping and food. We got chatting about the recent news about the Market's poor performance and both made some observations just in our time there. I'll share them in no particular order with some suggestions.
First of all, the seating is horrible. Our family of five can never find a table because all of them are bolted down furniture with a maximum of four seats, and they are always taken. We always end up with a kid sitting on our lap.
While we were there having lunch, another family came and said, "Oh there's nowhere to sit, let's go". There were only about eight of us sitting and eating, but due to the inflexible chairs and huge lack of chairs, a family was turned away from having lunch.
So here's my first suggestion: Get rid of the white tables and chairs downstairs and in the front foyer area and replace them with a lot of Paris-style chairs and round tables. People can have a table for two, or assemble a group of ten together if they want.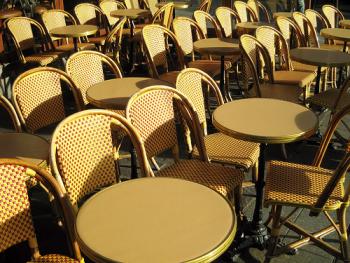 Cafe chairs (Image Credit: Nelson Minar)
Plus, you'll be able to add more seating this way, especially up in the front area where it is completely empty.
Have a pile more of these tables/chairs for spring-fall and have them available outside on the cobblestone area of the sidewalk on York. Let people eat outside in the nice weather.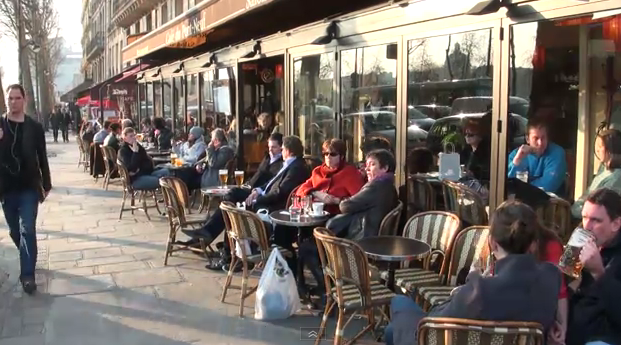 People sitting outside in autumn (Image Credit: Soundscape Explorations)
Speaking of which, I notieced this when the renovation was complete, and sure enough it has become a real problem: the market still doesn't open to the street.
Our kids and us love the samosas from Sensational Samos so we chose to eat there, but the ambiance in the front glassed-in foyer is dead. It's like eating lunch in a hospital cafeteria.
This might be a costly fix, but instead of the glass wall separating this space from the rest of the market, there should be a glass balcony railing like this: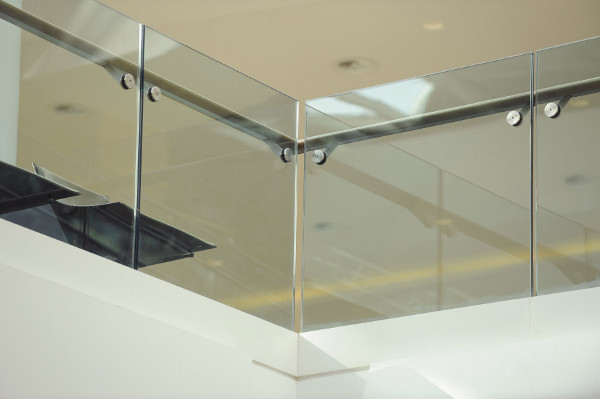 Glass balcony railing (Image Credit: Dupont)
Get rid of the front vestibule and everything. Just the doors from York and viola, you're in the market. In summer with the sliding panels open to the sidewalk, people will actually be able to hear, see and smell the market.
Considering the street: the city needs to plant some street trees in the cobblestone section on York: trees that will grow big, fast. Then, we have the above-mentioned tables and chairs in a nice leafy streetscape.
That strip currently feels barren, and let's be honest - it's kind of a boring street with an empty wall across the street and parking garage on the other corner. We need to animate it as much as possible on the market side.
Someday it would be great to have a retail/cafe establishment on the ground floor of the parking garage facing York/McNab.
Each Saturday, the curb lane of York should be closed and filled not with trucks, but with outdoor stalls like this: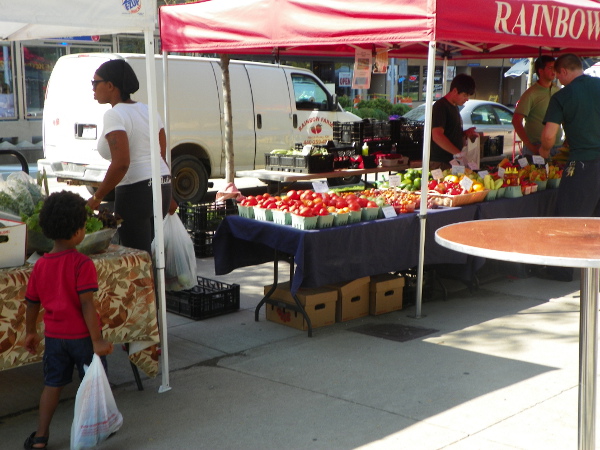 Outdoor market stalls (Image Credit: A Greener Cleveland)
If the community kitchen space is no longer being used, perhaps look at re-arranging that corner to allow for a prepared food/lunch type of establishment to set up shop near the seating area. Think Byward Market in Ottawa. We go there all the time and there are tons of lunch options.
Finally, I would explore the option of a baker/pizza/panini type establishment being located at street level along with Sensational Samosa. Now, with all the tables and chairs filling the rest of that space and overlooking the entire market and spilling out onto York, there would be a much more enjoyable market destination vibe.
I'm glad to hear that better signage is on the way, but honestly I must say that these issues I'm bringing up are probably a much greater detriment than a sign or free parking.
Hope this helps, and I hope some of the simpler/quick-win ideas like new tables/chairs and street trees could be seriously considered. Honestly, I said this from the start, but that glass partition has to go. Open the market to the sidewalk.
Post a Comment
You must be logged in to comment.