Yet More Pedestrian Improvements Across Hamilton
With Councillors supporting a new pedestrian mobility plan, let's take a look at some recent pedestrian improvements the city has already made.
By Ryan McGreal
Published November 07, 2013
this article has been updated
Yesterday, the General Issues Committee received and endorsed a mammoth 244-page Pedestrian Mobility Plan. Please read the excellent two-part summary of the plan by Sara Mayo: Part 1, Part 2.
Astonishingly, west mountain Councillor Terry Whitehead spoke against the plan: "It's important that any decisions the city makes don't add to commuting time for motorists. The challenge for my constituents is gridlock." Yet even Councillor Whitehead voted in favour of it.
Indeed, Councillors seem to be more or less united in agreeing that Hamilton streets should be safer for the most vulnerable people using them - pedestrians, and especially children and senior citizens. (Of the past six pedestrians killed in Hamilton, five of them were seniors.)
With the recent report that Hamilton is one of the most dangerous cities in Ontario for pedestrians and cyclists, the City has its work cut out for it. The good news is that city staff already started making long-awaited improvements earlier this year.
Incremental Improvements
After a series of tactical urbanism activities in May and a city crackdown galvanized public support for a stronger commitment to safe streets, the City Manager's office pressured the Public Works Department to see the tactical urbanism campaign as an opportunity to engage citizens and make incremental improvements.
Almost immediately, Public Works started to ramp up its intersection repair at locations across the city.
Capital budget money was made available for pilot projects to paint zebra crossings, create bumpouts and install knockdown sticks to slow traffic and improve pedestrian safety at under-served and high-risk intersections.
Bumpouts improve pedestrian safety in four specific ways:
They establish a wider platform for pedestrians to stand.
They reduce the distance pedestrians have to walk to cross the street.
They narrow the driving lanes for drivers, encouraging them to slow down.
They shrink the corner radius for drivers making turns, so they have to slow down to do it.
The City's intersection repair work continues with several recent projects. Thanks to the intrepid Jason Leach, we have a bunch of photographs to share.
Maplewood Avenue
St. Peter's Hospital and Adelaide Hoodless School sit across from each other on Maplewood Avenue a few blocks west of Gage Park. They now have a safer walkway between them, thanks to painted bumpouts and knockdown sticks: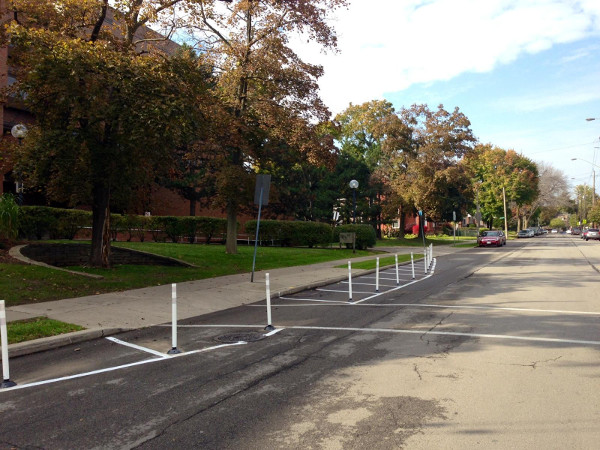 Bumpouts and knockdown sticks on Maplewood Avenue
Bay and Bold
Bay Street South is two-and-a-half lanes of speeding one-way traffic with narrow sidewalks right next to the street, and children have to brave it every day on their way to and from Central School at Bay and Hunter.
This week, City staff painted over the extra half-lane on the east side of Bay around Bold Street, adding knockdown sticks to provide a physical barrier for pedestrians.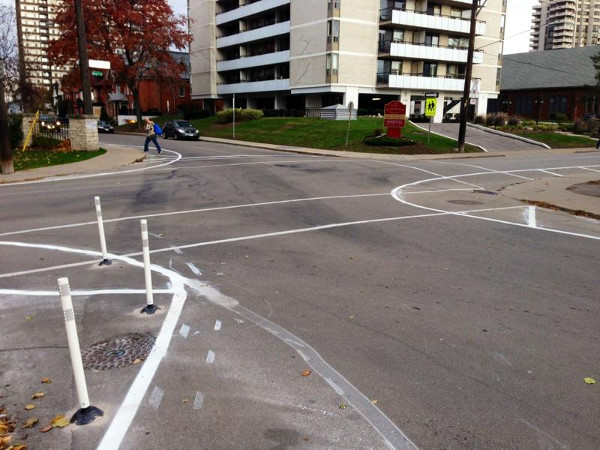 Bumpouts on Bold at Bay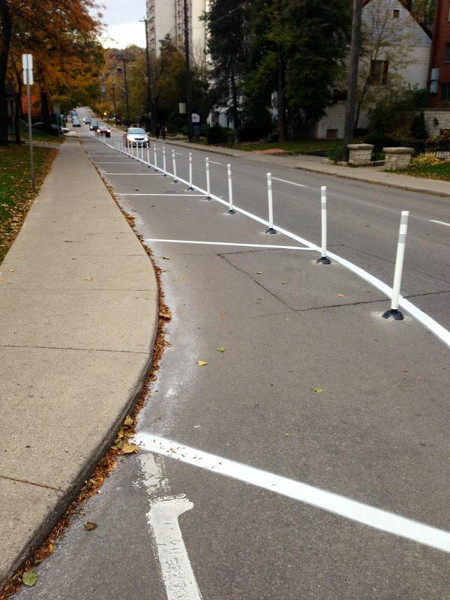 Knockdown sticks on Bay south of Bold

Knockdown sticks on Bay north of Bold
Charlton Avenue at HAAA
Westbound traffic races down the one-way Charlton Avenue West past the HAAA Park, which includes a playground, track, football field and Ryerson School.
Building on the success of speed humps on nearby Stanley Avenue, city staff have also installed speed humps on Charlton between Queen and Kent, and between Kent and Locke.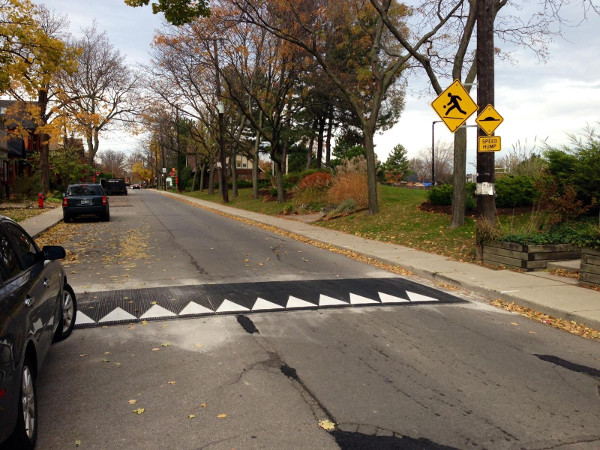 Speed hump on Charlton
The nice thing is that there is enough room to the right of the speed hump for a cyclist to pass it without catching air.
Cannon and Barnesdale
This summer, staff painted zebra crossings on Cannon at Elgin, Smith and Wentworth, to varying levels of success (the crosswalk at Smith is uncontrolled, which means most drivers don't think they have to stop for pedestrians. (The bizarre staff proposal to put up signs telling pedestrians that vehicles are not required to stop won't help.)
Now staff have also painted zebra crossings on Cannon at Barnesdale, an intersection that is controlled with traffic lights.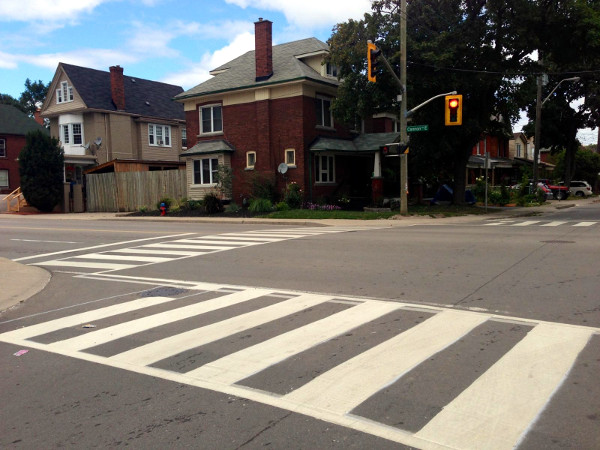 Zebra crossing, Cannon and Barnesdale
The Delta
One of the tactical urbanism locations was the Delta, where Main Street and King Street meet up and the highway-style intersection makes pedestrians feel decidedly unwelcome. Staff have helped by installing knockdown sticks near the curb and painting zebra crossings: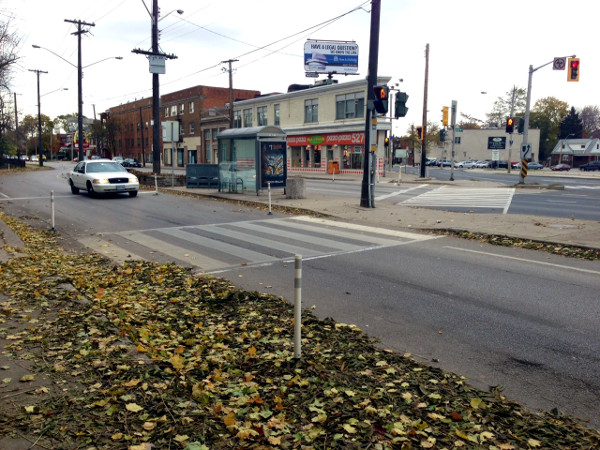 Zebra crossings and knockdown sticks at the Delta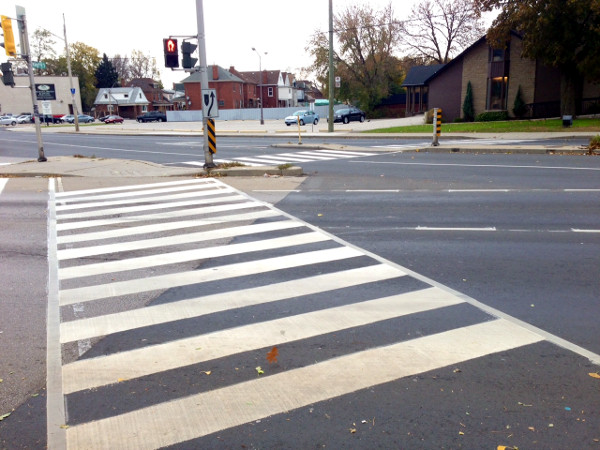 Zebra crossing closeup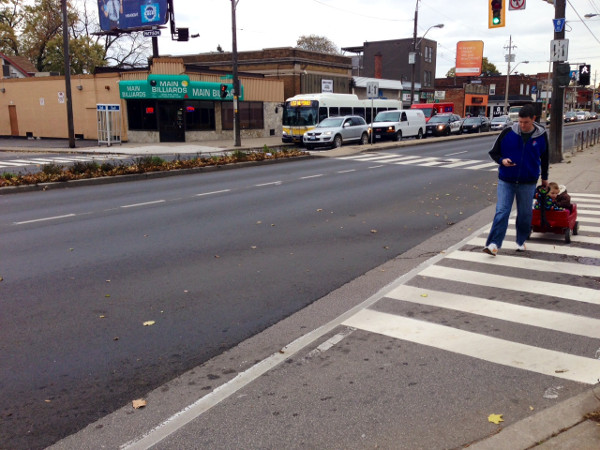 Look, a pedestrian!
Mohawk Road
Staff have also been painting zebra crossings at some of the more frightening intersections on the mountain, where Mohawk Road crosses the major north-south arterials.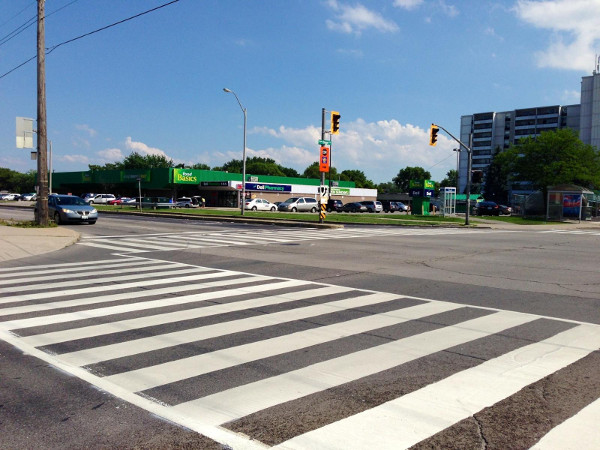 Mohawk and Upper Gage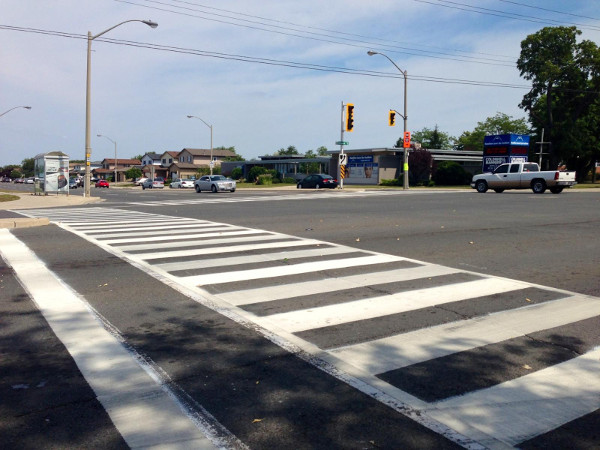 Mohawk and Upper Wentworth
Locke Street North
The intersection of Locke and York is brutal for the very long distance pedestrians need to walk to get across York. The "pedestrian refuge" island in the middle of the boulevard is scant compensation for a light cycle that is too short for children or seniors to get across, but the new zebra crossing will at least alert motorists that pedestrians are allowed to cross.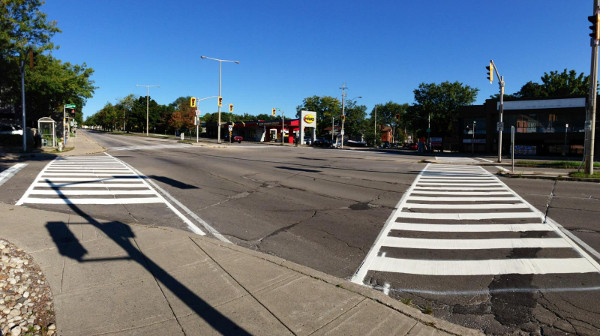 Locke and York
Locke and King has also gotten the zebra treatment:

Locke and King
The zebra crossings on King near Locke even integrate nicely with the new transit lane: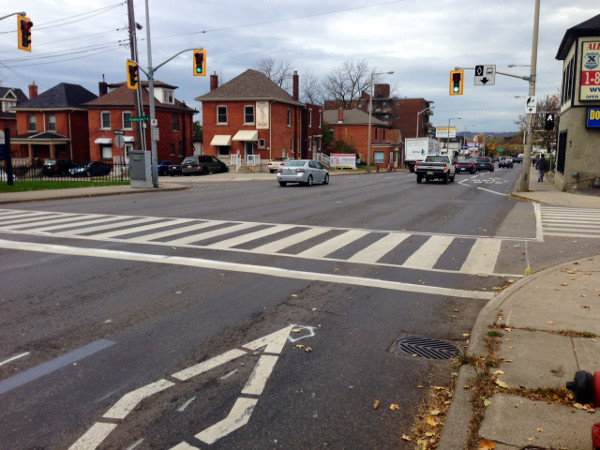 King and Strathcona with transit lane
See also:
Update: the caption for the last photo incorrectly stated that it is at King and Locke. It is actually at King and Strathcona. Thanks to the RTH reader who noticed the error.
Post a Comment
You must be logged in to comment.