Cannon Street a Case Study in Disastrous Design
Cannon Street should be full of people walking, cycling, chatting, doing business, socializing and otherwise interacting. Instead, it is desolate, save for the clumps of fast automobile traffic.
By Ryan McGreal
Published August 22, 2013
This past April, photographer Mike Goodwin took a series of photographs on Cannon Street that highlighted the street's dysfunctionality as a four-lane, one-way highway blasting high-speed traffic through vulnerable neighbourhoods.
I took a walk along Cannon yesterday around lunchtime because I had heard that the City installed some zebra crossings and I wanted to see for myself if the street has gotten any better. I'm nowhere near as good a photographer as Goodwin, but I decided to take some shots to try and demonstrate what is wrong with the street.
One thing is abundantly clear: the new zebra crossings, while a welcome scrap of attention to a street badly in need of it, are nowhere near enough to mitigate the sheer oppressive brutality of this beleaguered thoroughfare.
The street design aggressively conflicts with the very idea of stopping to let a pedestrian cross the street. When the "Ride of the Valkyries" (as one friend puts it) is in full swing, there is nothing stopping drivers who feel they are on a speedway rather than an inner-city street.
Unhealthy Traffic Patterns
Cannon Street is lined with houses and retail businesses and passes through several urban residential neighbourhoods. It should be full of people walking, cycling, chatting, doing business, socializing and otherwise interacting.
Instead, it is desolate, save for the automobile traffic, which comes in tight clumps of fast-moving vehicles interspersed with stretches of complete emptiness.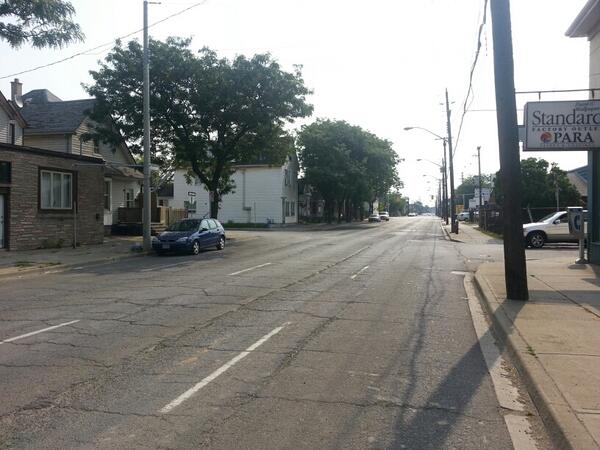 Big gaps with no traffic
There are a few important reasons for this phenomenon, all relating to the street's design:
It's a one-way street so traffic only flows in one direction.
The lights are timed so all vehicles get shuffled together into the Green Wave.
The street has lots of excess lane capacity so traffic can move fast all the time and crowd up to the front of the timed wave.
I'm not kidding about the excess lane capacity: at Mary Street, where traffic is at its highest, Cannon carries just 16,700 a day, or 4,175 per lane. Farther east, total daily traffic tails off to just over 9,000 at Sherman.
The City should be aiming for 7-9,000 cars per lane per day, which means two lanes in total is plenty for Cannon. There's no reason not to use one of the spare lanes for a protected two-way bike lane that will connect north-central Hamilton with north-east Hamilton.
There's also no reason whatsoever for the two remaining vehicle lanes not to go in opposite directions, about which more below in the section on Wilson Street.
Transport Trucks
With the bonanza of excess lane capacity, it's no wonder so many transport trucks like to drive along Cannon. Nearly every clump of vehicles contains at least one transport truck or other heavy truck, and some contain more than one.
The following photos were taken literally within minutes of each other as I walked east. I could have taken several more.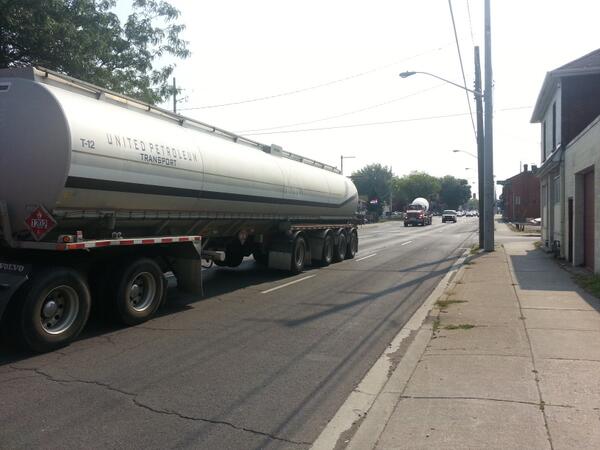 Transport trucks on Cannon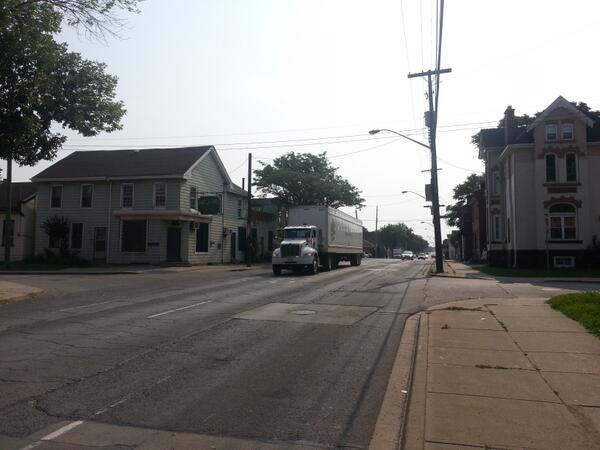 More transport trucks on Cannon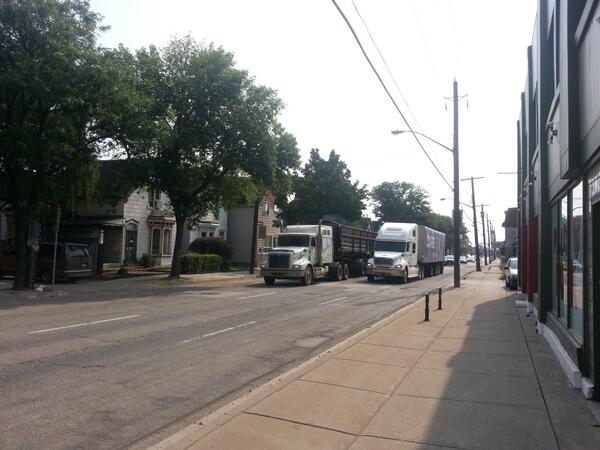 It's like a scene from a Stephen King movie
I think Graham Crawford put it best when he wrote in response to the last photo: "Photoshopped? How can two huge trucks be headed in the same direction on a four-lane street where people live? Oh yeah, Hamilton."
Nothing says "safe and healthy neighbourhood" like transport trucks and other high-speed vehicles roaring past people's homes, businesses, parks and schools.
Zebra Crossings
I watched a family try to cross Cannon at Elgin, where the City has just installed a zebra crossing. Not one car stopped for them, and they ended up having to wait for the traffic to clear before they could cross.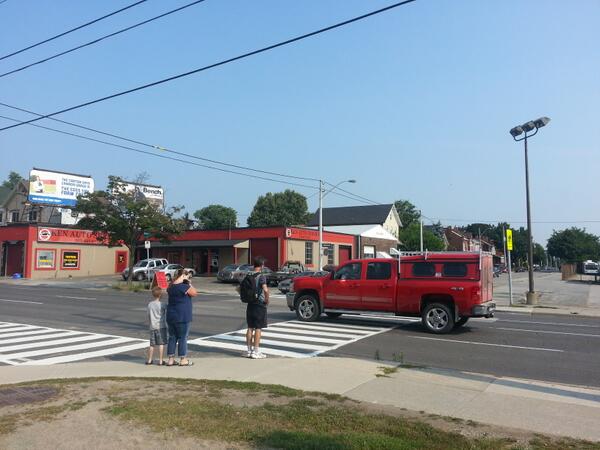 Vehicles not stopping for pedestrians on zebra crossing at Cannon and Elgin
Farther east, the City has also installed a zebra crossing at Smith, near St. Brigid's School. Presumably the crosswalk has a crossing guard during school hours, but a crosswalk is legally in force all the time.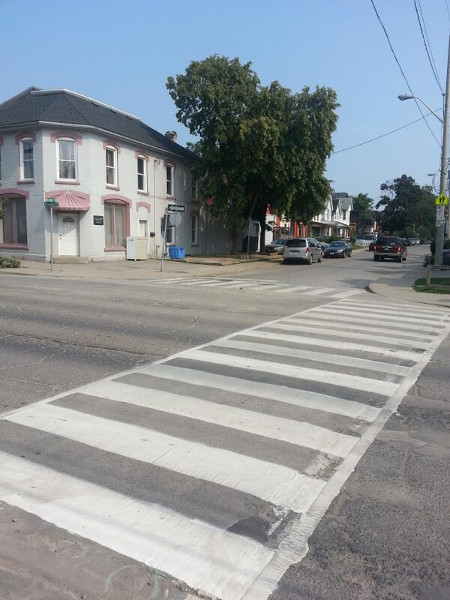 Zebra crossing at Cannon and Smith
Unfortunately, even though the crossing is marked with bright Pedestrian Crossing signs, drivers showed no sign of yielding the right of way.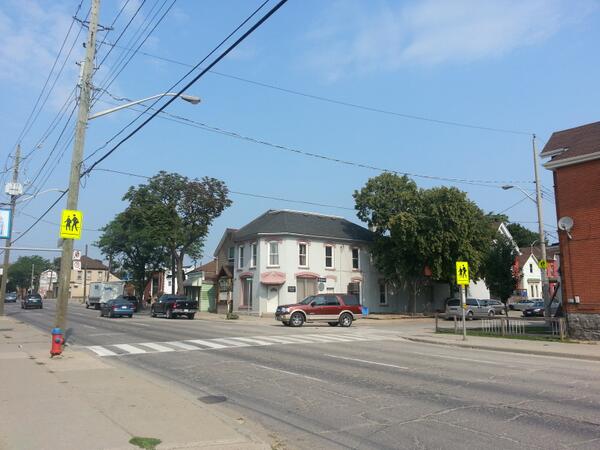 Bright signs telling drivers about the pedestrian crossing
I tried to cross at Cannon and Smith past three separate clumps of drivers, using all the techniques that are supposed to signal one's intent to cross: I leaned forward, stepped out, used hand-signals (no rude ones) and attempted to make eye contact. Of the 20 or so vehicles that passed me, not one even slowed down.
There's also a zebra crossing at Wentworth, which at least has the benefit of being at a signalized intersection so pedestrians have a chance.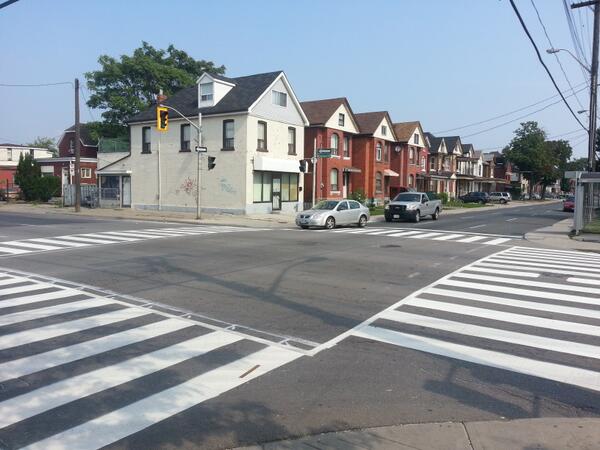 Zebra crossing at Cannon and Wentworth
Unfortunately, the next signalized intersection west of Cannon is at Victoria, 650 metres away. That is an appallingly long distance in an urban environment without a safe way to cross the street: it's actually longer than the average total distance a person will walk in a trip!
Wilson Street
Meanwhile, one block south, Wilson street is similarly one-way, similarly excessive in lane capacity, and similarly dismal.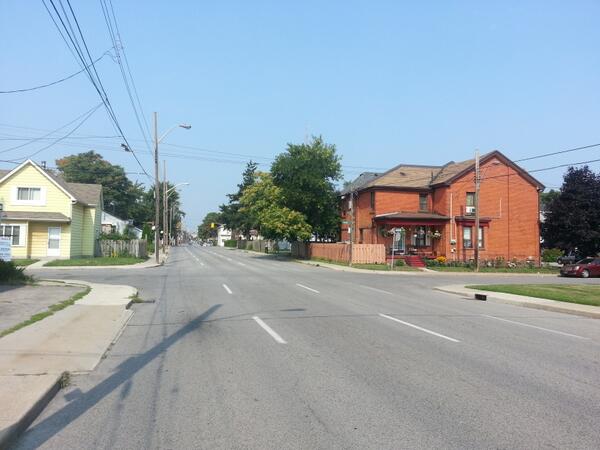 Wilson Street west of Wentworth
This is a tragic waste of scarce and valuable public space in the city. We're wasting it on useless excessive asphalt and ignoring the pent-up demand for a more active, humane, healthy and prosperous street design that other cities are already unleashing.
Wilson Street is two-way west of Victoria and one-way east of it. In the middle of a weekday, there was no traffic on either the two-way or the one-way side.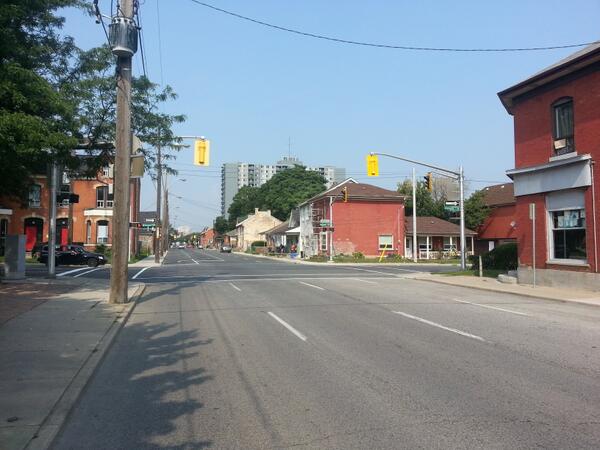 Wilson is two-way west of Victoria
Again, there is absolutely no reason for Wilson and Cannon not to be two-way along their full length.
We saw one of the benefits of two-way conversion last September when a water main burst at James and Cannon. Thanks to the fact that Wilson had been converted to two-way, traffic was able to go west on Wilson/York and bypass the damage.
Whether Cannon is two lanes westbound and Wilson is two lanes eastbound or each street is one lane eastbound and one lane westbound, they have the same lane capacity - a capacity that is more than equal to the automobile traffic these streets carry right now.
There is simply no good reason not to proceed with the two-way conversion of Cannon and the two-way extension of Wilson in a timely fashion.
What is a Crosswalk
From some of the discussion I've seen and participated in lately, a lot of drivers don't even seem to realize that they're supposed to stop at a pedestrian crossing. Here's what the Ontario Highway Traffic Act has to say:
When under this section a driver is permitted to proceed, the driver shall yield the right of way to pedestrians lawfully within a crosswalk.
Here is the definition of a crosswalk:
"crosswalk" means,

(a) that part of a highway at an intersection that is included within the connections of the lateral lines of the sidewalks on opposite sides of the highway measured from the curbs or, in the absence of curbs, from the edges of the roadway, or

(b) any portion of a roadway at an intersection or elsewhere distinctly indicated for pedestrian crossing by signs or by lines or other markings on the surface;
And just to be extra-clear, here is the definition of a highway:
"highway" includes a common and public highway, street, avenue, parkway, driveway, square, place, bridge, viaduct or trestle, any part of which is intended for or used by the general public for the passage of vehicles and includes the area between the lateral property lines thereof;
In other words, drivers are legally required to stop for pedestrians at any intersection, whether or not it has traffic signals, whether or not it has pavement markings, when pedestrians want to cross legally. The zebra markings don't confer any special legal status; they merely make the crosswalk more visible.
It's clear that this isn't happening in Hamilton, and I believe a big part of the reason is that our streets designed in such a way as to give predominance and priority to one mode - driving - over all others.
On streets that are more balanced in their design, like James Street North or Locke Street South, it is much easier for pedestrians to cross the street safely because drivers implicitly recognize that pedestrians have a right to be there.
On Cannon Street, the implicit message to everyone is that pedestrians and cyclists don't belong. As a result, most people don't walk or cycle on Cannon, and drivers decline to respect those few who do.
So while I welcome the City finally paying some attention to Cannon and adding a few zebra crossings, if they are serious about humanizing the street, this needs to be just the first step toward making Cannon a balanced, safe, complete, functional street for everyone.
Post a Comment
You must be logged in to comment.