Vulnerable Neighbourhoods Should Be Highest Priority for Traffic Calming
When the City implements traffic calming measures in affluent neighbourhoods and ignores more vulnerable neighbourhoods, it actually deepens the inequality between them.
By John Neary
Published May 29, 2013
The recent Tactical Urbanism campaign took place at four street intersections in Hamilton. Three of these intersections - the Delta, Upper James and Mohawk, and Cannon and Mary - involve wide arterial roads with high-speed, high-volume traffic. The City of Hamilton's response to Tactical Urbanism has been to install bumpouts and crosswalks at the least problematic intersection of the four: Herkimer and Locke.

City-installed bumpouts at Herkimer and Locke (RTH file photo)
By contrast to the other intersections mentioned above, Herkimer and Locke is an intersection of two relatively low-volume, low-speed streets. Each of the streets is two lanes wide, not counting parking lanes. There was already a four-way stop sign at Herkimer and Locke, just as there were at some of the adjacent intersections (Herkimer and Kent, Locke and Charlton).
The obvious inference from the City's action is that traffic calming measures will only be implemented in affluent neighbourhoods. This response should come as no surprise to any informed observer: the entire city north of King and east of Queen has been treated as a sacrifice zone by Public Works for the better part of a century.
What is surprising is the reaction on Raise the Hammer, where a modest intervention in an already walkable neighbourhood has been treated as a major step forward for pedestrian safety in our city. The very inclusion of Herkimer and Locke on the initial Tactical Urbanism list implies a false equivalence between problems of vastly different magnitudes.
Here's a short list of intersections that needed pedestrian improvements more than did Locke and Herkimer:
Cannon and East Avenue
Cannon and Emerald
Cannon and Oak
Cannon and Tisdale
Cannon and Smith
Cannon and Steven
Cannon and Clyde
Cannon and Ashley
Cannon and Leeming
For those who are keeping track, that is a list of every intersection of Cannon between Victoria and Wentworth. None of these intersections has any sort of signalized crossing. That's a distance of 650 metres, over which pedestrians never have an identified right of way to cross a four-lane street with high-volume traffic that routinely travels at speeds exceeding 50 km/h.
St. Brigid's School is located on Smith Avenue just north of Cannon. There is no signalized crossing of Cannon at Smith: no bumpouts, no four-way stop sign, no 40 km/h school zone.
The only concession to pedestrians is a single crosswalk painted on the road, which is routinely ignored by motorists. Why are we celebrating an intervention that will further deepen the inequity between St. Joseph's School and St. Brigid's?
Several years ago, when there was a campaign to install a pedestrian-activated traffic signal at Aberdeen and Kent, I encouraged the Beasley Neighbourhood Association (of which I am a member) to send a letter to our Councillor expressing our support for this project.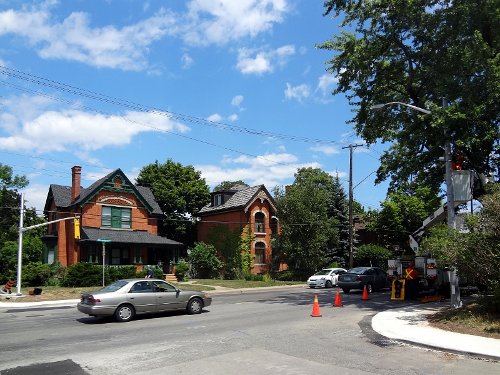 The City installed a pedestrian-activated crosswalk at Aberdeen and Kent in the summer of 2012 (RTH file photo)
The BNA sent that letter because we believe that every neighbourhood in Hamilton deserves to have safe, walkable streets.
I support safer streets for Kirkendall and every other neighbourhood in Hamilton. But the City's response to Tactical Urbanism should be called out for its injustice, not cheered on. I implore Kirkendall residents, readers of Raise the Hammer, and supporters of Tactical Urbanism to tell their Councillors that our most vulnerable neighbourhoods should be the highest priority for interventions to improve walkability and traffic safety.
Three weeks passed between Gerry Davis' memo and the painting of zebra crossings at Locke and Herkimer. If we ask for zebra crossings at Cannon and Mary, or Cannon and Smith, will we get them in three weeks?
If not, why not?
Post a Comment
You must be logged in to comment.