Supermarket Debate Shows Council Unwillingness to Follow Vision
When it comes time to implement plans that will actually achieve Council-mandated revitalization targets, Councillors can't muster up the courage to act.
By Ryan McGreal
Published July 04, 2012
The recent General Issues Committee (GIC) debate over a proposal to entice a supermarket to downtown Hamilton perfectly encapsulates what is wrong with how Council makes decisions and why Hamilton seems incapable of rising to the level of transformational change.
Council generally sets sensible - if not particularly ambitious - targets for urban revitalization, but when it comes time to implement plans that will actually achieve those targets, Councillors can't muster up the courage to act.
Their normal reaction to innovative initiatives is reactionary and fear-based. In most cases, they ignore supporting evidence and arguments, delay and stall the moment of decision-making by pushing back on staff to revise their proposals, and ultimately settle, if at all, on a milquetoast fallback that tweaks the margins of the status quo instead of committing to change.
Downtown Supermarket Incentive
On Wednesday, June 20, downtown renewal manager Glen Norton presented his team's proposal [PDF] to offer a one-time, forgivable loan of up to $650,000 as an incentive to open a new supermarket in downtown Hamilton.
Here's how it would work: the city would issue a request for proposals (RFP) for applicants to present plans for a supermarket. Proposals would be evaluated against the following criteria:
Location must be within the Downtown Urban Growth Centre
Consideration is given to accessibility to deliveries and to shoppers (transit access, parking, walkability)
Consideration is given to hours of operation - at least 12 hours a day, six days a week
Pricing should serve the broad range of downtown residents
Full range of groceries oriented to a broad customer base
Breadth and diversity of ancillary services, e.g. deli, ethnic, special dietary needs, prepared food, delivery
Distinguish product/service offering from other area food retailers
Development design must conform with Downtown Hamilton Secondary Plan - not a suburban building model
Consideration is given to a store as part of a broader mixed use development
Consideration is given to adaptive reuse of existing buildings or development on a vacant site/parking lot
Supermarket must be a permitted use for the selected site under the zoning by-law
Consideration is given to the project timeline
Council would review any proposals received and, if a proposal meets the City's criteria, may decide to accept it and approve the loan. Merely directing staff to issue an RFP would confer no obligations on Council, as it would still be up to Council to approve any submitted proposals.
The total amount of the loan would be based on the floor space of the supermarket, to a maximum of $30 per square foot and a total loan of $650,000. The loan would be paid out to the successful applicant in three stages: at 60% completion, 80% completion and upon occupancy.
The loan would be interest-free for five years, and the city would forgive 20% of the original principal each year the business stays in operation. In other words, if a supermarket opens and stays open for five years, the full loan would be forgiven.
The business must also remain in good standing with respect to tax payment throughout the development and five-year operation of the supermarket.
The funding for this incentive would come out of the existing Downtown and Community Renewal capital block fund, which is part of the approved 2012 budget. In other words, the incentive would not require any new funding commitment from the City, but merely allocation of existing capital dollars.
The project would not require any additional staffing but would be managed out of the Downtown Renewal group under the Planning and Economic Development department.
Case for Supermarket Incentive
The principle behind the incentive is simple: by helping to bridge the gap in capital funding to start a downtown grocery store, the incentive can spring past the chicken-egg problem and inaugurate a positive feedback loop of better amenities attracting more residents, which in turn attract more and better amenities.
The staff recommendation charts historical and current downtown context, including the existing population demographics and Council's approved target to increase downtown density to 250 people+jobs per hectare. It noted that Ward 2 has the highest proportion of residents who walk or take public transit to get to work - nearly 40%.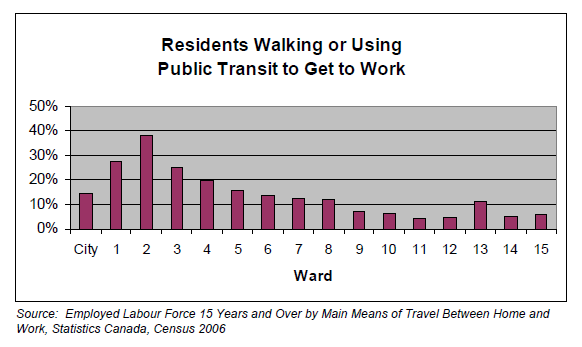 Residents Walking or Using Public Transit to Get to Work (Source: City of Hamilton)
It notes that the need for a downtown grocery store has been identified in the Urban Hamilton Official Plan, the Downtown Hamilton Secondary Plan and the 2010-2015 Economic Development Strategy, supported by the Board of Health Community Food Security Stakeholder Committee, confirmed by numerous revitalization consultants and reinforced by consistent feedback from downtown residents and businesses and prospective urban developers and investors.
The following chart, prepared as part of the supermarket incentive proposal, shows that the downtown core, which has the highest population density (dark blue), has a large area more than 1 km from the nearest grocery store.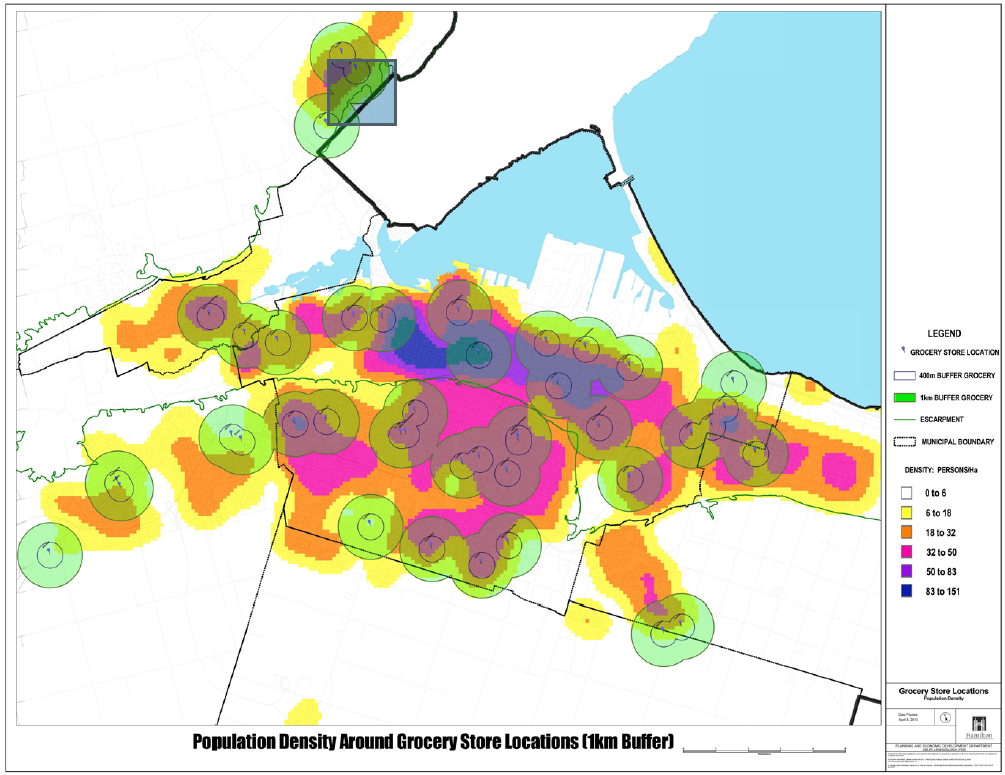 Population Density Around Grocery Store Locations (Source: City of Hamilton)
The recommendation further notes that the lack of a grocery store deters more affluent people from choosing to locate downtown, while the relative lack of more affluent residents deters investors from opening a grocery store.
Presentation to GIC
Glen Norton presented the recommendation to the GIC and then fielded their questions. You can watch the meeting - Norton's presentation starts at 2:39:00 on the linked video.
Norton reminded the Councillors repeatedly that they instructed staff to aim for a downtown density of 250 people+jobs per hectare, and that this proposal was an excellent and necessary means to achieve that goal. As he put it:
This council established back in 2009 a density for downtown urban growth area of 250 residents and jobs per hectare. We're currently at 186. To get to your target by 2013 [sic - he meant 2031], we need on very simple math, 735 new jobs and residents downtown every year between now and 2031. We're not making that. You know, let's be clear, let's be blunt: we're not getting anywhere near that. Last year was a big year for us in terms of jobs, we had 320 new jobs downtown, in the creative sector primarily, but the population is growing very slowly. Why is it growing slowly? It's still not an attractive place to live.
He noted that if the supermarket attracts just one new condo development downtown, the loan would quickly pay for itself in increased tax revenue.
Norton is a consummate professional, and he had clear, persuasive rejoinders - evidence-based and logically sound - for every concern that Councillors brought up. Nevertheless, councillors just kept raising the same objections over and over again, indifferent to anything that contradicted their preconceptions.
Chad Collins acknowledged that the City isn't doing enough to encourage downtown revitalization, but that he didn't feel comfortable doing more. He preferred to scale back the offer and focus on what the City is already doing. (Sidenote: Collins also noted that downtown Hamilton's one-way streets are a barrier to reinvestment.)
Similarly, Sam Merulla felt that the City should continue doing things it has done before rather than trying something new.
Lloyd Ferguson was more blunt: he plainly said he felt Council had already spent enough money downtown and didn't want to spend any more.
Scott Duvall suggested that the money could be better spent on roads. Robert Pasuta asked whether people living downtown could take transit to grocery stores outside the downtown core.
Echoing several councillors, Terry Whitehead objected to public subsidies for a downtown business, complaining that his ward doesn't get subsidies for residential amenities.
Brian McHattie, in turn, pointed out that the City has been subsidizing suburban sprawl for decades:
I think it's a bit rich to pick on the downtown subsidies. If we added up the numbers, they'd be in the millions for subsidizing urban sprawl over the past probably four or five decades here in Hamilton. We've been in the urban sprawl business for a long time and we need to turn our attention to the downtown.
Vision vs. Execution
With seemingly inexhaustible forbearance, Norton answered each knee-jerk objection Council threw at him. He pointed out:
Staff prepared this recommendation under Council directive.
The money is already funded in the approved budget.
Approving the plan in principal doesn't commit Council to anything.
The $650,000 is a maximum - the actual amount may be much smaller.
The loan would not be forgiven (i.e. a grant) unless and until the store stays open for five years, thus ensuring it won't be abused by a fly-by-night operation.
Again and again, he reminded them that they were the ones who set the target his team was trying to reach with this proposal. As he told Ferguson:
We take our direction from you. I'm not trying to tell you that you need to develop the downtown. You're telling us in your policies, your targets, your choice of a density target of 250 jobs and people per hectare. That came from you. I'm executing on your direction, and if you tell me it's different, it's different.
No matter. Ultimately, the GIC members were simply too afraid to commit to an agreement in principal to issue an RFP. Duvall captured the mood when he said:
I understand the need. I want the downtown to thrive and grow. We need that, we have to change the landscape downtown, both physically and financially, but I'm on the fence right now about this. It's a lot of money.
In other words: we know we need to do more than we're doing, but we're just not willing to do it.
This mentality is why downtown density is not increasing anywhere near the minimum annual growth it needs to reach a density target that is itself unambitious and mediocre. Of course, the reason staff and Council alike objected to a higher density target is that it would threaten the city's sprawl plans.
The result is an underwhelming Official Plan that only technically meets the bare-minimum requirements of Provincial Places to Grow legislation - and we can't even commit to prudent, specific policy decisions that will achieve this scrape-the-barrel target.
Post a Comment
You must be logged in to comment.