Safe Streets in Hamilton's North End up to Ontario Municipal Board
Urban neighbourhoods cannot go on allowing themselves to be terrorized by large volumes of traffic moving at high speeds on streets not meant to act as extensions of provincial highways.
By Shawn Selway
Published May 07, 2012
Last Wednesday evening, we heard once again about the importance of reducing the automobile's near-absolute domination of our downtown streets. This time the message was delivered by Ken Greenberg, globe trotting architect and planner, to an overflow house of Doors Open first-nighters at the Board of Education auditorium - a nicely detailed and seriously underused soft-seater entered from the Bay Street frontage.
(Aside: Except for a few glancing references, the fate of Joe Singer's marble and copper confection, currently anchoring the civic precinct of City Hall, Hamilton Place, Family Court, and the Art Gallery, was out of bounds for comment.)
Greenberg, the Toronto-based principal of a planning consultancy with a list of projects longer than the phone book gave a very well received presentation that riffed on his 1996 visit to Hamilton, during which he led a charrette on - what else? - downtown activation.
Conflicting Priorities
Long story short, Greenberg said that this old town has come a long way toward the light since 1996, but still has conflicting priorities. The conflict is impeding an essential transformation of urban form that is being dictated to cities everywhere by the inevitable upward trend in petro-pricing.
One aspect of the transformation has to do with making the city more walkable. To this end, a number of things must occur, including a reduction in the role of the automobile as a discomfiting presence in the lives of walkers, cyclists and battery chair jockeys.
Complete streets, i.e. those which accommodate all modes of transport comfortably, will improve walkability along with slower speeds, to take the dangerous edge off car traffic - and walkability has everywhere proven to be good for business.
OMB Hearings on Slow Streets
How the updating of the car culture might concretely occur in this particular city at this particular moment remains unclear - but part of the answer may arrive very soon.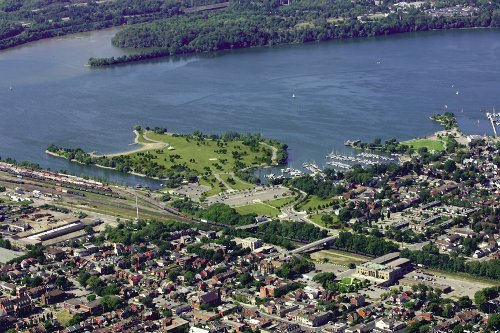 Hamilton's North End and Harbour
While listening to Greenberg and his fellow panelists, I couldn't help reflecting again on an old puzzle, which is this: I still have no idea why the North End Neighbourhood Association (NEN) wound up at the Ontario Municipal Board (OMB) over a traffic management plan.
We asked for a three-year pilot project, in a clearly defined corner of the city which is bound by water on two sides. Alternate routes exist for through traffic, in the case of those who refuse to drive at less then 50 km/h, which is the posted speed on James and Burlington in the North End - a speed that is frequently exceeded.
Visitors headed for the water's edge would need an extra couple of minutes to get there traveling at 30 km/h rather than 50. So what is the big deal? Why was a pilot project for a limited time such a huge obstacle for Council? We don't know.
At one point we thought we had a settlement, but on Decision Day, the councillors went in camera to discuss the matter, and then rejected it. At the OMB, we heard from the city's planner that James and Burlington are classified "arterial" and that speeds on an arterial must be arterial speeds, period. That is, once an arterial, forever an arterial.
After 16 days of hearings spread over ten months, followed by a six month silence, the parties in OMB PL050408 were told that the board chair - "Sir" as he is addressed during the proceedings - had begun to write his judgment.
That news came in February, which means that any day now we should learn the outcome of a very lengthy and detailed discussion on the merits of instituting a blanket 30K speed limit in the north end of Ward 2 on a trial basis.
Despite all the complications, the principal issue was this: is it desirable to slow the speed of vehicular traffic to 30 K not only on all the smaller streets, but also on James and Burlington over the several blocks of each that pass through the North End?
We Need to Take our Streets Back
Hopefully Sir will give this irrational position the treatment it deserves, and greenlight Hamilton's first all-over 30 km/h zone - at least for long enough to allow us to evaluate the effects.
If not, I don't know exactly what is next if we are to begin the necessary transformation toward walkability that Greenberg and others see occurring so rapidly in so many other cities.
But one thing is clear: Neither North End, nor Beasley, nor Central, can go on allowing themselves to be terrorized by large volumes of traffic traveling at high speeds on streets that were never meant to act as extensions of provincial highways.
The current situation is doing harm to the people who live there. Those pieces of James, Burlington, Cannon, Wilson and Bay that serve through-bound traffic are also our neighborhood streets, from the earliest days of the existence of this city. We need to take them back.
Further Reading:
Post a Comment
You must be logged in to comment.