Two Steps Forward, One and a Half Steps Back on Walkability
The City installs a signalized crossing at King and Pearl, but then prohibits pedestrians from crossing on the west side of Pearl.
By Jason Leach
Published December 02, 2011
The Strathcona Community Council has worked hard in recent years to help bring changes into the neighbourhood that will result in a more vibrant community where people of all ages can easily move about and enjoy all that the neighbourhood - and surrounding neighbourhoods such as Locke South and Downtown - have to offer.
Walkability is always a huge concern. This neighbourhood existed before automobiles, which is one of the reasons I love living here.
However, poor planning decisions by City Hall over the past five decades have seen the creation and persistence of dangerous speedways throughout this, and virtually every downtown neighbourhood.
Children play next to transport trucks, and in many cases our sidewalks are so narrow that families must walk in single file while five lanes of automobile traffic fly by unimpeded.
Ward 1 Councillor Brian McHattie has worked closely with the Strathcona Community to see a couple of new stoplights installed: at the corner of Dundurn Street North and Lamoreaux Street, and more recently at the corner of King Street West and Pearl Street.
I've long hoped to see a safe walking route along Pearl crossing both King and Main and connecting Strathcona to the HAAA Grounds and Ryerson School/Recreation Centre.
Currently there are painted crosswalks at both King and Main, but no lights mean this is not an option for families for young kids.
Yet Another Walkability Fail
I was delighted this morning to come up Pearl and see the traffic stopped on King. The new lights had been installed! My excitement for this new light has been building for some time, but alas, it was only to be temporary.
In a move that made me shake my head and ask what year it was, I was dumbfounded to see this sign facing me as I walked south on Pearl: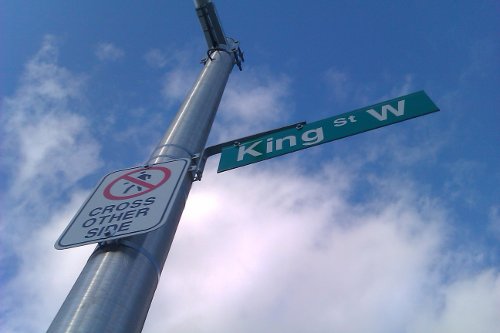 No pedestrian crossing on west side of Pearl at King
That's right. I'm no longer allowed to cross the road in the same spot I've been crossing for 10 years, now that it finally has a signalized crossing.
Yesterday I was allowed to cross here on the painted crosswalk, as long as I was careful to wait for a break in the traffic. Today, the painted crosswalk still exists and the light turns red every two minutes to give us safe passage, but we aren't allowed to cross.
I had to repeat this to myself several times and still haven't fully grasped it - we were allowed to cross when it was dangerous, but aren't allowed to now that it's safe?
Traffic Wields Too Much Power
I've long held that Hamilton's Public Works department and specifically our traffic office wields far too much power in the day-to-day life of this city.
I'm now convinced that we need a leader in the near future who will be willing to challenge the old thinking that prevails in this department and drag them kicking and screaming into the 21st Century.
I contacted Councillor McHattie to get his take on this new signage. He was unaware that this was planned for King and Pearl. He said he is currently working on having the 'no pedestrian' signage taken down at King and Dundurn and replaced with a 'no right on red' for auto traffic.
I would love to see this treatment along King Street - like at Dundurn Street, Strathcona Avenue North and Locke Street - and perhaps in the entire downtown core, similar to Montreal. Why do we make provision for cars to turn on red lights, yet not allow pedestrians to cross on green lights?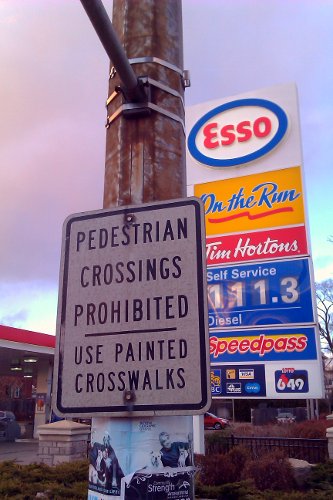 No pedestrian crossing on west side of Dundurn at King
I plan to continue crossing at Pearl as I have for the past decade and encourage other local residents to do the same, now that it safe to cross here.
There is no reason why anyone should have to cross the street three times just to cross once!
Please contact the City and let them know your thoughts on this matter. We welcome the new stoplight in Strathcona, but would appreciate actually being allowed to cross at it.
Post a Comment
You must be logged in to comment.