Worst Crosswalk Ever?
By Ryan McGreal
Published March 19, 2012
Last weekend I was on Brant Street in Burlington, arguably the city's most urban commercial district. It has a more or less coherent streetwall, two-storey buildings that mostly front onto the sidewalk and curbside parking with bumpouts for pedestrian crossings.
Still, something seemed not quite right about the crosswalks themselves.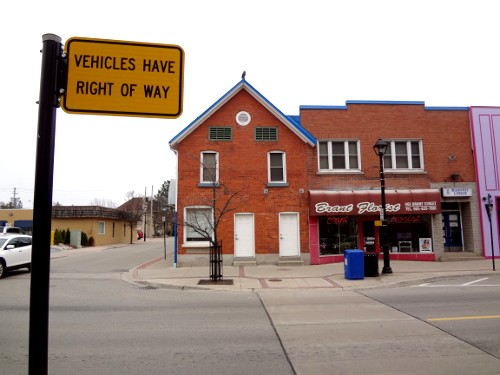 Crosswalk at Brant Street and Maria Street reads: 'VEHICLES HAVE RIGHT OF WAY'
It's hard to imagine what the traffic engineers must have been thinking when they came up with a crosswalk on which pedestrians don't have the right of way.
Post a Comment
You must be logged in to comment.