All-Day GO is Important, But Let's Not Forget About LRT
By Ryan McGreal
Published May 25, 2011
I read yesterday's Spectator article on the prospects for all-day GO service to Hamilton with some disquiet.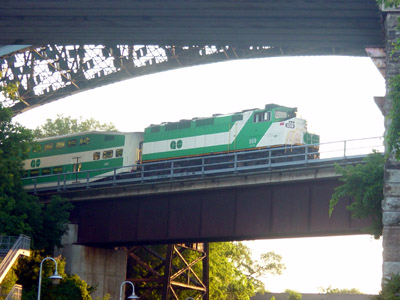 A GO train passes under the High-Level Bridge (RTH file photo)
City manager Chris Murray is quoted saying, "In terms of the kind of boost the province could provide us, I can think of nothing better than full-day Go service."
Peggy Chapman, Mayor Bob Bratina's office manager, says, "It's [Bratina's] No. 1 priority."
Douglas Duke from the Hamilton-Halton Home Builders Association notes the "tremedous out-migration from the GTA to the Hamilton area" and argues that full-day GO service would strengthen Hamilton's housing market. He says all-day GO service is "essential to Hamilton's future" - presumably, its future as a bedroom community.
Richard Koroscil, CEO of Hamilton International Airport and a member of the Metrolinx board, calls all-day GO service "a critical piece for Hamilton" but warns, "At the end of the day the funding really comes from the province. It's up to the province to determine what will get funded when."
Essential Transit
That last statement really got me thinking. Not so long ago, another provincially-funded transit service was supposed to be "essential to Hamilton's future" and "a critical piece for Hamilton" - light rail transit (LRT).
A major difference between all-day GO and LRT is that the former would make it easier for people to live in Hamilton and leave the city to work, whereas the latter would make it easier for people to live in Hamilton and work in their own city by catalyzing new investment and new business development right here.
Don't get me wrong: I certainly see the value in all-day GO service to Hamilton. Indeed, I believe Metrolinx should invest in fast electric rail along the Lakeshore East and West corridors.
However, an improvement in GO service is an important transport connection at the regional rather than local level. It ties Hamilton's fortunes more closely to the GTA rather than cultivating a made-at-home economic engine.
Not Forgotten
Murray and Bratina did not return requests for comments, but Koroscil at least is still thinking strategically about LRT.
In his response to RTH, Koroscil wrote, "Both LRT and two-way all-day Go service should be priorities for Hamilton, as they each serve different purposes on their own, but together they bring a much greater benefit."
He also believes both are achievable, but that LRT is "a longer term project due to its size and scope." He recognizes that LRT "will provide the higher order of transit within the City as well as drive big economic benefits for our community."
In the meantime, all-day GO service can be in place by 2015. "During tight economic times and large government deficits, going for the smaller quick win while continuing to advance the larger more complex project should be achievable and make for a better overall result."
I hope he's right. Given the enthusiasm for all-day GO service, the relative quiet from Hamilton's officials on LRT and the repeated warning that funding must come from the fiscally-constrained province, I worry about the potential for our leaders to take the easy road instead of fighting for an outcome that is more transformational but also more politically risky.
Post a Comment
You must be logged in to comment.