Lots to Like About Locke
Locke Street is easily establishing itself as Hamilton's premier destination of eclectic shops, services, and eateries. A new cheese shop soon to open will further increase the mix of amenities.
By Lorne Opler
Published November 12, 2009
One of the unexpected pleasures of moving into Kirkendall Neighbourhood was discovering Locke Street South. As a transplant from Toronto where many neighbourhood "Main Streets" dot the city, Locke Street, a short hop from my apartment, provided me with a comforting transition to an unfamiliar city.
I felt an immediate sense of connection to the strip, and the presence of Locke Street affirmed that I did not have to give up the urban amenities and quality of life that were part of my day-to-day experiences in Toronto.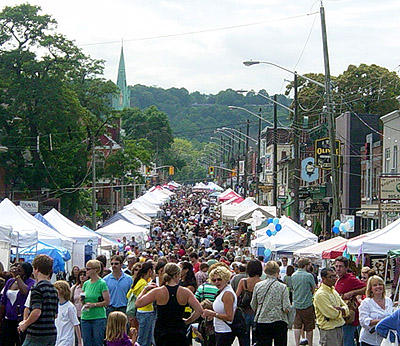 The annual Locke Street Festival showcases the street's success at anchoring and community building (RTH file photo)
Because my affinity for Locke Street was instant, it's not a surprise that I have thought a great deal of how to make a great street even greater. Indeed, from stories that I've already heard from longtime residents, Locke Street's evolution has been a true in-town success story.
With an ever growing number of retail stores populating the street, Locke Street is easily establishing itself as Hamilton's premier destination of eclectic shops, services, and eateries. Nothing on the Mountain can compare to the unique shopping experience one will find on Locke.
Signs of Success
What held particular interest for me when I first found Locke was seeing the presence of Starbucks. While many people in Toronto see the presence of Starbuck's as a dire warning that their neighborhood as gone "corporate", I see the coffee house's presence on Locke in the exact opposite light.
Though I've only been in the area for three months, my sense is that the presence of Starbuck's may not only have brought more people to the street, but may indeed have spurred more retail interest in it too.
I recognize that Starbucks provokes a lot of emotional debate among civic-minded people dedicated to neighbourhood preservation, but consider this: Starbucks invests a lot in market research before it decides to open one of its stores. Like it or not, it's there to make a profit. The fact that it chose Locke Street is proof that the neighbourhood is a highly desirable location where attractive retail development can flourish.
And contrary to those who may feel the presence of Starbucks only accelerates the corporatization of neighbourhood businesses, Locke Street, to the best of my observation, has not been "malled to death" by chain stores. It is still, from everything that I can see, a street of staunchly independent and diverse, locally-based businesses.
Whether Starbucks has indeed had an effect on attracting new stores to Locke, this great street would be even greater with the addition of a few more amenities. As I have often pondered what I'd like to see next on the street, here is my wish list:
A bike shop

More bike racks along the street

A runner's store (i.e. Runner's Room)

A vegetarian restaurant

More street benches

Hanging flower baskets in season

A dog-grooming shop
Cheese Shop on Locke
Last but not least, I've particularly been wishing a cheese shop would open up, and have found myself articulating this when the topic of Locke Street would come up in conversation.
So lo and behold, as I passed by the yellow-clad building at the corner of Melbourne and Locke St. last week, I happened to see a man through the window as he stood inside the empty storefront hanging butch block paper against the glass. Hanging Paper ... hmmm, often a sign that someone has leased a property and is undertaking renovations.
I motioned to the gentleman through the window, and he kindly invited me in. After we began speaking I realized my wish came true. I was witnessing the birth of Cheese Shoppe on Locke, the brainchild of Grimsby residents Torr Krueger and Catherine Corey.
Though both are currently living in Grimsby, Torr, a former resident of the Locke Street neighbourhood, never lost his affection for the area. That's why, when the current property became available, the couple jumped at the opportunity to locate their long planned cheese shop back in Torr's old haunts.
Quite a store it intends to be. With a focus on Canadian made products, the store will carry a selection of fresh and self-serve cheeses from provinces east coast to west, as well as cheeses from across Europe and the U.S - firm, soft, semi-soft, blue, organic, to name just a few types.
Strengthening Neighbourhood Feel
The couple's goal is to carry some very sought-after cheeses, some known, and some not-so-known, with the intention of introducing and educating clientele about new cheeses in Canada, and what to pair them with.
On a deeper level, however, their goal is as much about strengthening and creating the neighbourhood feel on Locke, as it about selling and their products. They are committed to bringing people out of suburban parking lots and onto our local "main street" to experience the kind of personal service, outstanding selection and sense of community that you can't find in an enclosed mall. The duo's dual passion for cheese doesn't end there. The store will carry a variety of fine food accessories, such as jams, crackers, and cookware to complement its signature cheeses.
Finally, what cements the couple's desire for creating a community within a store is plans to showcase the talent of local artists.
Such is the vitality of the Locke Street experience that I've witnessed myself. Indeed, Locke has firmly established itself as a street with identity, purpose and a palpable, positive feeling. Now, if the same can be eventually said about Dundurn - a street which strikes me as one still seeking an identity.
From what I see, it's a hodgepodge of residents, retail, and light industry. My hope is that with new bike lanes recently paved, Dundurn will attract recreational and commuter cyclists, who with their daily presence, might just play a role in this street's renaissance too.
FYI: Cheese Shoppe on Locke is expecting to be open or on or about December 5 - just in time for holiday entertaining.
Post a Comment
You must be logged in to comment.