City Rapid Transit Update: Good Progress but Metrolinx Analysis Still Pending
The city seems to be doing all its homework and negotiating with the right departments and governmental organizations to ensure that it is prepared to go ahead once Metrolinx releases its benefits case analysis.
By Ryan McGreal
Published June 10, 2009
I attended the early session of yesterday's public meeting organized by the City's Rapid Transit office, which provided an update on the city's progress in developing its rapid transit plan for the east-west B-Line, which runs between McMaster University and Eastgate Square.
The presentation by rapid transit manager Jill Stephen did not provide much by way of new information, but it did clarify what the city has accomplished so far, what it sees as the next steps, and the critical role of Metrolinx in moving the project forward.
Waiting for Metrolinx
The biggest unsettled issue today is the pending Benefits Case Analysis (BCA) on the B-Line being prepared by Metrolinx staff. Metrolinx is the provincial arms-length body coordinating investment in rapid transit across the GTA + Hamilton, and they are currently studying what form of rapid transit is best for the B-Line.
The BCA is set to be presented to the Metrolinx board on July 20, but that date may be subject to change as the Metrolinx board is in the middle of a major shuffle to replace politicians with transportation planners.
Metrolinx will make a recommendation on the preferred technology and street configuration, as well as where the B-Line fits into the list of Metrolinx funding priorities.
The Metrolinx funding commitment will reflect what Metrolinx decides to recommend, and city staff will present the Metrolinx recommendations to City Council in September. City Council can then make its own decision on the rapid transit plan based on the recommendation and funding commitment from Metrolinx.
If, for example, Metrolinx ends up recommending bus rapid transit (BRT) instead of LRT, Council would then have to determine whether it wants to build LRT anyway and how to finance the difference in capital cost.
Of course, there is no way to be certain what Metrolinx will decide with respect to the technology, but given its mandate, the triple-bottom-line criteria of the BCA and the fact that Metrolinx has been working closely with city staff and is using the city's analyses as part of its own assessment, it seems highly likely that Metrolinx will recommend LRT as the superior overall technology for economic development, community development and environmental sustainability.
The next Metrolinx budget will be released this coming November, so the city would not have a clear sense of the timelines involved until then. When that happens, the city has a commitment of $3 million in provincial funding to undertake a Class Environmental Assessment, route design and public consultation for the line.
City Survey: Preferred Route
The city must be careful not to get too far ahead of Metrolinx in its rapid transit planning, but staff have launched an online survey to gather public input on proposed corridor options for the rapid transit line.
The main options are:
Retain the one-way configuration of Main and King Streets with one-way LRT on both streets in dedicated curb lanes; and
Convert both Main and King two two-way with two-way LRT running on dedicated lanes down the median of King St.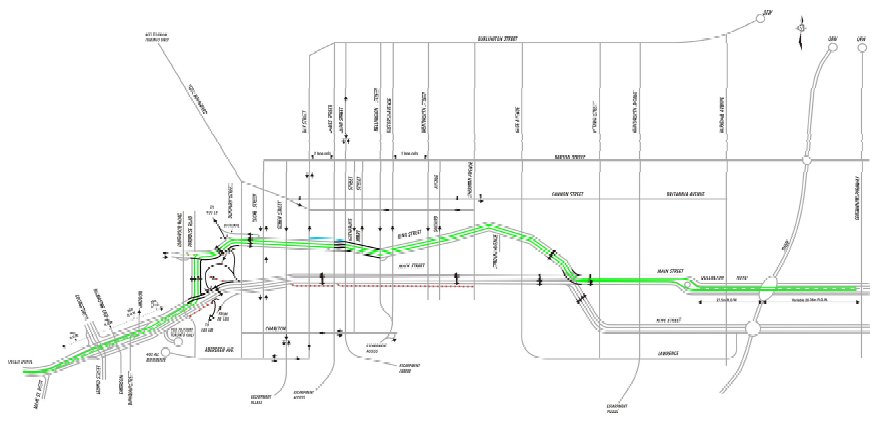 LRT Preferred Route: two-way conversion of Main and King with two-way LRT down the median of King through the downtown.
Staff have not yet made a recommendation on a preferred route, but a functional analysis by IBI Consulting recommends converting Main and King to two-way with two-way LRT on King. When staff make their route recommendation to Council in September, it will be based on the Metrolinx recommendation, plus the functional and economic analyses and public input.
Staff Leaning Toward LRT on Two-Way King?
I had a distinct sense from the meeting that, while city staff have not formally recommended an LRT configuration along Main/King, they are leaning strongly toward two-way conversion on both streets with LRT running down the centre lanes of King between Paradise Rd and Gage Park.
This is consistent with a consultant report prepared recently by IBI Consulting as an LRT Functional Planning Analysis. Contraflow LRT was eliminated for safety reasons. LRT in mixed lanes was eliminated because it loses the benefit of rapid transit and reliability. Curbside two-way LRT was eliminated because of the awkwardness for vehicles to cross transit lines onto interior driving lanes.
While it's exciting to see that staff are leaning toward the two-way conversions of both Main and King (formerly considered verboten in the Department of Public Works), I'm not persuaded that King Street is the better choice in terms of economic development potential.
However, the underlying issue still seems to be traffic flow. The city's analysis has determined that putting LRT on King Street will have less overall impact on road capacity for vehicles - though Stephen remarked during the presentation that many people consider congestion to be a good thing, since it serves as an incentive to drive less.
Pending Issues
While staff have completed a lot of work, there remain several unresolved issues that will need to be addressed before the rapid transit project is completedI (in no particular order):
Parking - if LRT goes on King Street, there will be no room for curbside parking. One possibility is small municipal lots on side streets.
Loading/unloading for local businesses - LRT on King would also mean problems for businesses loading or unloading goods.
Pedestrian access to the stations - every transit trip starts with a walk, and the city's pedestrian infrastructure, particularly on north-south feeder streets, is lacking.
Land Appropriation - the city may need to expropriate some land at certain narrow chokepoints (e.g. King and Wellington) to make enough room for all the necessary infrastructure. The studies so far demonstrate that any necessary acquisitions are feasible.
Delineators for LRT lanes - if LRT runs on dedicated lanes, automobiles should not be able to drive onto the LRT lanes.
Intersections - if LRT runs down the centre median on dedicated lanes, road crossings will be restricted to major intersections. That means side streets would only be accessible via right turns only. If LRT runs at curbside, some streets will need to be cul-de-saced (I'm assured that's an actual verb).
The city is also talking with the Ontario Ministry of Transportation (MTO) because the LRT system will require changes to the Hwy 403 crossings at Main and King. Currently, the network of on- and off-ramps are designed for one-way traffic flows, so they will need to change if the city goes ahead with two-way conversion.
Hwy 403 Bridge Rehabilitation Public Meeting
Date: Wednesday, June 17, 2009
Time: 4:00 PM - 8:00 PM
Location: Albion Room, Hamilton Convention Centre
The Ministry of Transportation (MTO) is in the early stages of the Highway 403 Bridge Rehabilitation project. The construction work is scheduled to begin in June 2010 and will continue off and on through Summer 2012. This public meeting by MTO staff will explain the project and allow opportunities for feedback.
More information is available on Ward 1 Councillor Brian McHattie's website.
Summary: Progress, But Still Pending
In summary, it's still to early to tell what the rapid transit system will look like or how long it will take to complete, and the presentation was a bit of a letdown in that regard. Yet the city seems to be doing all its homework and negotiating with the right departments and governmental organizations to ensure that it is prepared to go ahead once Metrolinx releases the BCA.
It was particularly gratifying for me to see the city staffers so well-informed and enthusiastic about LRT and its prospects for Hamilton. They were careful not to make premature claims about the final technology (for example, they were careful to refer to it with the generic "rapid transit"), but still stated clearly that LRT is the preferred option of both staff and council.
I'm also delighted that they're finally moving toward agreement that Main and King Streets should be two-way, though their leanings toward LRT on King still reflects their assumption that maintaining vehicular traffic flow should be a priority (albeit not the only priority).
All in all, this was an encouraging if inconclusive update from the city. For now, the best thing supportive residents can do is participate in the city's corridor options survey.
Post a Comment
You must be logged in to comment.