Anti-LRT Candidate Accidentally Emails Secret Plan
It appears Ward 1 candidate Carol Lazich accidentally blind-copied the other candidates on an email detailing her plan to have anti-LRT material distributed through an intermediary.
By Ryan McGreal
Published August 24, 2018
Anti-LRT activist and Ward 1 candidate Carol Lazich appears to have accidentally emailed every other municipal candidate with a secret plan to have an associate distribute anti-LRT propaganda to the candidates.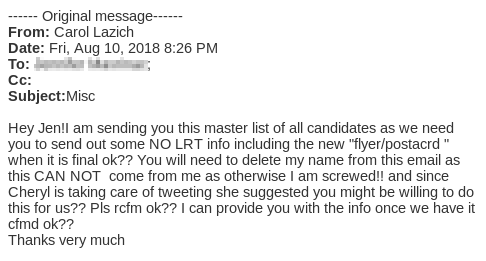 Screenshot of email with recipient name redacted
Lazich is the leader of the "No LRT Hamilton" group and has a long history of circulating false and misleading claims to undermine the LRT project. An email was sent out from c.lazich1@gmail.com on Friday, August 10, 2018 at 8:26 PM to another anti-LRT activist who works at a print shop.
The email was a request to "send out some NO LRT info" to "a master list of all candidates" once the anti-LRT material is ready. The email also ordered the recipient to remove Lazich's name from the material before sending it out: "You will need to delete my name from this email as this CAN NOT come from me as otherwise I am screwed!!"
However, instead of sending the list of candidates to the recipient, Lazich seems to have accidentally pasted the list of candidates into the BCC field of the email, blind-copying it to everyone.
Email Looks Authentic
Raise the Hammer received independent confirmation from several other candidates who received the email. A review of the full email headers confirms that the email address is an authentic Gmail address coming from Google's email server and was not spoofed.
Further careful investigation has determined that the address that sent this email is definitively linked to other known email and telephone contacts for Lazich.
In terms of the email itself, the informal writing style, non-standard contractions (like "rcfm" for "reconfirm") and idiosyncratic use of punctuation and capitalization is entirely consistent with other samples of Lazich's email writing that RTH has reviewed. Even the use of "Misc" as the subject line exactly matches previous emails from Lazich.
RTH has sent multiple requests for comment to Lazich via emails and social media, including most recently an email that included a draft of this article. Lazich has not responded to any requests for comment.
If this is a hoax, it is an extraordinarily elaborate and sophisticated hoax without any clear objective. The overwhelmingly most likely conclusion is that the email is genuine, especially given the total silence from Lazich since the email went out.
Possible Campaign Violation
Lazich coordinating the printing and dissemination of materials to other candidates may be a violation of the Municipal Elections Act, either as an unreported donation or as undeclared third-party advertising.
Lazich is also a registered lobbyist with the City, and it is not immediately clear whether lobbying municipal candidates - including incumbent councillors running for re-election - would need to be reported lobbying activity under the city's Lobbyist By-Law.
History of Email Trouble
This would not be the first time Lazich has had trouble with email. She had a practice of sending out unsolicited email blasts to a distribution list of hundreds of recipients in June, July and August 2016 that were filled with false and misleading claims.
Even though several recipients responded with objections and even line-by-line fact-checks, Lazich continued to repeat the same claims over and over again. She also persisted in sending out unsolicited emails, even after several people replied-all asking her to stop spamming them.
In March 2017, Council received a shocking letter from a Theodore Sares, owner of the @nohamiltonlrt Twitter account and a prominent anti-LRT activist, apologizing for his role in an anti-LRT Campaign whose "tactics were always along the 'Trump lines'".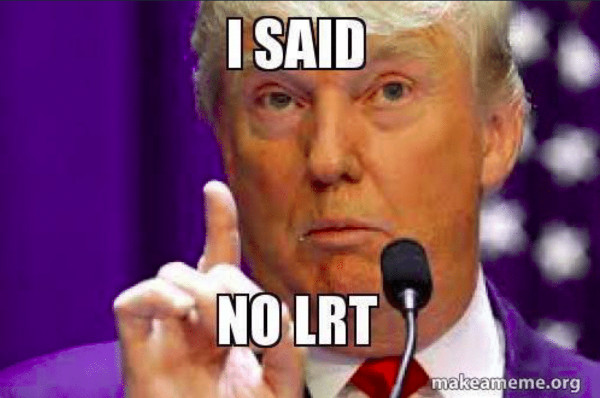 An actual meme circulated on the 'No LRT Hamilton' Facebook group
He wrote that the campaign's goal was "to stir up as much fear and doubt about this project as possible, to always talk about 'cost' and taxes and damage to the downtown." His letter continued, "There is a lot of 'scheming' to try and disrupt the project and create controversy."
That email also alleged secret collaboration to undermine LRT between Lazich and then-Councillor Donna Skelly (now the MPP for Flamborough-Glanbrook), which Skelly admitted in a March 25, 2017 interview on AM 900 CHML.
It seems clear from this latest email blast that the same activities are still underway.
False and Misleading Claims
The anti-LRT campaign as a whole has been a depressing swamp of false and misleading claims propelled by cynicism and civic self-loathing.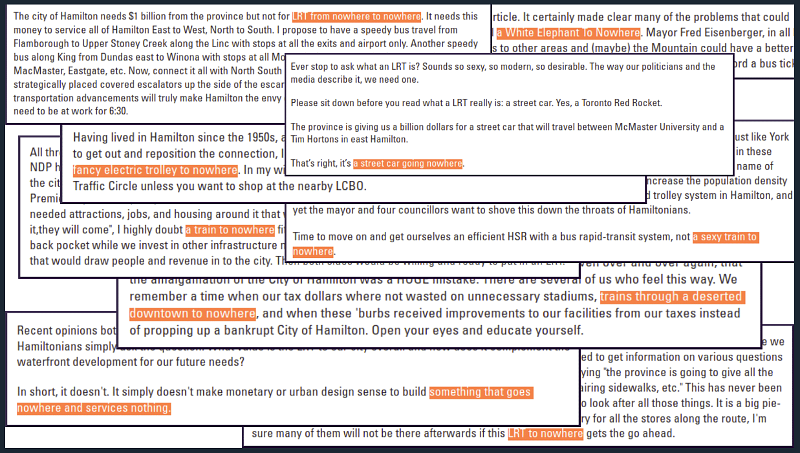 Recurring theme in Spectator letters to the editor
When Lazich made a delegation to councillors in March 2017, she actually compared LRT to AIDS and SARS, deadly infectious diseases that have killed millions of people.
Text of Email
Following is the text of the accidental email with the recipient's name redacted:
From: Carol Lazich
Date: Fri, Aug 10, 2018 8:26 PM
Subject: Misc

Hey Jen!I am sending you this master list of all candidates as we need you to send out some NO LRT info including the new "flyer/postacrd " when it is final ok?? You will need to delete my name from this email as this CAN NOT come from me as otherwise I am screwed!! and since Cheryl is taking care of tweeting she suggested you might be willing to do this for us?? Pls rcfm ok?? I can provide you with the info once we have it cfmd ok??
Thanks very much
Post a Comment
You must be logged in to comment.