Why Are LRT Opponents So Down on Hamilton?
Cynicism entails a reluctance to believe that things can change for the better. This is particularly true for LRT opponents who are stuck in a mindset that the city is a hopeless basket case.
By Nicholas Kevlahan
Published September 16, 2016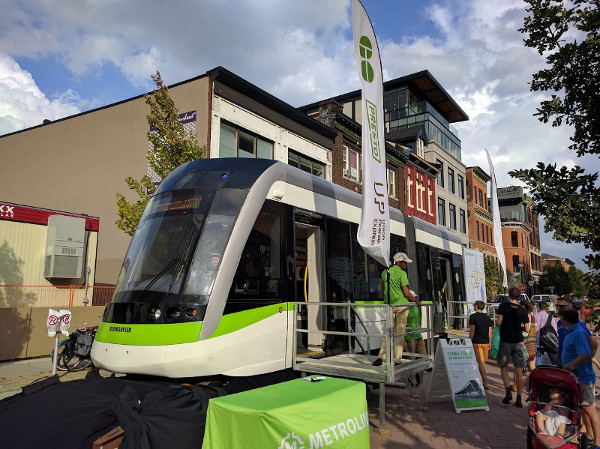 Visitors check out the Metrolinx Ligh Rail Transit vehicle on display at Supercrawl 2016 (RTH file photo)
Today's Hamilton Spectator includes a letter to the editor by Ted Lazich of the "NO LRT IN HAMILTON" group and the family that owns Gilbert's Big and Tall clothing store on King Street West.
The letter is an excellent example of a certain pattern of thinking about the city's Light Rail Transit (LRT) plan that I believe drives the people who oppose this project.
Specifically:
He sees improving Gore Park as a waste of money because it is only used by "panhandlers and skateboarders";
He is opposed to the increased street parking and new bike lanes on Charlton and Herkimer;
He believes no one wants or will want to move to wards 1-4; and
He thinks the corridor connecting Queenston Traffic Circle, the downtown core, the waterfront and McMaster University is "nowhere".
A straightforward reading of the letter indicates that it was written by someone who hates his own city and is deeply pessimistic about the future.
Lazich clearly believes that Hamilton does not deserve a $1 billion infrastructure investment!
The underlying issue is not really the city's LRT plan; that is just the latest focus of a more generalized cynicism. He really does not want to see any improvements to the lower city - not because he thinks everything is fine the way it is, but because he despises Hamilton and doesn't believe it is worth the cost and effort of trying to change it.
This is the same Hamilton resident and business owner who recently railed against a proposal to provide wifi in Gage Park and expressed suspicion about an "underlying reason to tear up King Street and eliminate businesses".
Previously, he has also complained about bike lanes in another rant against building LRT while "the downtown infrastructure lays waste". (Ironically, LRT is a major infrastructure renewal project that will save the city tens of millions of dollars in infrastructure replacement.)
LRT Opponents Down on Hamilton
Lazich's letter is a fairly typical reflection of the sentiment underlying most anti-LRT arguments I have encountered.
On Supercrawl Saturday, I spent a couple of hours volunteering at an LRT table organized by the Hamilton LRT Advocacy and Hamilton Light Rail citizen groups and spoke to several people.
From the small sample of people I met, I got the impression that LRT supporters seemed to be people who love Hamilton and are enthusiastic about the future. (This includes long-time Hamiltonians as well as those who had moved to Hamilton relatively recently.)
The LRT opponents I met, on the other hand, seemed to be down on Hamilton generally. They did not like or appreciate public transit, complained about all sorts of things and regarded LRT as just another waste of money that the City will mess up.
Paradoxically, they often expressed little interest in spending time here because it is full of "bums", "beggars" and "low-lifes", but they don't really want to see changes.
Their main concerns were traffic disruption and a fear for downtown businesses - although it is not clear how genuine this empathy for small businesses is since they also said they rarely come downtown.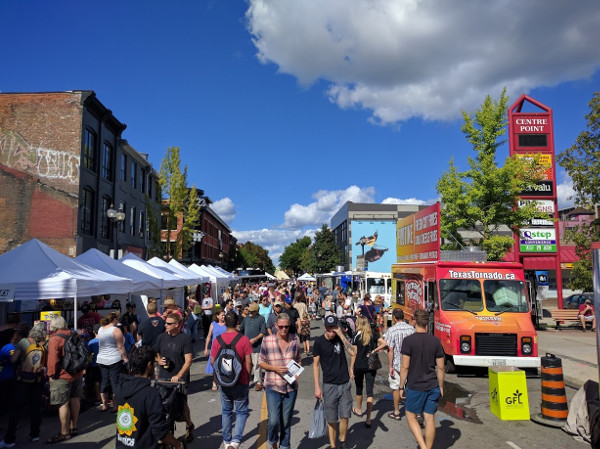 James North was jam-packed with people on Supercrawl weekend (RTH file photo)
Trapped by Cynicism
Cynicism entails a reluctance to believe that things can change for the better. This is particularly true for LRT opponents who are stuck in a mindset that Hamilton is a hopeless basket case.
Hamilton is no longer the down-and-out wasteland these people think it is. The downtown is fairly humming with new property developments, new residents, new businesses and new energy, and the change is only accelerating with LRT, as the developers themselves have explicitly pointed out.
This is not just hopeful or forward-looking; it's already happening. Things are already changing for the better and have been for the past decade, but the anti-LRT cynics can't or won't see it. They still imagine downtown as a dump populated by low-lifes and don't understand why we would bother to invest in improving their quality of life.
To the extent that the cynics acknowledge the existence of new residents and business owners who are working for a more hopeful future, they dismiss these new residents as speculators, freeloaders, and latte-sipping elitists - obviously not "real" Hamiltonians.
And if the facts don't support this cynical, self-loathing worldview, well, the most ardent LRT opponents just simmer in their own stew of made-up claims, denials, conspiratorial suspicions and accusations.
The question the rest of us need to ask is: why should we let people who see no future for Hamilton control Hamilton's destiny?
Post a Comment
You must be logged in to comment.