Setting the Record Straight on Common Anti-LRT Lies
The anti-LRT group uses fearmongering and misinformation to try and undermine the case for LRT. Here is the truth.
By Ryan McGreal
Published June 21, 2018
The false information and fearmongering about Hamilton's light rail transit (LRT) system never seems to end. The anti-LRT "No LRT in Hamilton" group has demonstrated repeatedly that facts don't matter to them. They just keep repeating the same discredited lies in the hope that they confuse and misinform enough people to derail the project.
So in the face of the most common false claims, here is the truth.
Most Hamiltonians Support LRT
Earlier this year, Metrolinx conducted a survey of Hamiltonians - half from around the LRT corridor and the other half from across the city - and found that 60 percent support the project. This is despite the large volume of misinformation floating around about LRT and the generally poor job the City has done to explain and champion this project.
The anti-LRT naysayers do not speak for the majority.
Hamilton is Not "Nowhere"
Perhaps the most common refrain from LRT opponents is the insulting claim that the 14 kilometre stretch from McMaster University through the downtown core to the east end and Eastgate Square is "nowhere". Like a bad penny, it turns up repeatedly in a litany of stage-managed letters to the editor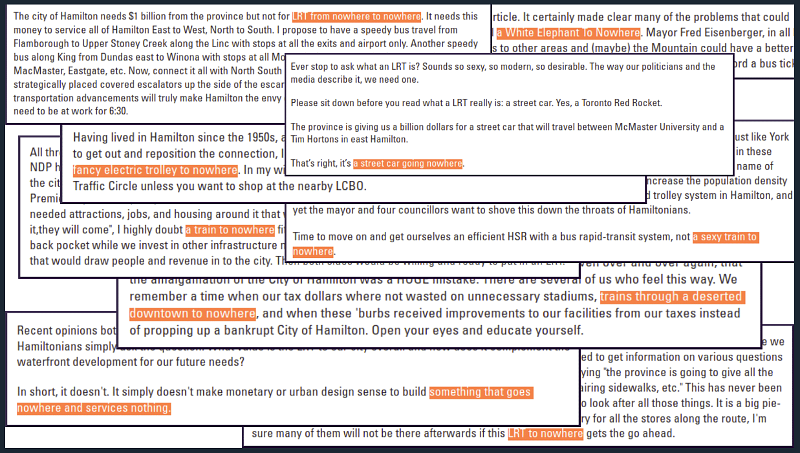 Recurring theme in Spec letters
None of the places served by LRT are "nowhere". This anti-LRT lie is not just false, it is also a direct insult to the many people living and working along the city's busiest transit corridor.
McMaster University is a world-class research institution of higher learning with 38,000 students, staff and faculty. It is a major destination and a huge trip generator.
The downtown core has 10,000 residents and 26,000 jobs. It is the single biggest employment centre in the entire city - more jobs than any of our suburban industrial parks - and is growing steadily year after year.
The LRT also connects McMaster Innovation Park, Hunter GO Station, Tim Hortons Field, the commercial centres on James Street, Ottawa Street, Kenilworth Avenue and Queenston Road.
In addition to all the employees and students LRT serves, it also directly serves 120,000 local residents in neighbourhoods across the city from Ainslie Wood and Westdale right through McQuestion West and Bartonville - almost a quarter of the city's entire population within walking distance of a station.
And this is just the first phase of a network of rapid transit lines that will serve the entire city once it is built. We can't expand the network until we build the first piece.
The B-Line is the Best Route to Build the First Phase
Rapid transit is most successful when the route satisfies three conditions: current transit ridership should be high, there should be lots of opportunity for new infill development around the line, and the Land Use plan for the corridor should make it easy for those new developments to go ahead.
Hamilton's east-west LRT corridor already meets all three conditions. It has 30,000 transit riders a day, the highest in the city and over 40 percent of total transit ridership. It has a lot of empty and vacant lots along the line that are ripe for redevelopment, and the City has implemented a land-use plan that encourages urban investment.


Huge infill development potential in downtown Hamilton (Image Credit: Google Earth)
The north-south A-Line corridor is a planned future site for rapid transit, but the City still needs to do some work to build up transit service and ridership along that route, as well as making sure there is buy-in to redevelop the land around the A-Line - especially along Upper James - to take advantage of rapid transit investment.
King Street Will NOT Close For Five Years
Road reconstruction is always disruptive, but Metrolinx and the City have already committed that construction will be phased so that each segment of the LRT line will only be closed for a short period.
The Hamilton Chamber of Commerce has been working closely with businesses along the LRT corridor and across the city to ensure that LRT construction runs as smoothly as possible - and its membership supports this vital investment in the city's revitalization.
Keanin Loomis, President and CEO of the Chamber, recently stated, "We have learned the best practices in terms of how you mitigate the impact to the businesses. And what we have also learned is that the impacts are temporary and they are manageable."
LRT and GO Transit Are Both Necessary
LRT provides high-quality rapid transit across Hamilton with connections to GO transit, which provides regional connectivity throughout the Greater Toronto and Hamilton Area. Both are vital investments in mobility and economic prosperity, and they support each other.
The fact is that 70 percent of Hamiltonians work here in Hamilton. For those who do commute out of the city to work, most commute to Burlington, Oakville, Grimsby and Brantford.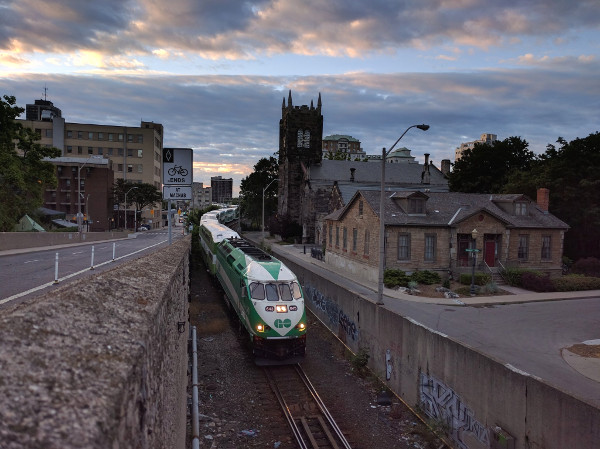 GO Train leaving Hunter Station
Yes, LRT Technology is Modern
This must be one of the silliest anti-LRT lies, but it's also one of the most persistent. LRT opponents love to compare modern LRT with the old-fashioned trolley cars of the early 20th century. This is like comparing a Tesla Model S to a Ford Model T.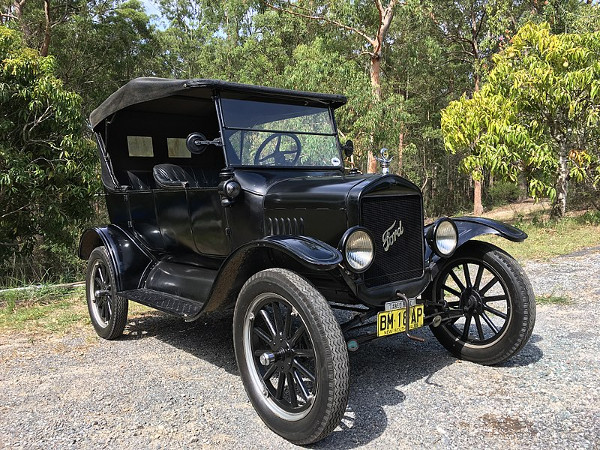 Ford Model T: Cars are so retro and obsolete! (Image Credit: Wikimedia Commons)
Modern LRT is dependable, fast, smooth, quiet and fully accessible for people with mobility devices and parents with children in strollers.
It will run in dedicated lanes so it does not get stuck behind vehicle traffic, and it will get priority at traffic intersections so it can proceed quickly and reliably.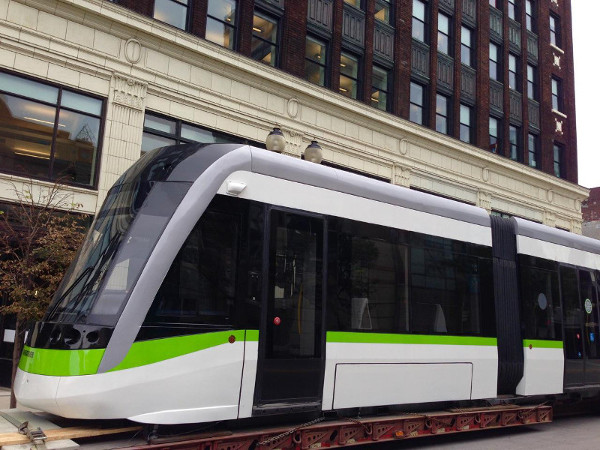 LRT vehicle on display at Supercrawl: not your grandfather's streetcar
Self-driving technology is an extremely difficult challenge and we are still at least several years away from any kind of deployment on public streets.
When autonomous technology does become available, it will also be available to install in LRT vehicles. In fact, with their dedicated routes on tracks, the technical challenge is considerably easier to solve.
Vancouver's Skytrain system, which Hamilton City Council turned down back in 1981, has been self-driving since it began operation in 1985.
LRT Funding Includes Cost of Infrastructure Replacement
One of the benefits of the LRT investment is that the Province will cover the cost of replacing all the underground infrastructure along the LRT route. This Provincial funding means the local government will have more money to invest upgrading infrastructure in other parts of the City.
If the LRT project was cancelled, we would have to pay for infrastructure replacement along the corridor with local dollars.
Post a Comment
You must be logged in to comment.