Council Betrays Transit Riders by Delaying Service Improvements
It seems the very people who were elected to help build and support the city as it grows toward the future fight tooth and nail against this future.
By Myke Hutchings
Published March 24, 2017
I continue to watch, with great dismay, the ongoing saga of public transit in the City of Hamilton, particularly the recent developments of deferring the HSR Ten Year Strategy and polling 2,000 residents regarding the LRT.
I am a transit user due to a medical condition which prevents me from driving and have used the HSR and GO Transit every day since moving to Hamilton 17 years ago.
As a transit user I have weathered the recent fare increases without complaint because they have come with the promise of increased and improved service.
With the recent plans to shelve the Ten Year Transit Strategy and not use the tax levy to increase service, can I therefore expect my HSR fare to go back to $2.55 a trip as the promised improvements in service are not being implemented? Of course not! Transit fares have increased 28 percent yet council is planning to cut service even further.
It seems Hamilton City Council is attempting to avoid a $6 a month property tax increase on the backs of transit riders, which include students, disabled, the elderly and those who choose to ride transit.
I also am to understand that a poll of 2000 residents will be implemented to see if LRT is still desired in Hamilton. I'd like to say that the 2014 election results indicated that LRT was desired and many Councillors were elected with that mandate!
Not to mention the prior history of most incumbent councillors voting repeatedly (52 times since 2008 at last count) asking for funding for LRT - and getting it.
At this point, tens of millions of dollars have been spent in studies and advertising, not to mention the hundreds of hours this has been discussed over the past decade in council.
Interactive Voice Response (IVR) telephone surveys have a very low participation rate with just one call out of ten answered. In addition, it is a lot more difficult to reach people who no longer have a landline telephone number. Because of that, the survey will under-represent the two generations that will benefit the most from LRT, Generation X and Millennials, but are least likely to still have a landline.
As a statistician, I question this poll's methodology in providing a fair sample of the population of Hamilton as by its very technique it skews toward an older population.
Three hundred businesses in the city have stated they want LRT, as have ten anchor institutions, including McMaster, Hamilton Health Sciences, the Downtown BIA and ArcelorMittal Dofasco. These represent tens of thousands of residents and non-resident employees all living, working and paying taxes in the City of Hamilton.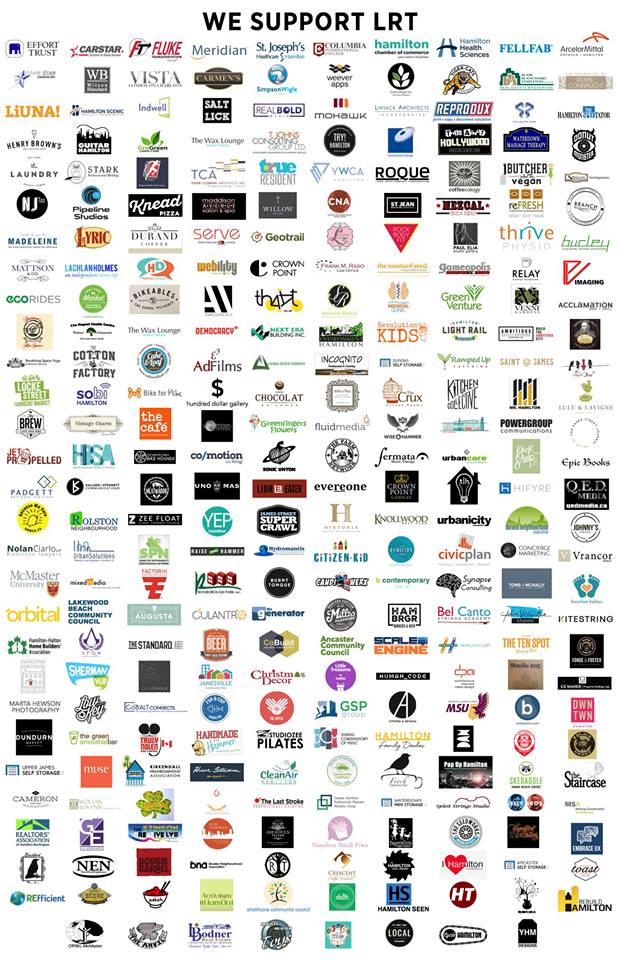 LRT Support Groups poster (Image Credit: Graham Crawford)
At this point it's hard for me to recommend moving to Hamilton, when it's quite clear that those in the chambers are more interested in job security come the next election rather than working towards building a livable city that is sustainable and the "Best Place to Raise A Child..."
It's exhausting and disheartening as it seems the very people who were elected to help build and support the city as it grows toward the future fight tooth and nail against this future.
Please prove me wrong.
Post a Comment
You must be logged in to comment.