Province Announces $295K Funding for Bay Street Cycling Facility
The Ontario Government is providing up to half the cost of a new two-way facility on Bay between Aberdeen and Strachan.
By Ryan McGreal
Published April 21, 2016
On Tuesday, April 19, the Province of Ontario announced $295,000 in capital funding for a new two-way cycling facility on Bay Street between Aberdeen Avenue and Strachan Street West, just past the CN Rail overpass.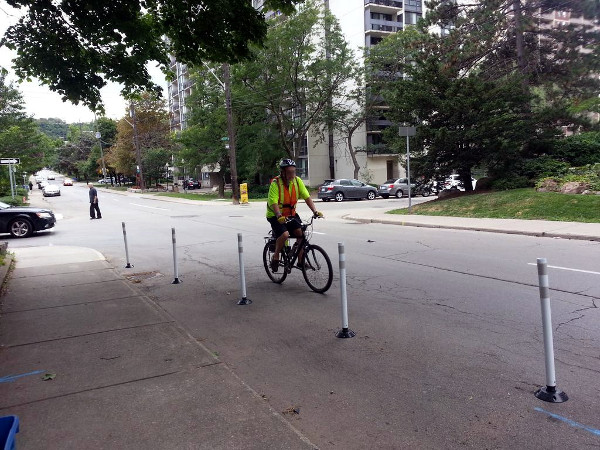 Cyclist riding on Bay Street South (RTH file photo)
The funding was approved under the $10 million Ontario Municipal Cycling Infrastructure Program for capital projects, which the Province established to help pay for new municipal cycling infrastructure.
Transportation staff confirmed in a December 10, 2015 email to RTH that they submitted the proposal to the Ministry of Transportation for Ontario (MTO) in November, as that was the submission deadline (you can read Jason Leach's proposed design from last October).
According to Daryl Bender, the city's Alternative Transportation Project Manager, the following basic design was submitted: "a two-way cycling facility along the west curb of Bay Street between Cannon Street and Aberdeen Avenue. North of Cannon Street, the design would be conventional bike lanes along both sides of this two-way segment of Bay Street."
At the north end, the bike lanes will join up with the bike lanes that were included when the Bay Street CN Rail overpass was rebuilt.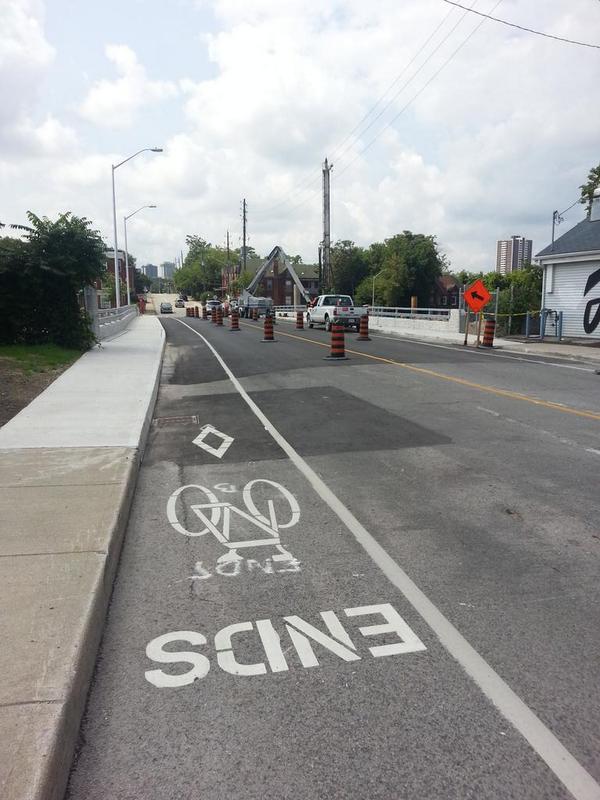 Bike lanes on Bay Street CN Rail overpass (RTH file photo)
The detailed design still needs to be completed and finalized, but the preliminary estimated cost is around $600,000, which is in line with the per-kilometre cost to install the Cannon Cycle Track.
Under the Provincial funding terms, the City is expected to provide matching capital funds. The arrangement for that municipal funding is to be determined through the 2017 capital budget process.
According to Martin White, Manager, Traffic Operations and Engineering with the City, the process will be to put out a request for proposals and contract a consultant to do the detailed design work. (For the Cannon Street Cycle Track, this work was done by IBI Group.)
The consultant will undertake a design and then staff will conduct public consultation to get feedback on the design and make any necessary changes or refinements. Staff will consult with the various stakeholder groups - neighbourhood associations, business groups, transportation advocates and so on - to ensure the final design is inclusive of everyone's needs.
In order to be eligible for the Provincial funding, the project must be completed prior to March 2018. Given Canadian winters, that means the project must realistically be completed before winter 2017.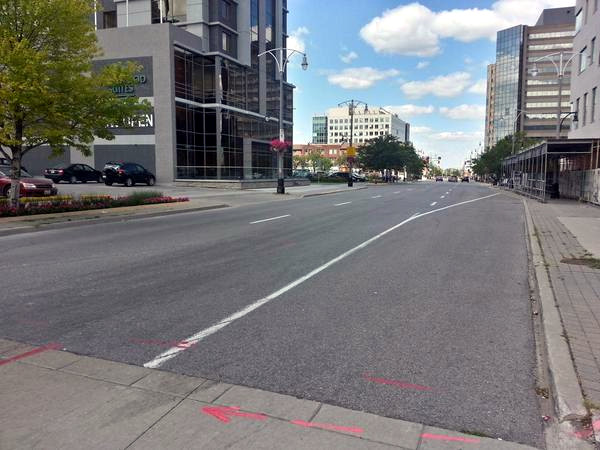 Surplus lane on Bay between Main and King (RTH file photo)
Strong Candidate for Provincial Funding
According to the MTO, almost 150 municipalities expressed interest in funding under the program, which provides funding of up to $325,000 covering up to 50 percent of the total capital cost for a cycling infrastructure facility.
The expressions of interest were evaluated in terms of the program goals: "developing better cycling networks, promoting safety, encouraging innovation, supporting partnerships, collecting data and enabling cycling to be better recognized as a viable transportation mode."
In all, 51 municipalities were approved to submit applications, and 37 applications were approved, including Hamilton's.
The proposed Bay Street cycling facility will provide a much-needed cycling connection to Hamilton's burgeoning waterfront. It will intersect the Markland contraflow bike lane, the soon-to-be-installed Herkimer and Charlton bike lanes, the Hunter Street bike lanes (and, eventually, the Hunter GO station), the YOrk Boulevard bike lanes, the Cannon Street Cycle Track, the James North GO Station and Bayfront Park.
Bay Street is identified in Appendix A of the Shifting Gears Cycling Master Plan under Preferred Cycling Network Projects and Preliminary Implementation Schedule.
The section from Markland to Main is on page 1, item 33 on the preferred projects list. The section from Cannon to Strachan is on page 2, item 64, and the section from Main to Cannon is on page 3, item 143.
And Then There was Whitehead
Of course, this is Hamilton and no good deed goes unpunished. At the end of the April 20, 2016 General Issues Committee meeting, Ward 8 Councillor Terry Whitehead took staff to task for daring to apply for provincial funding for a Council-approved priority cycling project.
Thanks to Joey Coleman and The Public Record, you can watch a video of the GIC meeting. Councillor Whitehead's remarks begin at the 5:32:15 mark:
Whitehead: Can I ask, through the Deputy Mayor to staff, I learned a couple days ago that, and unfortunately the Mayor's office was notified late, that there was going to be a major announcement that took place actually in my ward, at a cycling shop, in respect to the cycling contribution to the City of Hamilton. Which is great.

The second piece is, the project that's being awarded, I certainly wasn't aware of, never came in front of committee or council. When we're looking at applications for alternative funding for these kinds of issues, I would hope that we would be setting those priorities here [at] Council.

So can I have some explanation on how a project is identified outside of this horseshoe and prioritized independently by staff in the absence of having any discussion.

I, my other understanding is this, although it was on the Master Plan, Cycling Plan, it wasn't given that, the priority, to the, my understanding that was a year ago that this application was made, and I'm not aware as a Councillor that the fact that you made that application ever came back to this body. So, I could be wrong, please correct me if I'm wrong.
John Mater, the Director of Transportation in Public Works, explained that staff reviewed the 2009 Cycling Master Plan and "picked Bay Street because they felt it best matched the criteria for success" under the Provincial funding policy.
Whitehead continued to press the issue, directing his question to City Manager Chris Murray. Murray acknowledged that staff "could do a better job of communicating" the application to Council, but that the submission was consistent with Council's direction in the Cycling plan.
Whitehead would not let it go. "When I take a look at the needs in this community, whether it's cycling or what's even on that list currently, it begs the question, why was this ecentric [?] to one geographic area when there are so many other areas of this city that are being left behind?"
Naturally, the area being "left behind" is Whitehead's own ward, which he took to twitter today to clarify:
This is the street that was just reconstructed with no bike lanes, a decision justified by Whitehead on the basis of traffic volume and three major institutional destinations:
When challenged a couple of months ago on the decision not to include bike lanes, Whitehead deferred to staff:
Culture of Fear
The thing to understand about Whitehead is that when he thinks staff agree with him on something, they are the "experts" and we should defer to their expertise:
But if staff seem to take a position that does not accord with Whitehead's preconceptions, he shamelessly feeds them to the wolves.
Consider the ill-fated transit-only lane on King Street, about which Whitehead very publicly made up his mind almost two months before the staff review of its operation.
When the staff report found that it was working quite well and that there was still money left in the Provincial Quick Wins budget to mitigate the few issues that were identified, Whitehead accused staff of pushing an agenda and suggested that a nuclear bomb would have to go off downtown before staff declared the bus lane a failure.
This report was driven by public transit staff that are advocates for the higher order transit and obviously they're looking through a singular lens when it comes to addressing these issues. So I guess the next question is: would it take, what would it take for public transit staff to say no to bus lanes? Would it be short of a nuclear bomb going off?
This sort of behaviour from Councillors contributes to the culture of fear at City Hall that keeps this city from achieving its potential.
The City's Corporate Culture, Values and Ethics for City Employees was hardly being honoured at the end of Wednesday's GIC meeting, when Whitehead seized the opportunity to upbraid staff for showing initiative and creativity in seeking funding for a Council-approved cycling project.
The Corporate Culture document's five Corporate Pillars of success are:
Collective Ownership
Steadfast Integrity
Courageous Change
Sensational Service
Engaged Empowered Employees
Cheap shots like Whitehead's wedge attack make a mockery of Collective Ownership. They undermine Steadfast Integrity, discourage Courageous Change, hinder Sensational Service and outright demolish Engaged Empowered Employees.
Council is already setting staff up for failure by approving master plans but refusing to approve funding for those plans.
When brave city staff take the initiative to seek creative means to come up with the money to implement those plans anyway, it is particularly cruel for one of those same councillors to turn around and punish their initiative.
Post a Comment
You must be logged in to comment.