Hamilton Has an Auto-Immune Disorder
We need leaders who can lead. Last night, Council chose not to lead.
By Ryan McGreal
Published January 22, 2015
Hamilton has an autoimmune disorder that attacks and destroys the connective tissue of civic engagement.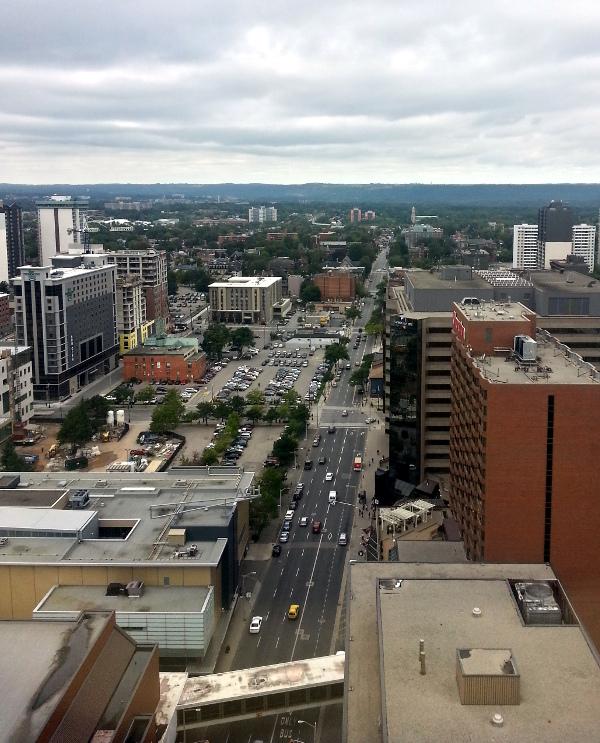 King Street bus lane looking west from James (RTH file photo)
Ward 4 Councillor Sam Merulla put his finger on it at last night's council meeting: "The negativity and the lack of belief and courage to make changes is almost innate in Hamiltonians. ... We are the proudest people in the world when we meet each other outside of Hamilton, but we become somewhat destructive and dysfunctional within our own cognitive process in the way we think about ourselves."
That negativity and lack of belief and courage was on full display last night, when Council voted 9-7 to dismantle and remove the bus lane on King Street between Mary and Dundurn.
Thanks to independent journalist Joey Coleman, you can watch the fiasco directly.
The bus lane debate starts at around the 1:11:00 mark.
Attack on Democracy
The Council vote is a direct attack on the large audience of engaged citizens who attended the meeting, filling the Council chamber gallery and making their support heard.
It is a direct attack against the more than 1,000 people who add their names and statements to the Support Hamilton Transit campaign in just a few days after it was launched.
It is also a direct attack against the large majority of Hamiltonians who support keeping the bus lane and making the staff-recommended changes to mitigate the lane's problems and improve traffic flow.
It's one thing to reject a policy because it is unpopular, but it takes a special kind of cynicism to reject a popular policy that might threaten to nudge the balance of power ever so slightly in a city whose governance structure is deliberately calibrated to marginalize and outflank the centre.
Council did not just vote to kill the bus lane. They also voted break the spine of the burgeoning citizen movement which arose to demand that we stop endlessly talking about the city's long-term strategic vision and start building it already.
I sincerely hope that the movement will survive this attack. I hope the people who have poured their scarce time and energy into trying to save the bus lane won't let the cynicism and negativity that command so many of our leaders dissuade them from organizing and advocating the change this city so desperately needs.
Bus lane supporters are mainly people who recognize that it is a small but important step in a larger, more comprehensive transformation.
We expect Council to make specific policy decisions based on how closely they align with Council's strategic vision and how clearly it can be demonstrated that they have community buy-in.
That simply reflects good governance. But it is not how decisions are made in Hamilton, the city that eats its own best chances of success.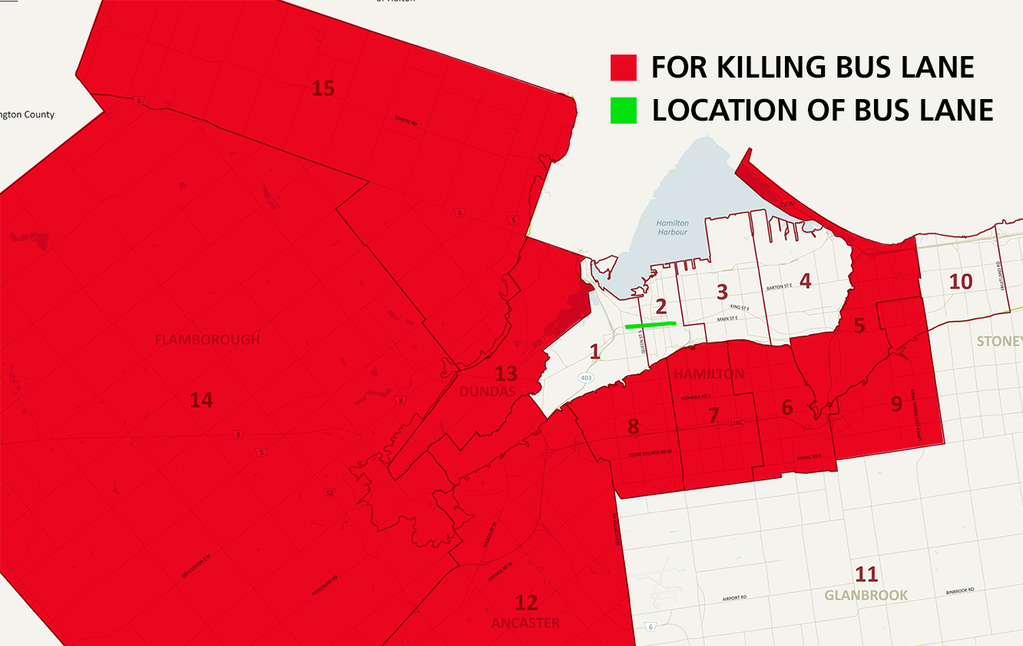 Council votes to kill the bus lane and location of the bus lane (Image Credit: Alistair Morton)
Inspiring Leadership
It is important to remember that this was a very close vote and that many of our Councillors really do understand how to move the city forward. We need to acknowledge and celebrate those Councillors who showed vision and leadership last night.
Kudos to Aidan Johnson, who came out fast with a motion to save and modify the bus lane according to the staff-recommended changes: restoring the north curb lane west of Bay and making signal changes to improve flow through the corridor. He said making these changes will "respect the rights of car users on our roads" while simultaneously serving the needs of transit riders.
He delivered a spirited defence of the bus lane, ranging from the direct experience of transit riders through larger issues of equity, stronger neighbourhoods, environmental sustainability and economic development.
Yesterday was Lincoln Alexander's birthday and the first annual Lincoln Alexander Day. Johnson referenced this, calling Alexander "a man who was all about community and bringing people together" - and a regular transit user.
His speech was punctuated with enthusiastic applause from the packed gallery. He closed by saying, "We need to treat needs as needs and wants as wants. ... The bus lane, and the better public transportation of which it is a vital part, is not a mere want. This is a need."
Kudos to Jason Farr for bringing a courageous, strategic, evidence-based approach to the issue. "I cannot support quitting on this."
Noting that he has "been on the front line right from day one" through a "disastrous start", Farr described working through the issues, engaging with the business and neighbourhood groups and building consensus.
As a result, support has grown. "[T]his afternoon a poll shows that people are now getting on board the bus lane and getting in favour of what's here and not wanting to quit. Our citizens want to make it work, to make the staff-recommended adjustments work: staff-supported adjustments with alternative one and two. That's what we were debating right from the get-go, and six hours later. We can make the parking work, we can make the traffic flow work, we can decrease any real or perceived business disruptions, and we can engage to a greater extent."
Farr argued that the bus lane is about a lot more than just a two-kilometre stretch of paint and signage. "I hope we have come to the realization that this is no small or isolated issue as it relates to the growth and development of our beautiful city. What this decision does represent is forward thinking. It is the future, it is now."
He pointed out that the bus lane is not out of the blue but is deeply embedded in the city's transportation and land use plans going back to the Transportation Master Plan in 2001. It was recommended in the Rapid Ready report, which Council approved two years ago. It was recommended in the HSR Operational Review, which Council approved five years ago.
He reiterated the number of new business starts and facade improvement investments made along the bus lane corridor. 30 new business licences were granted along the bus lane in 2014, compared to 46 total in the two previous years.
Kudos to Matthew Green for pushing for the experiences and perspectives of transit riders to factor more strongly into the debate. It was Green's observation that transit riders were not being asked about the bus lane that inspired a group of volunteers to create a new organization of transit riders and supporters.
He argued against the "technical need" argument that we should only build a bus lane when there are more than 2,000 rush-hour passengers. (As it happens, there are already conservatively between 1,484 and 3,045 rush-hour passengers on the downtown bus lane corridor.)
He noted that Kitchener-Waterloo is going ahead with a full light rail transit plan despite having lower ridership than Hamilton. "When is a good time to lead?"
He asked what message the City sends to transit riders - of whom there are at least as many on King during rush hour as there are drivers - by failing to lead on this initiative.
Kudos to Sam Merulla for arguing that the biggest failure of the bus lane was that it was too small. "By killing this prematurely, we're in the situation that we're moving forward without any sort of idea of what the true impact is."
Like Johnson and Farr, he tied the bus lane back to the city's strategic transportation vision dating back to 2007. "We need to rewind and remember why we even went down this road."
He called opposition to the bus lane "change that people are resisting not because of the data, not because of inconvenience but just for the sake of change itself. And I can't endorse that."
Merulla traced a repeating history of Hamilton City Council failing to seize opportunities to transform the city through high quality transit through "lack of vision or lack of courage," right back to rejecting a proposed subway in 1959. (Hamilton City Council also rejected a proposed ALRT system in 1981, which ended up being installed in Vancouver as their hugely successful Skytrain.)
"We have a tradition of being a 'could have, would have, should have' city, and I think we need to be a 'we must' city." Merulla challenged his colleagues to "rise above personalities" and focus on what is really at stake.
Kudos to Maria Pearson, who voted to support the bus lane even though her own car commute from Stoney Creek to City Hall was impacted by the lane. To her credit, she was willing to put the best interest of the city ahead of narrow self-interest.
Kudos to Brenda Johnson, who struggled with how to vote before deciding against the motion to kill the lane. Johnson generally supports transit and wanted to see the bus lane made longer. "I'm not prepared to throw the baby out with the bathwater."
However, she also opposed Councillor Aidan Johnson's motion to modify the bus lane, stating that she wanted to wait for the full transit report so Council could make a comprehensive decision about the entire corridor, not just the two-kilometre lane.
Kudos to Transit Director David Dixon, who clearly stated for the record: "This lane is good for transit." The audience erupted into cheers.
I wonder whether Dixon is regretting throwing his lot in with a city that has such an ugly propensity to sabotage its own revival.
Kudos to City Manager Chris Murray, who responded to a question from Farr about modal split by setting the context under which Council has to make transit decisions:
As you intensify and grow following the principles of smart growth, which is what we've done through our Official Plan, and which is certainly advanced in our Master Transportation Plan and further advanced in our Rapid Ready document, you want to try and ensure that you have a very healthy transit system to serve your community. Not just in terms of the land use development, but as I've pointed out in the past, with an aging population you also want to ensure that you have a modal split that is going to afford you more transit opportunities to serve that population of aging people who we want to live out their lives in their home and have a decent transit system so they can access all the points in the community they need to.
This speaks to the vulnerable constituencies Aidan Johnson and Matthew Green addressed, and it speaks to the strategic vision and execution that Jason Farr and Sam Merulla addressed.
Shameful Behaviour
Warning: council shaming ahead.
Shame, shame, shame on Chad Collins, the city's shadow mayor, for architecting and leading the campaign to kill the bus lane. He cynically sabotaged the city's strategic vision on the altar of raw political gamesmanship.
His rationale for killing the bus lane was ridiculous. He acknowledges that we need to extend it, but since we don't know how to extend it east of Mary, we should just shut it down.
Instead, the man who likes to run Council from behind the scenes thinks we should wait until we are in a transportation crisis before we try to improve B-Line service - at which point it will be vastly more expensive, difficult and disruptive than it would be today.
Shame on Fred Eisenberger. Yes, he voted for the bus lane, but he refused to spend any political capital marshalling support for it among his colleagues.
Did he learn nothing from his first term in council? Political capital is a renewable resource - you earn more of it by winning. Merulla said as much at last week's General Issues Committee meeting, where he argued that doing the right thing, even in the face of opposition, earns you credibility and respect over the long term.
Eisenberger may have wanted to avoid a direct confrontation with Collins, but his influence is diminished anyway.
Combined with his recent decision to abandon his promise to create a citizen jury tasked with evaluating Hamilton's rapid transit options, Eisenberger has staggered out of the gate already lame from self-inflicted wounds. What a disastrous start to a new term.
Shame on Tom Jackson, who was presumably so "exhausted" by the blistering pace of improvements to Hamilton's transit system that he couldn't bring himself to let the bus lane live.
Shame on Scott Duvall, who set the tone by splitting hairs over whether the staff report was an "information report" or a recommendation. He then burned through most of his time complaining about the cost of taking out the north curbside parking on King West of Bay only to put it back in again, while making nothing of the cost of putting in a transit-only lane only to take it back out again.
Like many Councillors who voted against it, he made lots of pro-transit noises. "I think we all want the bus lanes as we're going forward. It's a good vision for the city. But..." In Hamilton, there's always a "but", followed by a superficial rationalization for why decision after decision fails to reflect our strategic plans.
In Hamilton, vision is rarely allowed to bear on actual policy decisions about real initiatives. Like Collins, Duvall argued we should scrap the existing bus lane because we haven't yet figured out how to extend it farther east.
I really hope the New Democratic Party is paying careful attention, since Duvall seeks the party's nomination to run for Hamilton Mountain in this year's federal election and the NDP historically has taken a position in support of improved transit rather than against it.
Shame on Terry Whitehead, who thankfully spared us another ramble at last night's meeting but whose ongoing antics and shenanigans on this file since mid-December have brought embarrassment and discredit to Council and the City as a whole. At this point, the less written about Whitehead, the better.
Shame on Arlene VanderBeek, who made lots of noises during the recent election about improving transit and making Hamilton's transportation system more inclusive and multi-modal. Clearly she is more interested in continuing her mentor and former boss's campaign to kill LRT than she is in achieving meaningful improvements.
Shame on Lloyd Ferguson, who claims to support the city's LRT plan but insists that killing what is pretty much the only Rapid Ready initiative Council has actually undertaken somehow won't hurt the city's chance of getting provincial funding for LRT.
The province gave us $300,000 to build a two-kilometre bus lane. We botched the original instalation and then decided to spend the leftover money dismantling it rather than fixing it. Does anyone seriously think they will now turn around and give us a billion dollars to build a 14-kilometre LRT line?
Shame on Doug Conley, Judi Partridge and Rob Pasuta for ignoring the clear evidence and voting to shut down a modest transit project that has almost no impact on their ward residents.
Perennial Double Standard
During the meeting, Merulla pointed out that his practice is to support other councillors in projects that mainly impact their wards. He asked that they extend the same courtesy to the four downtown councillors who support the bus lane.
I never hear downtown councillors complaining about the tens of millions of dollars the city spends on expensive suburban infrastructure projects that will never come close to paying for themselves in net property tax assessment. Meanwhile, here was an initiative that had already been installed and would literally cost us nothing since the Province had paid to build it and leftover Provincial money would pay to fix the problems with it.
This is always the case. Council agonizes over the tiniest outlays of money for initiatives that support urban revitalization - even initiatives that are funded by other levels of government - while the unsustainable status-quo buildout of the suburban frontier continues unchallenged and unquestioned.
Everyone agrees that the way we have been doing things doesn't work, but we choke again and again on even small, modest changes to the way we have been doing things - let alone the kind of big, transformative changes that other, braver cities have embraced.
This city has been in a tailspin for decades. For the past 30 years, Council has been approving a steady series of Strategic Visions and Master Plans that acknowledge the need for change and provide a road map to take us to a different future.
But Council can't bring itself to make decisions based on its own road maps. The number of strategic projects that Council actually approved over the past two decades can be counted on one hand.
For every approved conversion from a multilane thoroughfare to an inclusive street, another five languish year after year without funding. For every sliver of bike lane we reluctantly add, we pour miles of new asphalt.
Our transit system has been in crisis since the 1980s, when systematic funding cuts gutted service levels and plummeted ridership. But introduce a modest delay for motorists through the downtown core during rush hour and we pull the plug rather than making staff-suggested changes to reduce the delay.
The hypocritical councillors saying we can't let the bus lane continue until we consider the next transit report ignore the fact that they already approved a string of transit reports - the Transportation Master Plan in 2001, the Transportation Master Plan review in 2007, the HSR Operational Review in 2010, the Rapid Ready report in 2013 - and haven't done the things they promised to do in those plans.
One of those things was the bus lane. They ran it as a pilot and then killed it, despite the fact that it was working. This is Hamilton's autoimmune disorder at work.
Vulnerable Recovery
Hamilton is in a very fragile state right now. A little over a decade after our daily newspaper was publishing its Lament for a Downtown series, we finally have some momentum again - much of it thinks to the modest investments previous Councils managed to bring themselves to approve, like the James and John conversions and the Downtown Residential Loan program.
There are new downtown developments under construction right now and more developments moving through the planning stage. It is easy to sit back and assume the momentum is self-sustaining, but that is very dangerous.
The economics of new development - especially idiosyncratic new urban developments for which financial institutions don't have cookie-cutter approval policies - happen at the margins, and a tiny change in economic conditions can result in a huge change in project viability.
Hamilton has momentum, but not liftoff. We need a transit system that can accommodate the new people who will move downtown without forcing all of them into cars.
We need streets that leverage the essential urban economies of density, diversity, association and agglomeration to bring people together and generate wealth.
We need leaders who can lead. Last night, Council chose not to lead. For the first major decision in a four-year term that will set the city's trajectory for the next 20 years, that is a very bad sign indeed.
Post a Comment
You must be logged in to comment.