Councillor Green to Introduce Vision Zero Motion
Ward 3 Councillor Matthew Green has introduced a notice of motion to establish a Vision Zero-style commitment to road safety in Hamilton, particularly for people walking and cycling.
By Ryan McGreal
Published January 19, 2016
Ward 3 Councillor Matthew Green has introduced a notice of motion to establish a Vision Zero-style commitment to road safety in Hamilton, particularly for people walking and cycling, who are among the city's most vulnerable road users.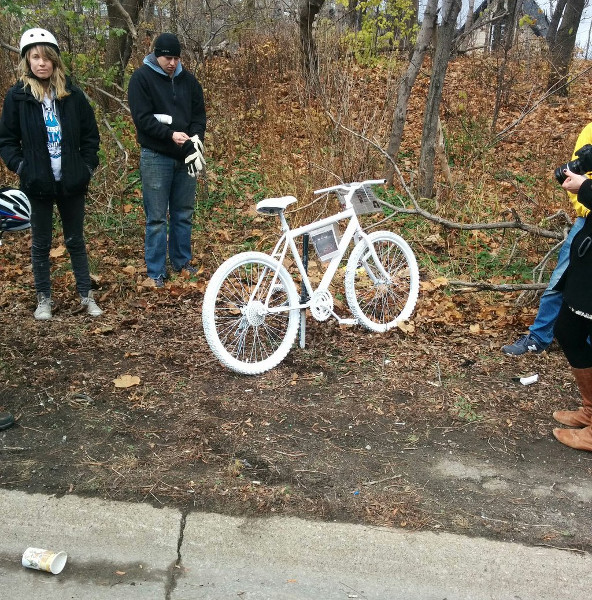 Ghost bike on Claremont Access as a memorial to Jay Keddy, who was killed on December 2, 2015 (RTH file photo)
The motion, if approved by Council, would call on the City to implement a "comprehensive plan to improve road safety" including a review of current city policies, a study of best practices and Vision Zero principles, enhanced analysis of traffic collision data, and a reporting system to track progress.
Deadly-by-Design Street System
Hamilton had 18 traffic fatalities last year, of whom eight were people on foot and one was a person riding a bike. The high rate of pedestrian and cyclist fatalities puts Hamilton sharply at odds with Provincial and National trends.
A 2013 report by the Social Planning and Research Council found that Hamilton is the second most dangerous city in Ontario for walking, with an injury risk 42 percent higher than the Provincial average. Hamilton's injury risk for cyclists is 81 percent higher than the Provincial average.
Hamilton's high pedestrian and cyclist casualty rate is a predictable result of the city's network of overbuilt thoroughfares with excess lane capacity and engineering for dangerously high speeds.
Those dangerous high speeds are reflected in mobile radar measurements showing speeds in excess of 90 km/h - even on local residential streets.
Just yesterday, Hamilton police caught a driver going 141 km/h on a residential street with a 40 km/h speed limit - an insane speed that would be physically impossible to achieve on a street that was designed for safety.
A recent spate of pedestrian collisions and fatalities, particularly late last year, has spurred a burgeoning community demand for Hamilton to take traffic safety more seriously and commit to principles that have dramatically reduced injury and fatality rates in other jurisdictions.
Senior citizens and children - the most vulnerable road users - are disproportionately represented among the pedestrian casualties on Hamilton streets.
Goal of Zero Traffic Fatalities
In 1997, Sweden adopted Vision Zero, a commitment to eliminating all traffic fatalities. Since then, the country has managed to reduce its traffic fatality fate from 7 per 100,000 to fewer than 3 per 100,000.
Vision Zero takes a novel approach to traffic safety. Instead of the standard behavioural approach of telling people to be more careful and attempting to enforce rules - sometimes referred to as the "train-and-blame" approach - Vision Zero starts by accepting that people are not perfect and will make mistakes.
From there, the goal becomes ensuring that when mistakes inevitably occur, they do not result in tragedy. As such, the primary limiting design guideline for streets becomes the capacity of the human body to survive trauma.
For example, it is well-established that in collisions where a vehicle moving at 30 km/h strikes a pedestrian, the fatality rate is 5 percent. At 48 km/h, the fatality rate increases to 45 percent, and at 64 km/h, the fatality rate is a staggering 85 percent.
Applying Vision Zero
A Vision Zero approach to street safety entails creating dedicated, protected space on the street for walking and cycling so that the most vulnerable road users are physically separated from the most dangerous objects on the street - moving vehicles.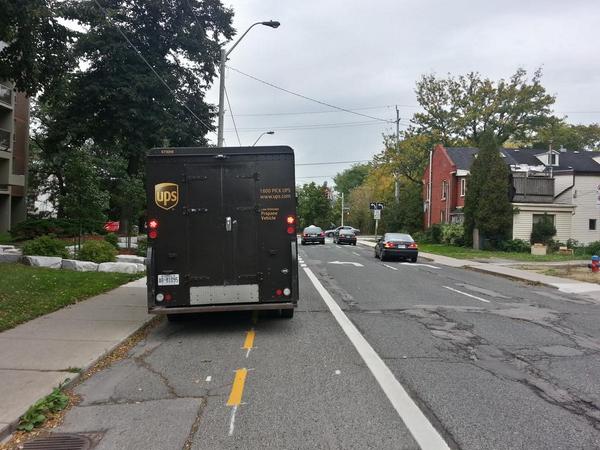 Vehicle blocking unprotected Hunter Street bike lanes (RTH file photo)
Where different modes of transportation do have to come into contact, street design should maximize visibility and minimize conflict - like, for example, the Dutch approach to intersection design.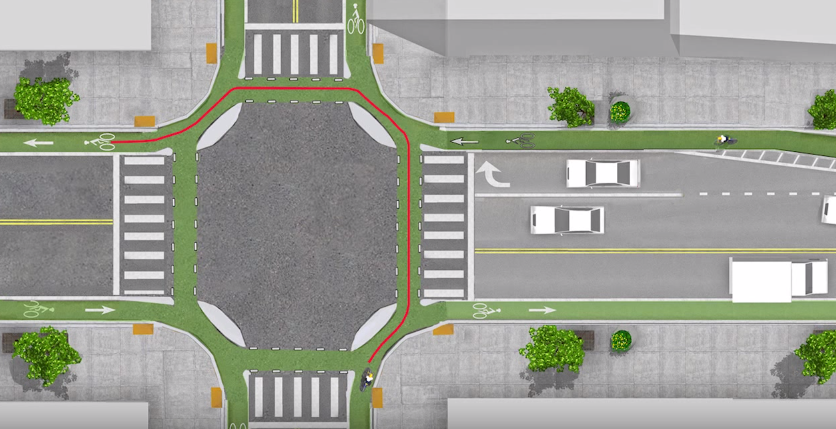 Dutch intersection design (Image credit: screen capture from YouTube video)
In Hamilton, most streets do not have bike lanes - the cyclist who was killed last year was riding on the Claremont Access, which has no cycling infrastructure - and most of the lanes we do have are just painted lines, not physically protected from vehicle traffic.
Worse, the city's bike lanes tend to disappear altogether through intersections, which is where various modes come into contact and the risk of collisions is highest.
An example is the intersection of York Boulevard and Dundurn Street, where there is no obvious way for a cyclist to turn from York onto Dundurn without merging into mixed vehicle traffic.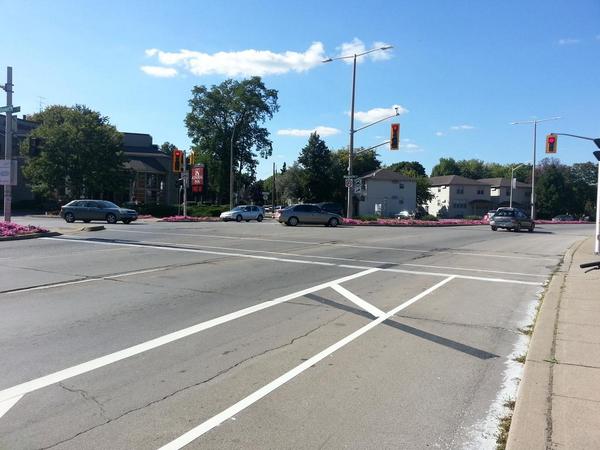 No obvious way to turn from York bike lane onto Dundurn bike lane (RTH file photo)
Strategic Road Safety Program
Presumably, this motion will also incorporate the City's Strategic Road Safety Program, which was re-established in 2014 with funding from the Red Light Camera program.
That program has a fairly modest but progressive mandate to adjust crosswalks for longer crossing times, add crosswalks and pedestrian crossovers (PXOs) at low-volume intersections, enhance crosswalks with ladder crossings, and review the city's existing speed limit policy (with a default unsigned speed of 50 km/h).
The Strategic Road Safety Program is an acknowledgement that the City needs to shift its thinking away from the status quo of maximizing vehicle speed and volume, and toward a more comprehensive model of safe, inclusive streets for everyone.
With John Mater, currently the Director of Transportation in the Public Works department, soon to succeed retiring Public Works General Manager Gerry Davis as acting GM, this may be an excellent opportunity to accelerate the culture change in Public Works that has been progressing far too slowly until now.
Text of the Motion
Following is the text of the motion.
City of Hamilton

Notice of Motion

Moved by Councillor: Matthew Green

City Council direct the General Manager, Transportation Services, in consultation with other City divisions, as appropriate, to report to the Public Works committee in coordination with the Transportation Master Plan, with a comprehensive plan to improve road safety, including but not limited to:

a) A review of best practice from comparable jurisdictions, including Vision Zero;

b) A review of existing City policies, strategies and guidelines that touch on road safety;

c) An enhanced analysis of City-wide traffic collision data;

d) Specific recommendations to improve road safety, particularly for pedestrians and cyclists, over the short, medium and long terms;

e) An implementation plan and funding strategy, as appropriate;

f) A regular reporting mechanism to track progress;

g) Continued consultation with the Hamilton Cycling Committee, HWDSB, HWDCSB, Hamilton Board of Public Health, Hamilton Police Services, Cycle Hamilton, and ACPD advisory Committee;

h) The creation of a Road Safety Task force to be led by Transportation Services.
Related:
Post a Comment
You must be logged in to comment.