Latest Pedestrian Injury Part of a Depressing Pattern
Street design must begin with the assumption that there will be people on the street - and that those people deserve respect.
By Ryan McGreal
Published February 12, 2014
Hamilton Police report that a 73-year-old woman was struck by a school bus yesterday mid-afternoon while crossing Stone Church Road East southbound at Rochelle Avenue. She was taken to hospital by ambulance and remains in serious condition.
Rochelle Avenue is roughly halfway between the two nearest controlled intersections: Upper Ottawa Street to the east and Quinn Avenue to the west. To cross at either intersection, the pedestrian would have to make a 400 metre round-trip along a busy street to get to her destination, and then walk the same 400 metre distance again on the return trip.
A general rule of thumb in land use planning is that the average person is willing to walk between 400 and 800 metres to get to an errand, but that this distance is subject to the individual's experience of the built environment and perception of safety and comfort.
Unlike Rymal Road, where another elderly pedestrian was struck earlier this month during a similar mid-block crossing, at least Stone Church has sidewalks.
I haven't seen the location yet and Hamilton Police were not able to provide details on the sidewalk conditions, but sidewalks in Hamilton this winter have been much more likely to be covered in ice and packed snow than roads, which are cleared and salted by the city.
Recurring Pattern
More generally, this incident is the latest instance of a depressingly common pattern of pedestrian injuries: a senior citizen, walking between a single-use residential area and a single-use commercial strip, crosses a busy thoroughfare midblock to avoid a long, unpleasant walk to the nearest intersection and is struck by an automobile.
The sheer commonality of such incidents tips us that we are observing a systematic problem, not just a random collection of errors in judgment. Hamilton is an outlier among Ontario cities in terms of the risk to pedestrians, and senior citizens are disproportionately being injured and killed in collisions with automobiles.
We have written before about the "train-and-blame" approach to safety - Cross at the lights! Wear bright clothes! - that predictably follows such incidents. However, telling people to be more careful will not break this pattern of injury and death among the most vulnerable people on our city streets.
As cognitive science professor and design expert Donald A. Norman put it in his 2007 book The Design of Future Things:
This kind of "blame-and-train" philosophy always makes the blamer, the insurance company, the legislative body, or society feel good: if people make errors, punish them. But it doesn't solve the underlying problem. Poor design, and often poor procedures, poor infrastructure, and poor operating practices, are the real culprits: people are simply the last step in this complex process.
If we want to take real steps toward preventing more such incidents, we need to address the framework in which they are taking place instead of pointing fingers at those people the framework keeps failing.
Reduce Vehicle Speeds
The most basic change we need to make to our street network to make it safer for people is to reduce vehicle speeds. Some drivers will bristle at the prospect of having to slow down, but the evidence for reducing speed is about as strong as it gets.
When you double a vehicle's speed, you quadruple its stopping distance and you quadruple its kinetic energy. That is an unyielding fact of physics, and it is borne out in the fatality statistics: a pedestrian has a 5 percent chance of dying when hit by a car moving at 32 km/h, and an 85 percent chance of dying when hit by a car moving at 64 km/h.
When vehicle speed increases, the risk of injury in a collision increases exponentially, and it also becomes exponentially harder to stop in time to avoid a collision in the first place.
So we need lower vehicle speeds, but it's not enough just to reduce speed limits. We also need to redesign our streets for slower driving. People will drive at a speed that makes them comfortable, and our street designs should make it uncomfortable for people to drive at dangerous speeds.
Narrow lanes, curbside parking, street trees with overhanging branches and so on all send a signal to drivers to slow down. In contrast, wide, unrestricted lanes with long gaps between controlled intersections do the opposite - they encourage drivers to speed up.
Make Pedestrians More Welcome
Hamilton is a city, and cities are full of people. There is no way, short of banning pedestrians by making every street into a limited-access highway - and heaven knows we've tried to do this - to stop people from walking on our streets.
That means street design must begin with the assumption that there will be people - and those people deserve respect. If a 73-year-old wants to walk to the coffee shop and back, she should be able to do so, safely and reasonably, without having to sidetrack almost a kilometre out of her way.
Pedestrians need many more defined places where they can safely cross the street. The City is planning a pilot project to introduce "Courtesy Crossings", or uncontrolled crosswalks, in various locations.
According to the Ministry of Transportation, at an uncontrolled crosswalk the driver has a responsibility to yield to a pedestrian who is crossing, and the pedestrian has a responsibility to wait for a big enough gap in traffic that drivers can reasonably be expected to yield.
As of November, the City had not yet finalized the signage it will use at the crossings, but the proposal given to Council had suggested putting up pedestrian-facing signs that read, "Caution - Vehicles Not Required to Stop".
Such a message would be highly misleading given the Highway Traffic Act, and would undermine the City's goal of making our streets more walkable. Instead, the City should follow the lead of McMaster University, Mohawk College and many other cities and install "Stop for Pedestrians" signs directed at drivers.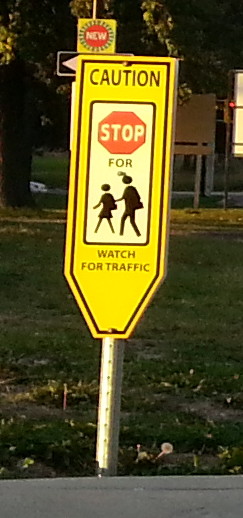 'Stop for Pedestrians' sign at Mohawk College (RTH file photo)
Right of Way
A more radical idea, at least for Ontario, is to reform the Highway Traffic Act so that pedestrians have the right of way by default. Currently, pedestrians are only allowed to cross the street at specified places and circumstances, but Ward 4 Councillor Sam Merulla wants the Ontario Government to follow the lead of France, which passed a new law giving pedestrians the right of way in 2011.
The legislative framework that has restricted pedestrians was introduced in North America during the 1920s under heavy lobbying and propaganda from an auto industry that was eager to redesign public streets around the supremacy of the car.
In a matter of years, they managed to convince the public and lawmakers to focus on irresponsible pedestrians rather than dangerous drivers when someone was injured or killed.
New jaywalking laws overturned centuries of common law and forbade pedestrians from getting in the way of motor-cars. Instead of a legal obligation on the part of the most dangerous operators on the street to watch for the most vulnerable, these laws shifted the burden to pedestrians to stay out of the way.
We began to view the street through the "windshield perspective", a perspective that has persisted to this day. As a result, there is an inbuilt bias to blame the victim when a pedestrian is hit by an automobile. It is past time to confront that bias and change the way we think about our streets.
Post a Comment
You must be logged in to comment.