Tragic Deaths Highlight Need for Safer Streets
The recent fatality of a pedestrian walking on the sidewalk and a cyclist riding on Claremont Access highlight the unmet need for safe pedestrian and cycling infrastructure in Hamilton.
By Jason Leach
Published December 03, 2015
A cyclist has just been killed on the Claremont Access last night. I'm saddened as I write this, also remembering the gentleman who was struck walking on the sidewalk on York Boulevard and died from his injuries earlier this week.

Claremont Access (RTH file photo)
In both these cases, the driver was at fault. When drivers make mistakes, the results are lethal. These deaths really highlight the unmet need for safe pedestrian and cycling infrastructure in Hamilton.
As the 2013 SPRC report Hamilton's Risky Streets concluded, Hamilton has an injury risk for pedestrians that is 42 percent higher than the provincial average, and an injury rate for cyclists that is 81 percent higher than the provincial average.
That should not be acceptable to anyone.
I urge council to direct staff to look at some low-hanging fruit that could quickly start to improve safety in our city.
1. Install the new, lower LED sidewalk-focused lights on all major arteries. Main Street has them in front of City Hall. They illuminate the sidewalk wonderfully.
I live near York Boulevard where the pedestrian was killed last week, and I rarely walk it at night. The sidewalks are very, very dark.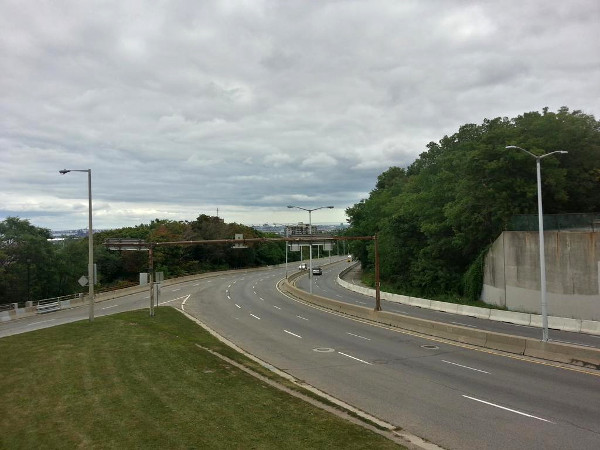 Claremont Access from Southam Park (RTH file photo)
2. Install a barrier-protected multi-use path on the northern-most lane of the Claremont Access. It can connect to West 5th and to Southam Park. A barrier like the one on King Street over Hwy 403 would work wonders.
At the bottom, a two-way protected bike lane can continue north to the waterfront on Wellington Street in the west lane. Wellington carries 10,000 cars a day on four lanes - there is more than enough room to make some safe space for cycling.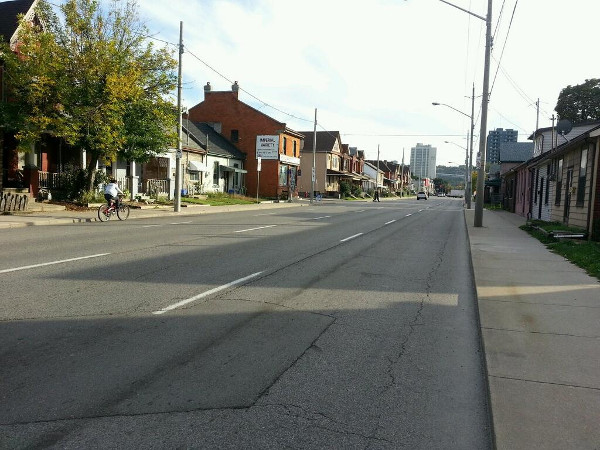 Wellington Street North during rush hour (RTH file photo)
3. Institute 'no right on red' in all pedestrian-oriented districts: downtown cores, BIAs, transit-heavy streets, near transit terminals, and so on.
Just yesterday, I saw two pedestrians almost get hit while crossing the street on a green light in the crosswalk, because the driver approaching a red was going to roll right out and attempt their right on red without stopping.
This happens every single day, over and over. No right on red keeps everyone simply stopped for their red light. It's tough enough to walk in this city, let alone still being almost hit while crossing on a green. Montreal has 'no right on red' on the entire island.
This is scratching the surface, I realize. But I'm suggesting some very simple, low-hanging fruit so we can show that we are resolved to actually do something to prevent more tragic deaths in the future. Small steps immediately in the right direction are needed at a time like this.
Montreal was faced with a similar week with multiple deaths recently, and they acted very quickly in response. We owe it to ourselves to show the same level of concern for our vulnerable residents.
Post a Comment
You must be logged in to comment.