Speed Radar on Beckett Drive Belies Gridlock Claims
On Beckett Drive, even the rush hour traffic is not congested by any reasonable definition of congestion.
By Ryan McGreal
Published November 06, 2015
Vehicle traffic on the Queen Street Hill/Beckett Drive escarpment access is so slow that the City had to paint a marking at Queen Street South and Glenfern to warn drivers about how slow it is.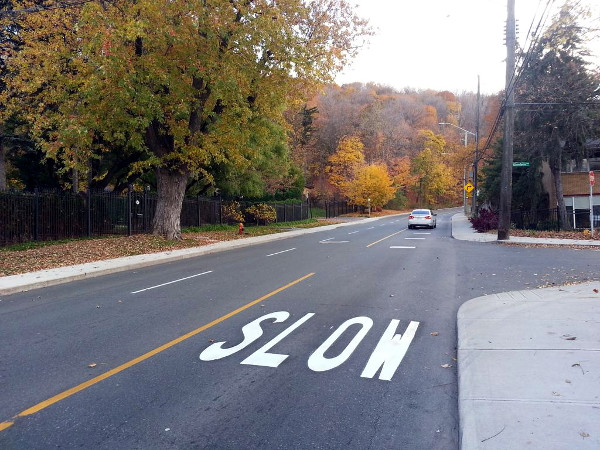 SLOW painted on Queen Street at Glenfern
Just kidding! The "SLOW" pavement marking is used to try and slow motorists down in locations where speeding has been identified as a problem.
The City currently has its mobile speed radar set up for downbound traffic right at the the bottom of Beckett Drive, just before it turns into Queen Street at Amelia.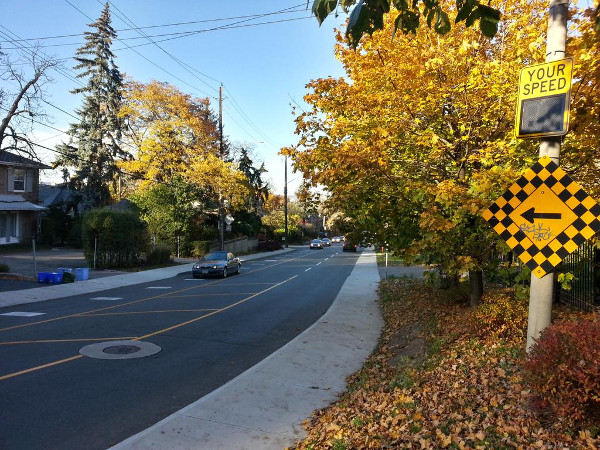 Speed Radar set up at bottom of Beckett Drive
It's right at the bend before Amelia, where Beckett veers north to become Queen Street South. The speed limit here is reduced to 30 km/h due to the sharp curve.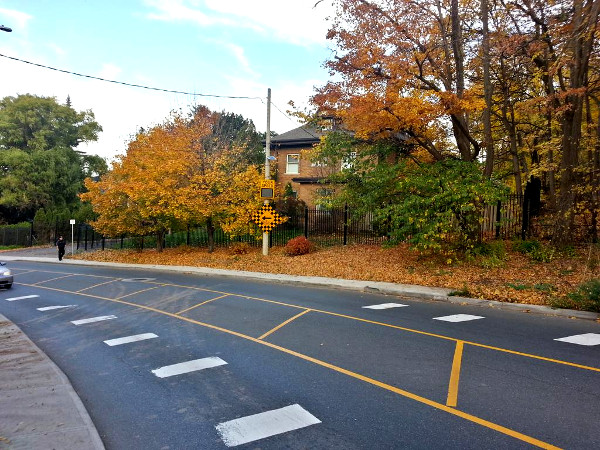 Speed Radar on bend at bottom of Beckett Drive
I was a bit concerned that the City installed the speed radar right at the spot where drivers are slowing down to go around the curve, rather than farther up the access or north past the bend where you can really speed up.
But I needn't have worried: a velocitized driver is a dangerous driver, and in just a few minutes yesterday afternoon I was able to observe several drivers going around the bend at dangerously high speeds.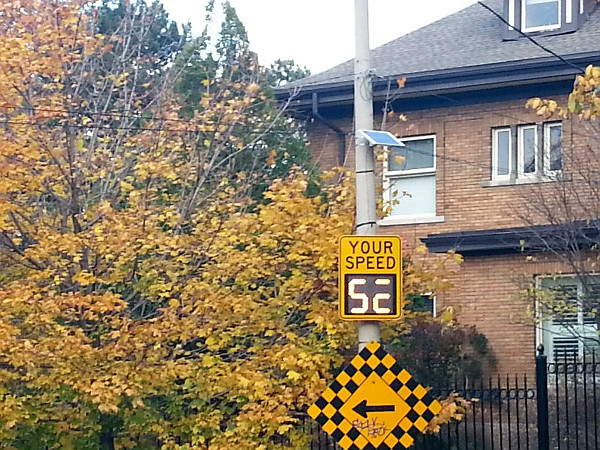 Vehicle going 52 km/h into the bend at the bottom of Beckett Drive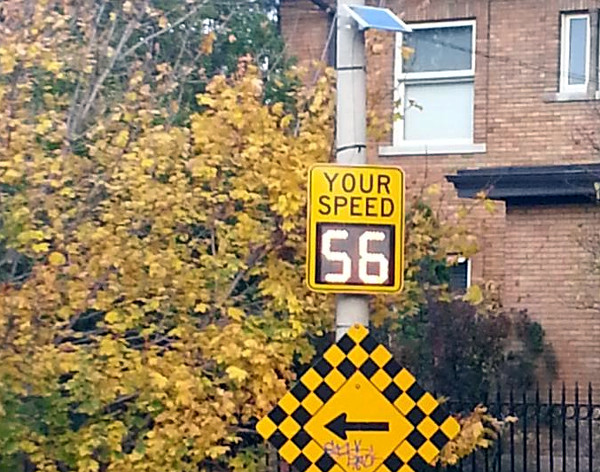 Vehicle going 56 km/h into the bend at the bottom of Beckett Drive
Of course, a few people will object that I took these photos at 3:45 PM instead of the middle of rush hour. My immediate response is that a street that has dangerously high vehicle speeds for 22 hours a day is not a good street.
But in the case of Beckett Drive, even the rush hour traffic is not congested by any reasonable definition of congestion. Here's the Google Maps Typical Traffic for Beckett Drive on a Monday morning at 8:30 AM: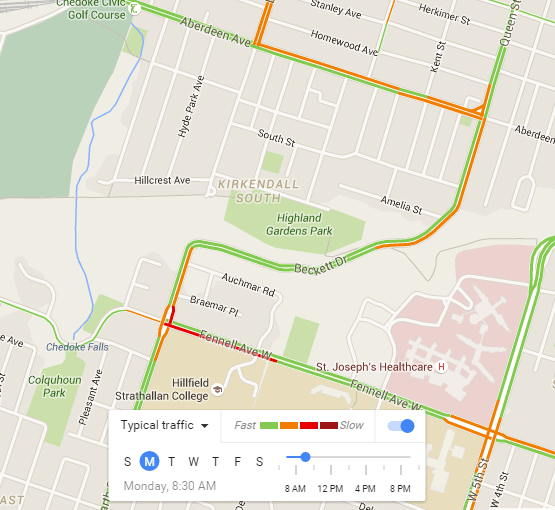 Google Maps Typical Traffic, Monday 8:30 AM
And here's Beckett Drive on a Monday at 5:00 PM: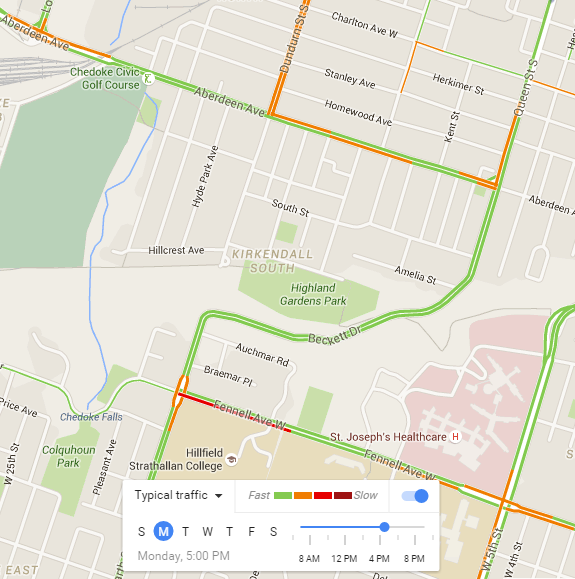 Google Maps Typical Traffic, Monday 5:00 PM
Having to stop at a red light is not congestion. Having to slow down a little bit in the peak of rush hour is not congestion. It is not reasonable to expect to enjoy free-flowing traffic above the speed limit 24 hours a day.
The extent to which this city is willing to deform its streets and traumatize its urban neighbourhoods to achieve the goal of free-flowing vehicle traffic even during rush hour is doing tremendous harm to the city's safety, inclusiveness and even economic development.
Last night, the City's Planning and Economic Development department hosted a talk with Gord Hume, a celebrated municipal author and former city councillor who specializes in municipal affairs. I wasn't able to attend the event, but the Hamilton Spectator's Joel OpHardt has a report:
Hume said he felt disengaged through much of the downtown, where multi-lane, one-way streets are geared to moving cars through the area quickly. He stressed solutions such as expanding sidewalks, narrowing streets and changing zoning for shops and restaurants so they can spill onto sidewalks.

Citing his extensive interviews with city planners around the world, Hume focused on what he calls the most livable city — Melbourne, Australia, where they plant 3,000 new trees a year, and have increased foot traffic to the point where more than half of the journeys to the city's core are by pedestrians.

"You have a choice: do you build a city for cars or a city for people?"
Hume is, of course, only the latest in a depressingly long list of experts who have all come to Hamilton and told us exactly the same thing: tame and reclaim those dangerous urban expressways!
Will City Council ever start to listen?
Post a Comment
You must be logged in to comment.