Let's Go New York With Parking-Protected Bike Lanes
Parking-protected bike lanes are a third-class compromise compared to best design practices, but they are a vast improvement over the dangerous door-zone bike lanes the City plans for Herkimer and Charlton.
By Kevin Love
Published April 24, 2015
It all started when City of Hamilton staff proposed dangerous-by-design Door Zone Bike Lanes (DZBL) for Herkimer and Charlton streets.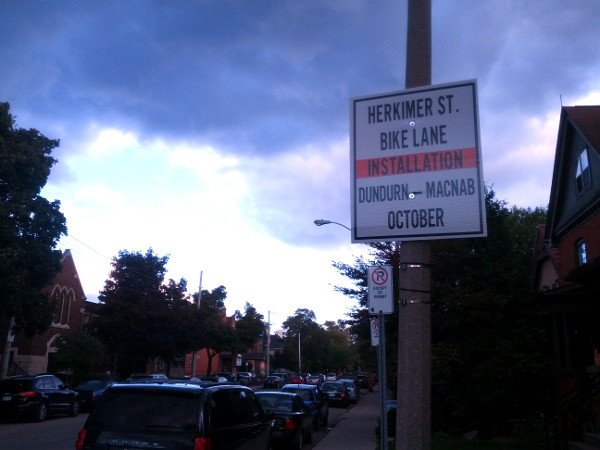 Bike lane installation notice on Herkimer in October 2014 (Image Credit: Kyle Slote)
As we see with the current Dundurn Street DZBL, this is a failed infrastructure design that results in the bike lane being the most dangerous place on the road to ride a bicycle.
After the City released their dangerous bike lane designs for Herkimer and Charlton, Durand Neighbourhoood Association (DNA) sprang into action and formed a Cycling Committee to work for a better design of transportation infrastructure.
As an aside, I would strongly encourage any resident of Durand to join the DNA. The Association does great work in advocating for a better neighbourhood for all its people.
I have previously written about our first meeting, and about how Durand has great potential that is not being realized. The purpose of this article is to explain the infrastructure design that the DNA Cycling Committee recommended.
Parking-protected Cycle Lanes
The infrastructure design that was selected was New York-style car parking-protected cycle lanes. By Dutch standards, this is third class obsolete infrastructure that is being phased out. But by Hamilton standards, this is a huge step forward from our current state of nothing in Durand.
Here is a video explaining how these protected cycle lanes work and showing several examples. Take particular note of the buffer space in the door zone of the parked cars. This is a very important safety feature.
On March 9, 2015, the DNA and Ward 2 Councillor Jason Farr held a Town Hall meeting in the Council chambers at City Hall. The protected cycle lanes were presented, as well as the two-way reversion of Bold and Duke streets.
Although moving Bold and Duke back to two-way met some knee-jerk fear of change, the protected cycle lanes were well received. There were two concerns that we have taken efforts to address.
How Safe are Parking-Protected Bike Lanes?
The first concern was to question the safety benefits of protected cycle lanes. New York City compiled an official report that analyzed the safety benefits of car parking protected cycle lanes.
Based upon before-and-after comparisons with at least three years of data after the lanes were installed:
Crashes with injuries have been reduced by 17 percent 
Pedestrian injuries are down by 22 percent 
Cyclist injuries show a minor decrease even as bicycle volumes have dramatically increased 
Total injuries have dropped by 20 percent 
75 percent decrease in average risk of a serious injury to cyclists
Here is an in-depth look at one particular car parking protected cycle lane on Prospect Park West in New York.
The City of New York conducted a before-and-after safety study that concluded:
Crashes are down 16 percent
Crashes that cause injuries are down 63 percent
Before the project, a crash was twice as likely to include an injury (18 percent vs. 8 percent)
People riding on the sidewalk went from 46 percent to 3 percent on weekdays
Number of cyclists almost tripled within two months of implementation
Percentage of car drivers violating the speed limit went from 74 percent to 20 percent
Total number of people using the street went up 13 percent during AM peak hours and 9 percent during PM peak hours.
Just for fun... Here is a New York video of the "Family Bike Ride" event with parents and children using this protected lane. 
Rest assured, before the lane was installed, the amount of children riding there was about the same as the number of children using Herkimer and Charlton today:  Almost zero. 
But We Have Driveways
The second concern raised was about safety at driveways. This safety is easily ensured by following proper bicycle traffic design engineering standards.
Here is a video showing the three safety principles to ensure a safe design of car parking protected cycle lanes.
This is, of course, nothing new. Here is a photograph of a car parking protected cycle lane in the city of Davis, California in 1967. Note the driveway after the fourth car.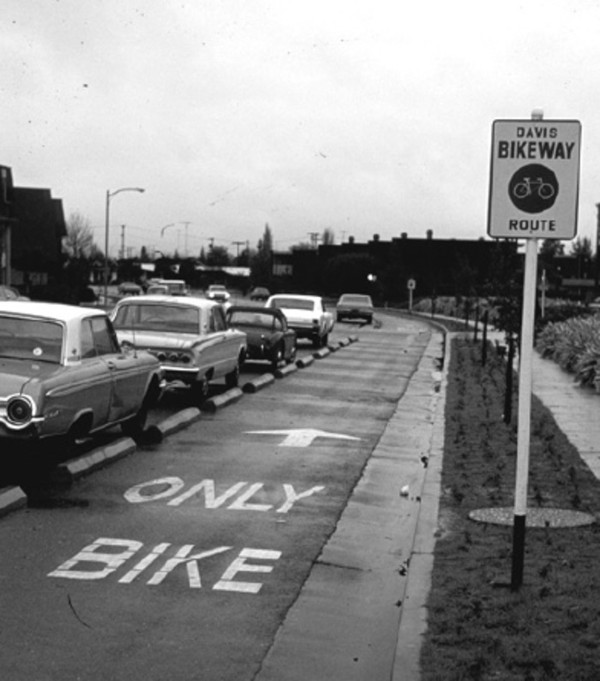 Parking-protected bike lane in Davis, California, 1967 (Image Credit: City of Davis)
Third-Class Compromise
Although it is an enormous improvement over the current nothing, let us not forget that parking-protected cycle lanes are really a third-class compromise.
For streets in a residential neighbourhood such as Durand, the best first class infrastructure treatment is to eliminate cut-through car driving entirely.
The second-class treatment is a conventional cycle track, such as in this photograph from the city of s'-Hertogenbosch. Note the driveways!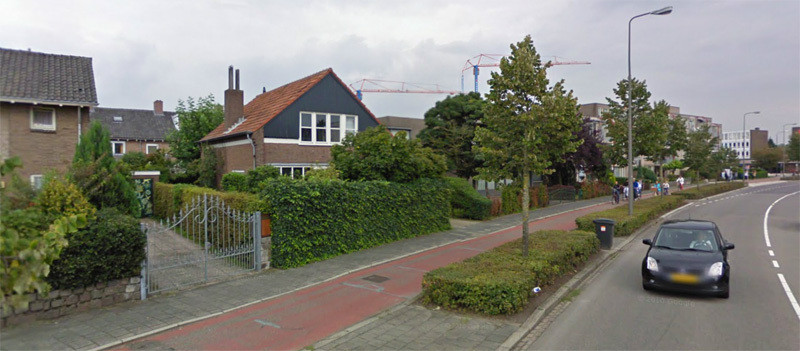 Cycle track in s'Hertogenbosch (Image Credit: Bicycle Dutch)
Although third-class, parking-protected cycle lanes are a huge step up from nothing and have delivered significant safety benefits. So let's go New York!
Post a Comment
You must be logged in to comment.