Let's Go Dutch Part III: Dutch Bike Lane Design
For bike lane design, one of the key elements of conflict that must be removed to ensure safety is the threat of dooring.
By Kevin Love
Published July 04, 2014
The Netherlands is famous for getting transportation right. The bicycle mode share is 27 percent for all trips in the country as a whole, including rural areas. For Central Amsterdam, this rises to 70 percent. Most importantly, The Netherlands has the safest roads in the world.
As we saw in Part I of this series, elimination of conflict is a critical part of the Dutch concept of Sustainable Safety. This is safety that is engineered into the transportation infrastructure to mistake-proof it against human error.
For bike lane design, one of the key elements of conflict that must be removed to ensure safety is the threat of dooring.
The Danger of Dooring
The normal method of death is a car driver negligently opens a car door without checking for people approaching in the bike lane. The opening door strikes the cyclist, throwing the victim out of the cycle lane in front of a moving motor vehicle, which then crushes and kills the victim.
Last year, there were 92 dooring incidents in Montreal, two of which resulted in the death of the victim.
In the years 1997-98 there were 276 doorings in Toronto, which accounted for 11.9% of all crashes. 3.1% of these doorings resulted in major injuries and there was one fatality.
We do not have any more recent data, because police in Toronto and other Ontario cities stopped collecting dooring data.
Even although Ontario police stopped collecting data, people are still being killed in dooring incidents
Hamilton Bike Lanes: Dangerous by Design
This brings us to Hamilton, where dangerous conflict is frequently designed into our bike lanes by routing them into the door zone of adjacent parked cars.
Below are two photographs recently taken on Dundurn Street South.
In the first photo, we can see that the cars are all parked more-or-less the same. This is how the City of Hamilton is instructing car drivers to park their cars. This particular car was only chosen because the car driver was returning and agreed to hold the door open while I took a photograph.

Photo 1: Car parked on the west curb on Dundurn Street South
In the second photograph, we see the consequences of this dangerous-by-design infrastructure. The open car door extends over half of the bicycle lane.
If a car driver should negligently fail to check for approaching traffic before opening the door, the all-too-frequent result is another dooring tragedy.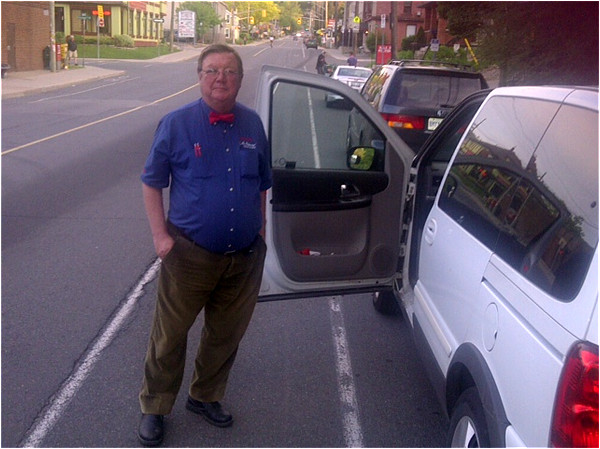 Photo 2: Car parked on the west curb on Dundurn Street South with door opening into southbound bike lane
The Dundurn bike lane is dangerous-by-design infrastructure where the most dangerous place on the entire road to ride a bicycle is in the bike lane.
How would the Dutch do it?
First, Dutch bicycle traffic design engineering standards explicitly discourage ("expliciet ontraden") putting a bike lane next to parked cars. Where this absolutely must happen, there is a minimum buffer of 0.75 metres between the car parking and bike lane to protect people from the door zone.
Jodenbreestraat in Amsterdam is an excellent example of how a car-clogged people-hostile street was reclaimed by its citizens.
Before WWII, this was a bustling street through the heart of Amsterdam's Jewish quarter. Most of its inhabitants perished during the war, so the post-war city government faced little opposition in destroying enough buildings to create a Hamilton-style four lane road for cars.
Then in the 1970s, the people started to reclaim their city. Plans to destroy even more buildings to extend the road for cars were defeated, and the street was reclaimed for people, not cars.
Two excellent descriptions (one with video) by two different people may be seen here and here. Notice how there are almost no cars parked on the street and zero with bicycle traffic in their door zone.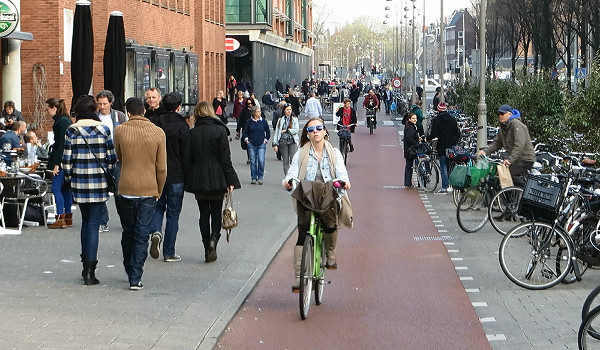 Jodenbreestraat in 2014 (Image Credit: Bicycle Dutch)
The key point to note is how an ugly, Hamilton-style, people-hostile car sewer was transformed into a prosperous and happy place for people.
They changed. We can too.
Post a Comment
You must be logged in to comment.