HSR Ten Year Plan: Preliminary Review
The plan is modest and offloads most new capital and operating revenue to the Province and riders, but it represents a break from the status quo of constant stagnation.
By Ryan McGreal
Published February 06, 2015
Today the General Issues Committee is meeting to discuss the Public Works budget.
Public Works has submitted a 180-page presentation, which I can't link to directly because the City's Council/Committee meeting website is an unusable quagmire, but you can click through to the presentation from this link. You have to click on the tiny PDF icon

to see it, but the link that gets generated expires after a while so you can't share it.
The report only came online yesterday afternoon so no one has had much time to digest it yet, but it includes a draft Ten Year Transit Plan, which runs from page 25 to page 85 of the document. Here are some preliminary observations.
Transit Matters
The plan starts by making the case that Hamilton needs to invest in transit. Better transit means households can spend less money on automobiles (e.g. switching from a two-car family to a one-car family). It means aging seniors with mobility issues can remain independent for longer. It means connecting low-income residents more effectively with employment opportunities. It means creative industries are attracted to invest in new operations here.
It means better health, since people are willing to walk to high quality transit and that walking adds up to significant exercise. It means cleaner air with fewer single-occupant vehicles on the road.
Of interest to people who are determined to keep driving, better transit means driving will remain a viable way to get around. The City had 520,000 residents in the 2011 census. By 2031, Hamilton's population is expected to increase to 660,000.
That many new residents will grind our transportation system to a halt if all of those residents have to travel by car because we failed to accomodate a much larger and growing share of total trips on transit.
Not Following Strategic Transit Plans
First of all, the report acknowledges that Hamilton a) already has strategic transit and rapid transit plans and b) has not been following them.
Council approved the Transportation Master Plan in 2001 and the Transportation Master Plan Review in 2007. Council is currently undertaking another Transportation Master Plan Review, which is expected to go to Council for approval in 2016.
Council also approved the Rapid Ready plan in 2013, which charts the course we should be following to get ready for the planned installation of light rail transit (LRT) along the east-west B-Line corridor between McMaster University and Eastgate Square.
So far, we have not done any of the things we should have been doing. Back in 2001, Council approved some modest, prudent transportation targets by 2011:
Reduce daily share of single-occupant vehicle trips from 68% to 58%
Increase daily share of transit trips from 5% to 9%
Increase daily share walking/cycling trips from 6% to 10%
Increase annual transit rides per capita from 48.5 to 60
We have made no progress on those goals. Between 2006 and 2013, the number of annual transit trips per capita actually fell from 48 to 45.1. As the plan delicately puts it, "City is lagging behind in all targets."
Meanwhile, our competitor cities have been making impressive gains. During the same period that our annual rides per capita was backsliding, Mississauga's annual rides per capita grew from 41.2 to 47.6.
Low, Stagnant Funding
The reason we have stagnated while other cities have improved is that the amount of money we invest in transit has stagnated while other cities have invested in growing transit.
Between 2006 and 2013, Brampton grew its per-capita municipal transit contribution by from $47.73 to $84.20, a 10.92 percent annual increase. Even suburban Durham grew its per-capita contribution from $39.15 to $76.28, a 13.55 percent annual increase. Mississauga increased the per-capita transit contribution by 9.3 percent a year, York Region grew by 5.36 percent a year, London grew by 4.44 percent a year and Windsor grew by 3.78 percent a year.
Hamilton's per-capita transit contribution grew by just 1.8 percent a year, or 12.63 percent overall. That only just keeps up with the rate of inflation over the period but represents no real increase.
The transit system itself carries passengers in a cost-effective manner, making the most of the limited funding it receives.
New Capital Costs
Over the ten years, the report recommends spending the first two years just shoring up deficiencies in the system's ability to meet current transit demand. The third year, staff would establish a system-wide set of service level standards and begin growing the system by attracting new riders with increased service.
The report recommends a number of new capital expenditures to grow transit:
$15.6 million for 25 new buses: 11 new express buses to start growing the "BLAST" network of express corridors and 14 new local buses
$22.5 million for improved customer service centres, customer information, shelters, terminals and so on
$16.5 million for branding and marketing - developing a new brand and applying it to the city's buses and shelters
For the $15.6 million in new vehicles, the report recommends sourcing $3 million from development charges, $5.7 million from the transit vehicle replacement reserve, and $6.9 million to be requested from Metrolinx as part of a request to cover the unfunded capital requirements in the ten year plan.
New Operating Costs
With 25 more buses, that means another 50 full-time employees (43 operators and 7 maintenance workers) at an annual operating cost of $6 million.
Despite the fact that the city has not increased its per-capita transit funding in years, the plan recommends getting most of the new operating revenue by raising fares, which have not increased since 2010.
Of the $6 million in new operating revenue to address deficiencies in current service levels, $5.7 million would come from fare increases and the other $300,000 would come from taxpayers. The increase would be phased in over two years through a schedule of annual fare increases.
The report acknowledges that increasing the cost of transit reduces ridership - each 1 percent fare increase produces a 0.2-0.5 percent decrease in ridership - but argues that a 1 percent increase in service produces a 0.5-0.7 percent increase in ridership. In other words, applying a fare increase to increase service will produce a net increase in ridership.
Supporting this conclusion is the fact that Hamilton's fares are among the lowest among comparator cities, most of which have higher ridership than Hamilton despite higher fares. They also have significantly higher public contributions and service levels.
The report recommends increasing prices annually, starting this September:
Proposed Multi-Year Fare Increases

| Year | Cash | Adult Ticket | Student Ticket | Adult Monthly | Student Monthly | Senior Monthly |
| --- | --- | --- | --- | --- | --- | --- |
| Current | $2.55 | $2.00 | $1.65 | $87.00 | $71.00 | $20.50 |
| Sep 2015 | $3.00 | $2.25 | $1.70 | $99.00 | $74.80 | $25.50 |
| Sep 2016 | $3.00 | $2.25 | $1.70 | $99.00 | $74.80 | $25.50 |
| Sep 2017 | $3.25 | $2.45 | $1.85 | $107.80 | $81.40 | $35.15 |
| Sep 2018 | $3.25 | $2.55 | $1.90 | $112.20 | $83.60 | $39.90 |
Beyond 2018, fares would increase with inflation according to the Consumer Price Index.
The report projects that net ridership and net revenue will both grow under this scenario:
Annual Impact of Fares and Service Increases

| Year | Net Ridership Increase | Net Revenue Increase |
| --- | --- | --- |
| 2015 | 7,990 | $1,907,874 |
| 2016 | 158,324 | $3,770,444 |
| 2017 | 479,752 | $3,117,922 |
| 2018 | 551,280 | $3,230,926 |
The cumulative revenue increase over 2015-2016 works out to $5,678,318 - most of the extra $6 million needed to shore up today's service deficiency.
Ridership Lowball and Bad Data
The report notes that the only way to achieve the goal of 80-100 annual rides per capita is to invest more in higher-order transit: express service and rapid transit. It proposes that higher-order rapid transit will become necessary after 2025.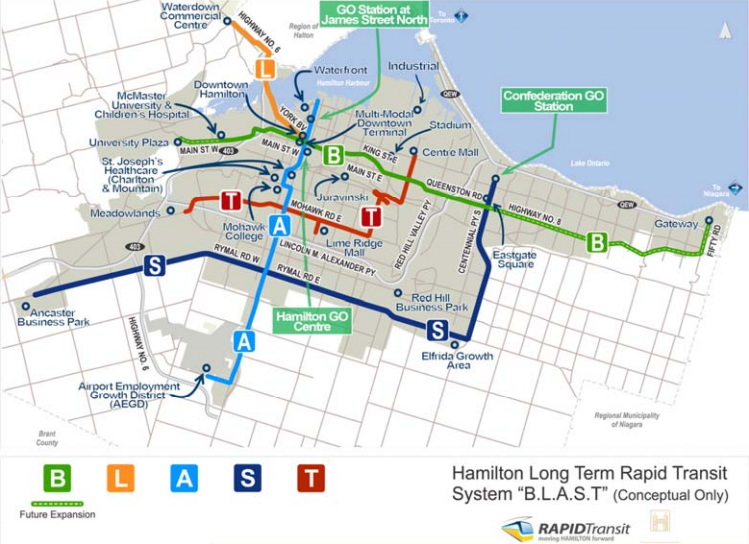 BLAST: Hamilton's Long Term Rapid Transit System
It cites 1,110 passengers per hour in current peak transit ridership on the B-Line corridor. That suggests the corridor does not yet have the ridership to justify rapid transit on a purely reactive demand-meeting basis.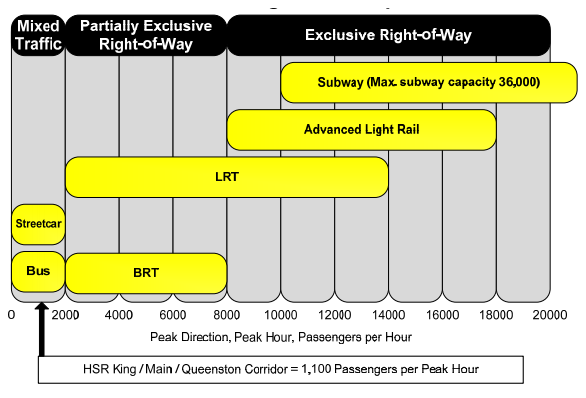 Chart: appropriate transit mode at various peak passenger levels
But a recent Hamilton-Today article that lists all the buses operating in the busiest part of that corridor shows that peak ridership is actually conservatively between 1,500 and 3,000 passengers per hour.
That means we're already into bus rapid transit / light rail transit territory today.
A big part of the problem is that the HSR has no reliable way to count how many people are using the system. Many passengers show a pass but do not scan it in, so they are not counted automatically.
In 2009, when the City hired IBI Group to undertake the HSR Operational Review, the consultant actually had to have employees ride buses and manually track how many people were getting on and off the bus.
Similarly, the incidence of "pass-bys", when a full bus fails to stop for a waiting passenger, is recorded only in customer complaints. If a customer doesn't complain - and most don't - the pass-by is not counted.
Chance to Show Support for Transit
For those Councillors who insisted they strongly support transit while killing the only fragmentary bit of higher-order transit infrastructure in the city a few weeks ago, this is a very easy opportunity for them to make good on their rhetoric.
This transit plan is extremely conservative: it demands almost no new revenues from local taxpayers and takes an incremental, go-slow approach to transit growth.
Of course, given the past thirty years, even go-slow incrementalism would be a radical departure from the status quo.
Staff have made it as easy as possible for Councillors to approve this plan, given that it sources most of the capital requirements from the Province and loads most of the operating increases onto riders.
I would have liked to see a real infusion of new municipal dollars into the operating side. After all, Hamilton receives a federal gas tax fund every year and plows nearly all of it into maintaining our overbuilt road network.
I also would have liked to see some mention of area rating for transit, since the current schizophrenic transit funding system makes real city-wide planning impossible.
And given how difficult it is to get real ridership numbers, I would have liked to see that addressed as well: a payment system that can tell the HSR how many people are actually riding a given bus.
But given the political realities of a Council that is generally unwilling to think strategically and make difficult choices to plan for a more viable future, this may be the best we can expect.
The new energy that Transit Director David Dixon brings to the job certainly represents a refreshing break from the long twilight in which the HSR's management was content to manage the decline year after year.
---
Thanks to Nicholas Kevhalan, Dan Jelly and Jason Leach for helping to analyze the report.
Post a Comment
You must be logged in to comment.