Meeting with Transportation Managers Heralds a Culture in Transition
Over the past few years I have gotten the sense that the culture in Public Works is changing, and that culture change was in full evidence last night.
By Ryan McGreal
Published December 05, 2014
Last night, I had the pleasure of joining a group of engaged downtown residents to meet with several managers from the Public Works Department for an informal discussion about complete streets, corporate culture and citizen engagement.
The event was organized by Ward 2 Councillor Jason Farr, who saw an opportunity for us to get to know each other a bit better so we can establish mutual understanding and develop more constructive relationships.
The managers in attendance included: John Mater, director of corporate assets and strategic planning; Geoff Lupton, director of energy, fleet and traffic; David Ferguson, superintendent of traffic engineering; Martin White, manager of traffic operations and engineering; Kris Jacobson, superintendent of traffic operations; and Alan Kirkpatrick, manager of transportation planning. (I hope I got everyone's titles right.)
The meeting also included a number of residents who are involved in advocacy for safe, complete streets: Jason Leach, Nicholas Kevlahan, Jonathan Dalton, John Neary and myself.
Off the top, I need to express my deep appreciation to Councillor Farr for organizing the event, and to the staff members who stayed late to meet with us and share their time, expertise and attention.
Highly Encouraging
I wasn't sure what to expect going in, but the meeting was extremely encouraging. Over the past few years I have gotten the sense that the culture in Public Works is changing, and culture change was in full evidence last night.
Under Mater's leadership, the transportation group has definitely been moving in a more progressive direction.
This direction includes recent hires Ferguson, who came to the City of Hamilton after working for Welland, and Jacobson, who oversaw the two-way conversion of a number of St. Catharines streets - Queenston, Church, St. Paul, King, Ontario - in 2008 and 2009 as that city's manager of transportation services.
Compared to Hamilton, St. Catharines has moved with alacrity to convert its downtown traffic network back to two-way, with the remaining streets set to be completed within the next five years.
(An epic National Post article on two-way conversions from 2012 summarizes the public reaction in St. Catharines: "People, especially businesspeople, didn't like it. And then they did.")
Likewise, Ferguson brings a progressive energy to Hamilton. He has already undertaken a traffic safety review of Queen Street in response to a spate of collisions earlier this year.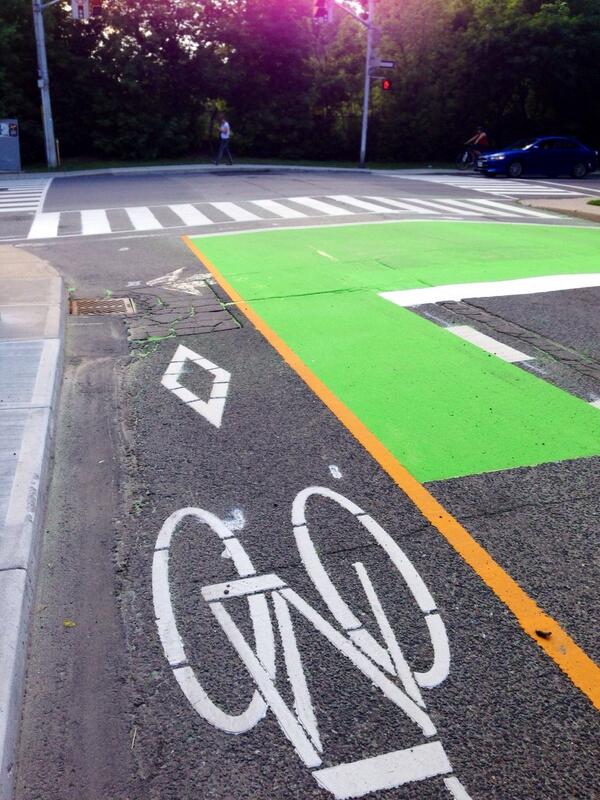 New zebra crossing on Queen at Hunter (RTH file photo)
He is helping to restart a Strategic Road Safety Program in collaboration with the police, public health and other stakeholders to roll out new pedestrian crossing initiatives, review the city's speed limit policy and focus on safety measures and education for the city's most vulnerable road users - especially children and senior citizens.
But the culture change is not limited to newer staff. White was instrumental in reprogramming the pedestrian-activated crosswalk at Aberdeen and Kent so that pedestrians didn't have to wait for two minutes to cross, and he is widely regarded as a forward-thinking leader.
Likewise, Mater and Lupton worked closely with the organizers of last year's Tactical Urbanism movement to achieve some quick wins in making the city's streets safer. One outcome of that was a proliferation of new zebra crossings at various locations across the city.
Kirkpatrick oversaw the planning stages of the Cannon Street Cycle Track, taking an interdisciplinary staff planning approach to ensure buy-in and a high-quality implementation. (The managers also made it clear that the Cycle Track isn't complete yet.)
Candid Discussion
We were able to have a candid discussion about some of the recent issues - both uplifting and frustrating - that we've been writing about.
We agreed that there are several residential streets currently in operation in the city that don't meet the width requirements of a new street design but function just fine - indeed, their narrowness makes them safer and calmer than they would be if they were wider.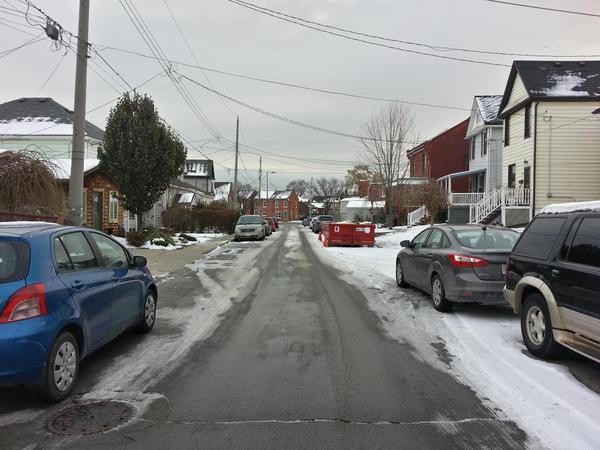 Wood Street West: narrow, two-way, curbside parking on both sides, works just fine (RTH file photo)
We also agreed that there are lots of opportunities for more proactive community engagement on upcoming issues like the Rebecca Street two-way conversion, which originally entailed losing several parking spots, a decision that was later overturned.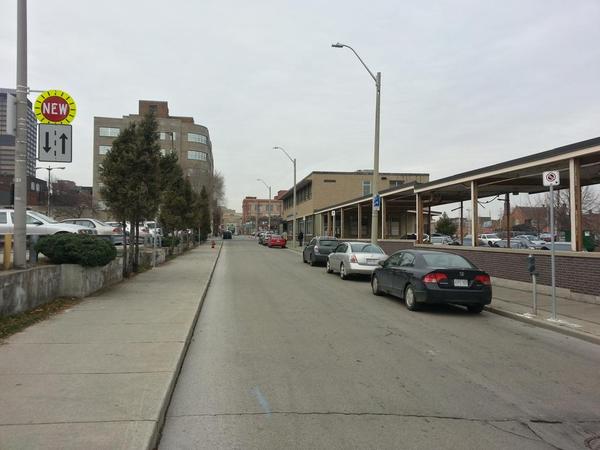 Rebecca Street between Catharine and John: two-way traffic, curbside parking, sky remains firmly in place
However, the managers stressed that the process for reconstructing a street takes several years, and that recent projects - like the Beckett Drive rebuild - were designed and put out for tender years ago.
As such, these projects are a lagging indicator of how progressive the Transportation group is in terms of design for active transportation. Those projects are overseen by the Traffic Engineering Construction group, and Transportation has limited ability to tweak the designs after construction.
Councillor Farr noted that Council recently approved the new Pedestrian Mobility Plan, which mandates "routine accommodation" of active transportation and specifies an outside-in approach to street design rather than the status quo centreline-out approach. The managers made it clear that it will take some time for that new approach to filter through the whole organization.
Change Takes Time
The take-away message I got from the meeting is that the Transportation managers welcome engagement and constructive feedback and want to work more closely with stakeholders to achieve positive goals, but cautioned that the corporation of the City is a bureaucracy and change takes time.
However, the managers themselves want to see this happen, and they're encouraged by the growing momentum of change. In a follow-up email, Ferguson wrote:
This is the start of a new era for Hamilton in many different ways and pending support from management and Council, Hamilton will lead the way again when it comes to Safety. I recently attended the Transportation Association of Canada Conference and I was approached by many people from across the country asking what was happening in Hamilton. There is a buzz about our City and the things we are doing and planning to do.
It's hard to be patient after literally decades of stonewalling, but the management team made it clear that the old status-quo way of thinking is no longer the driving force in the department.
To borrow a phrase from William Gibson, the future of progressive transportation planning is here - it's just not evenly distributed yet. After last night's meeting, I am more hopeful than ever that it will happen.
Post a Comment
You must be logged in to comment.