City Embraces Tactical Urbanism
Last Wednesday, Hamilton Councillors further embraced Tactical Urbanism and took steps toward implementing an innovative approach to city building.
By Graham McNally
Published September 24, 2013
Last Wednesday, Hamilton Councillors further embraced Tactical Urbanism and took steps toward implementing an innovative approach to city building.
Council accepted a staff report [PDF], jointly prepared by the Neighbourhood Development Strategy and Public Works, recommending the City support the Hamilton-Burlington Society of Architect (HBSA) in developing an outreach, engagement, and communication strategy around the ideas of Tactical Urbanism.
The report followed up on a delegation by Phil Toms and me, representing the HBSA, in which we presented the ideas behind Tactical Urbanism to Councillors. In very general terms, Tactical Urbanism is an approach to urbanism that can be citizen-led, city-led or a collaboration of the two. Projects are typically quick, cheap and fun with an eye to achieving a long-term goal.
Tactical Urbanism in Hamilton
Tactical Urbanism became more widely known and popularized in Hamilton following a lecture organized by the HBSA in May of this year when we presented Mike Lydon of the Street Plans Collaborative and author of two Tactical Urbanism manuals.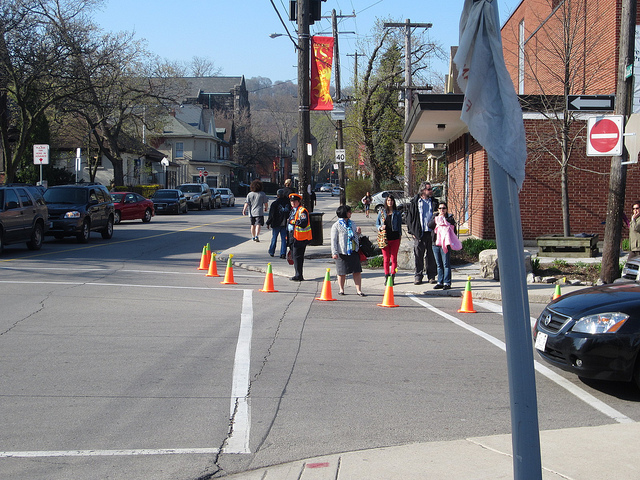 Pylon bumpouts at Herkimer and Locke (RTH file photo)
Following the lecture, pylon bumpouts were installed at the corner of Herkimer and Locke streets, causing a furor at City Hall.
However, staff and Ward 1 Councillor Brian McHattie soon recognized the possible benefits of working with the 'rogue urbanists' and, over the past several months, the pylons have been replaced with knock-down sticks, and then a larger, permanent concrete sidewalk. (See additional articles on RTH: Special Report – Tactical Urbanism).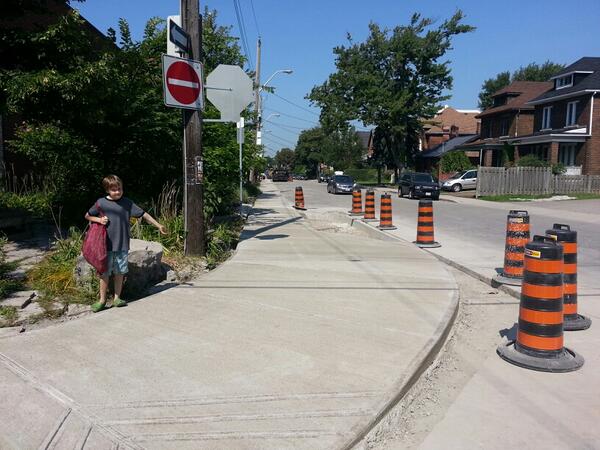 Permanent bumpout, southwest corner of Locke and Herkimer (RTH file photo)
(Hamilton is already being recognized for its positive engagement on Tactical Urbanism after the initial furor.)
Productive Meetings
Since these early, stumbling steps, Phil Toms and I have been meeting with City staff and Councillor McHattie to discuss Tactical Urbanism and how it could benefit the City. The report approved last Wednesday is the latest outcome of those meetings.
Early in our conversations, staff realized the possible benefits of Tactical Urbanism and the discussion moved to how we could create a mechanism by which Tactical Urbanism could be spread throughout the City.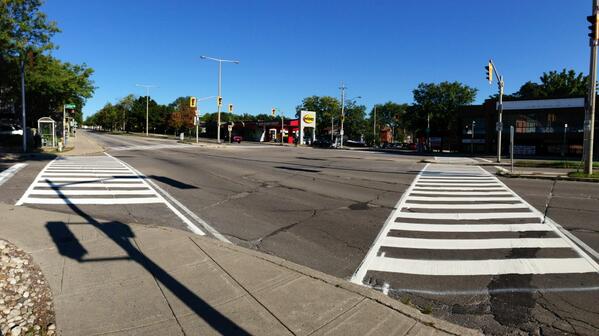 New zebra crossing at York and Locke (Image Credit: Jason Leach)
Our idea is to create a program that provides three things: 1) information on Tactical Urbanism, 2) a place where residents can suggest projects throughout the city, and 3) a catalogue of previous, ongoing and future projects.
Benefits to Hamilton
For the City, a Tactical Urbanism program will provide an innovative and effective way to get input from citizens, garner insights and ideas on how to improve neighbourhoods at a scale that is difficult to deal with in Master or Official Plans, and demonstrate to people in Hamilton and beyond that the City is looking to work in new ways and will listen to good ideas whether they come from within City Hall or from outside.
Working on this idea with city staff over the past months has been incredibly inspiring. The staff we've been working with - Geoff Lupton, Paul Johnson, John Mater and City Manager Chris Murray, as well as Councillor McHattie - have demonstrated an openness to new ideas and a real desire to make the City better.
Though we have a ways to go, what has been accomplished to date is encouraging and we're looking forward to continuing with the work!
Post a Comment
You must be logged in to comment.