Chedoke Path Gets Fenced In
If City technocrats plug away in secret, harmful ideas like putting up a fence and cutting down trees make it into the final proposal. Nobody should be surprised when the community gets annoyed at this.
By Ted Mitchell
Published April 07, 2010
I am disappointed to have to revisit the bike path proposal for Chedoke Golf course.
Now that we have a cycling coordinator and one of the most citizen oriented councillors in Ward 1, why does it come to last minute announcements that surprise everyone and leave little time for review?
Where credit is due, it is fantastic that this path is now coming to fruition, as it has been talked about and badly needed for many years. I am so looking forward to using it.
However, sometimes the devil is in the details.
The most onerous of those details is the erection of a six- to eight-foot high chain link fence between the path and the golf course. Perhaps VANOC has moved to the Hammer.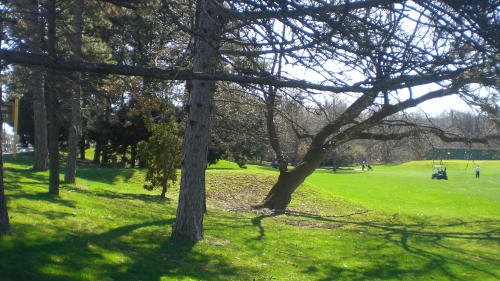 Chedoke Golf course near the proposed bike path, Aberdeen Ave. is on the left.
When I last brought up the issue in 2006, Chedoke Golf Course management wanted to close the walking path / access road on the north end of Chedoke Martin course by fencing it off, ostensibly to prevent vandalism.
I thought then that this was silly and the risk of conflicts between golfers and path users was negligibly small.
Vandalism is on the whole prevented by encouraging the neighbourhood to use and develop a sense of ownership for this public golf course.
Their eyes and ears provide free security to make phone calls and keep the area safe. It is in the neighbourhood's interest to do so.
But if the golf course acts in an entitled, confrontational manner, as they did in 2006 meetings, neighbourhood altruism and ownership go south.
Wisely, Councillor McHattie heard the concerns of neighbours and killed that fence proposal.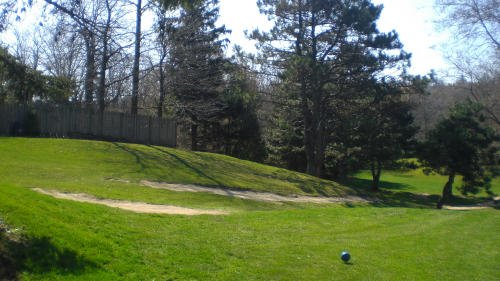 Chedoke Golf Course
But now it comes up again.
A New Fence
Some of the affected neighbours were sent a long, technical proposal for the bike path from the Niagara Escarpment Commission, dated March 26 and received on April 1.
This came with a deadline for submitting appeals of April 9. None of these details are available or even mentioned on either the Hamilton or NEC websites.
I've spoken with some of the neighbours, who have concerns about the fence, the path location, and the removal of trees.
One lamented the loss of mutual respect between golfers and neighbours, like how in the old days they used to hush their conversation when golfers were putting.
I can't reprint all the maps here, but here's my best guess as to where the trail will go: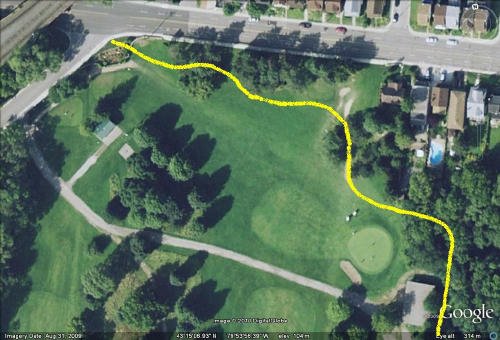 Possible trail route through Chedoke Golf Course
Note: you can explore this area with Google street view.
As you can see, some trees will be removed for the 4.5m paved path, but it looks for the most part that reasonable effort has been made to minimize the damage.
On Easter weekend I came across this fantastic rest spot in a grove of pines, a little bit of heaven along the path. This will be preserved as far as I can tell.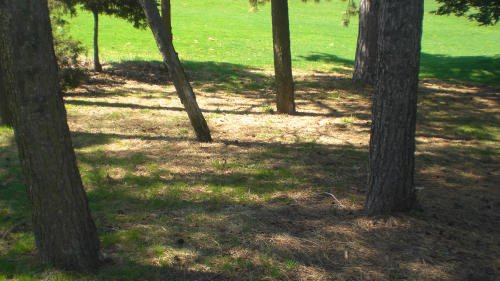 Rest spot in a grove of pines
Where trees are removed, new ones can be planted, but the ugliness of a chain link fence is forever. I heard that even Robert Frost doesn't like chain link fences.
Many Factors
There are a lot of factors to balance in coming up with a solution. Some of these are:
Safety risks.

of trail users from errant golf balls and carts
of golfers from errant cyclists
of cyclists from vehicles when using alternate routes on Aberdeen and Longwood
of rollerbladers from themselves (kidding, sort of!)

Environmental concerns

Asphalt vs. gravel (also speed and conflict safety issues, see rollerbladers)
Tree cutting

Slowing of play due to conflicts

Access and vandalism

Pro - limiting easy access for riffraff
Con - watchful neighbours prevented from community policing

Path continuity

Commuter uses, lack of road cycle lanes
Enhanced recreational volume

Inconsistent rules

Fence proposed for north end trail
No fence at radial trail despite play across path and relatively much reduced sightlines
No fence at similar courses (Whirlpool Golf in Niagara Falls where parkway trail goes along side of fairway)

Activity and health

Encourage cycle commuting [PDF link] as per Shifting Gears plan, as Hamilton lags the Canadian average for cycling to work.
Discourage golf carts. Seriously. OHIP should tax these things.

Promote / degrade community cohesion
It is the City's job to identify and discuss issues like this, obtain input from all stakeholders and come up with a plan that optimizes all these criteria. This requires communication, not going into hiding for four years.
Since the summer of 2006, the community has heard nothing from the City while they were coming up with a complete plan including extensive architectural drawings.
If City technocrats plug away in secret, harmful ideas like putting up a fence and cutting down trees make it into the final proposal. Nobody should be surprised when the community gets annoyed at this.
Engaging Citizens Produces Better Ideas
I know I sound like a broken record, but citizens can always come up with better ideas than city staffers and biased stakeholders. Effective leadership is not paternalistic or top-down, it is facilitative.
This is the lesson for City leadership: don't think, instead engage others to think and then integrate everything for the best result.
More people + more ideas + superior creativity = better-quality solutions.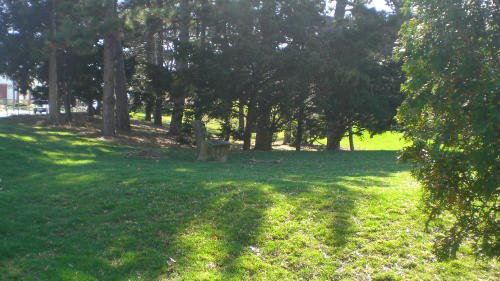 A great place to sit and gaze at the fence?
I don't know what the City thinks about the fence, as neighbours have been getting mixed messages. Apparently the idea originated from golf course management, although this is in question.
One of the problems might be that the Chedoke management believes they should have exclusive use of this property. A basic economic analysis will show that an exclusive use attitude is misguided.
Chedoke Golf Course
The 72 holes of Chedoke Golf course are one of the gems of Hamilton. Few places in the city are more beautiful. But this comes at a price.
Players need both significant time and money to participate, which excludes many citizens.
No other sport has anywhere near the land requirement. Chedoke's area is about 80 hectares or 200 acres, almost the size of Westdale, and would swallow McMaster University with room to spare.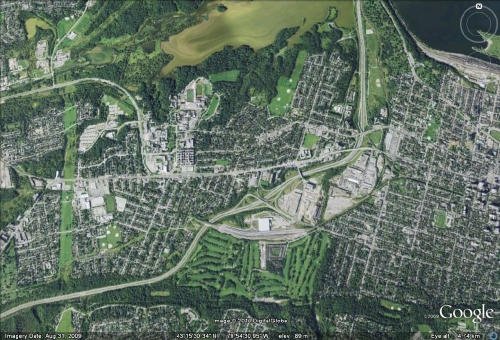 Google Maps: Note how the golf course consumes a good chunk of West Hamilton.
Not only is Chedoke large, it is surrounded by prime residential- and commercial-zoned land that starts at about $1M per acre and goes up from there. If you can get a quarter-acre lot for $250,000 on Chedoke Ave, let me know.
Green fees are relatively cheap, but comparison is difficult because private clubs in similar urban surroundings such as Ancaster (HGCC) and Burlington (BGCC) keep their membership fees secret.
Affordable clubs in rural areas are surrounded by farmland that goes for less than $10,000 per acre (1% of city real estate).
Hamilton's public courses, Chedoke Martin/Beddoe and King's Forest, turned a profit of $230,000 in 2009. This represents 43,519 rounds of golf at Chedoke at adult fees of $31-50 per round, not counting memberships. The players, and profits, are down about 15% from 2007 levels due to the recession.
Chedoke's annual profits are less than $1,000 per acre. If the course was valued like its residential surroundings, it would be worth at least $200M, which amortizes at 5% to $10M annually.
With present usage, assuming $1.5M operating costs, green fees would average $264 per round! This is a conservative estimate, and one can only imagine what industrial zoning would do to green fees.
It's Fair to Share
Now I'm not saying we should subdivide the golf course any time soon, but you have to acknowledge an economic analysis of lost opportunity. Realistically, Chedoke golf course is at least as strongly subsidized as any hockey rink or swimming pool in Hamilton.
People at the local public swim are under no pretence that the $5 they pay covers the cost of running the pool. Neither should Chedoke golfers believe that the green fees they pay would hold for a private club on prime urban land.
So they should consider sharing the space a little bit.
Which means, no ugly fences. Fences which also say loud and clear to neighbours and path users, you're not worthy.
Today's Dynamic is Working
There is no reason why the present dynamic between cyclists and golfers cannot continue. Each waits for the other when appropriate and such conflicts are pretty rare anyway.
Since the proposed trail is primarily attractive to commuter cyclists, it will see maximum use on weekdays when golfing is sparse. On weekends, there will be less bike traffic on the path.
At the south end of the Martin course, the radial trail sees heavy recreational traffic on weekends, and Martin hole 16 plays right across it. There is no fence.
It should be pointed out that this situation is considerably riskier than the proposed bike path for conflicts, so let's be a bit more consistent.
There is an informal meeting tonight, and afterwards I will post an update.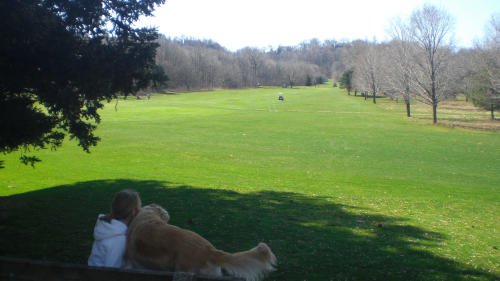 400 Yard Cycle
Post a Comment
You must be logged in to comment.