Next Steps for Cannon Cycle Track
The two-way cycle track officially opened last Friday, but work continues on installing the finishing touches and monitoring potential issues.
By Ryan McGreal
Published September 17, 2014
The Cannon Street Cycle Track officially opened last Friday at noon, but work continues on installing the finishing touches for the three-kilometre protected two-way cycle track.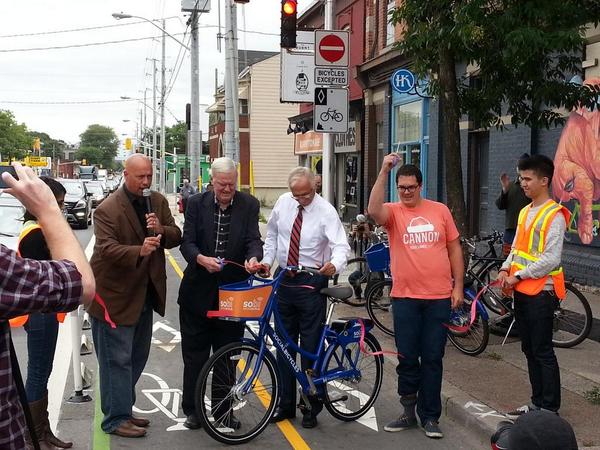 Councillor Jason Farr, Councillor Bob Morrow, Mayor Bob Bratina and Yes We Cannon organizer Justin Jones cutting the ribbon
City staff worked hard to get the cycle track ready to open in time for last weekend's Supercrawl festival, but some work remains to install additional signs and markings.
Physical Protection
Running between Sherman Avenue and Hess Street, the Cannon Cycle Track is physically protected from automobile traffic by a combination of knockdown bollards, hard rubber curbing and planter boxes.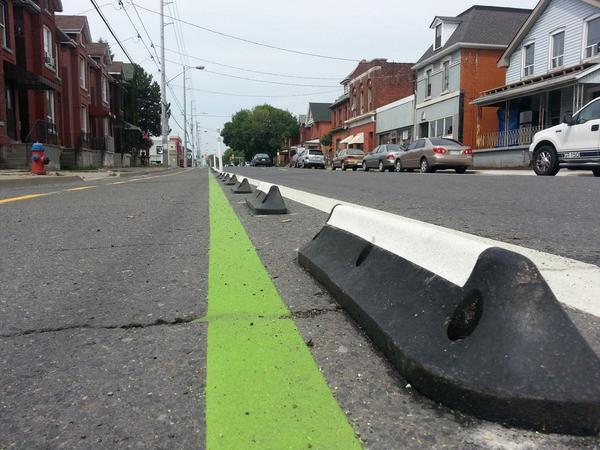 Hard rubber curbing on the Cannon Cycle Track west of Victoria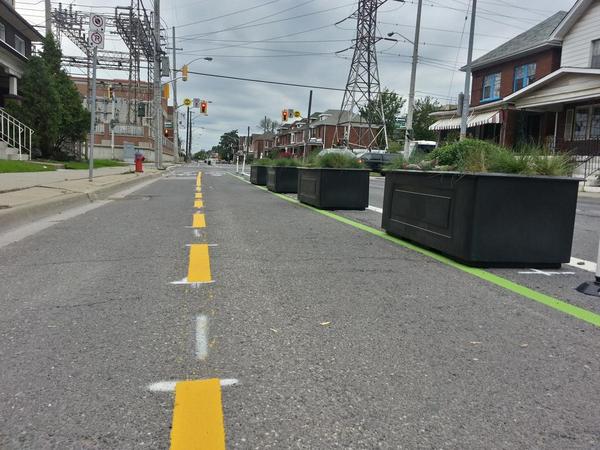 Planter boxes protecting the Cannon Cycle Track
The 30 planter boxes that were installed are particularly nice as physical barriers. They're thick, solid, raised above the road and look attractive with greenery.
Unfortunately, the city does not currently plan to install any more planter boxes just now. However, this is a three-year pilot and staff will "continue to review whether more are needed," according to Public Works communications manager Kelly Anderson in an email response to RTH.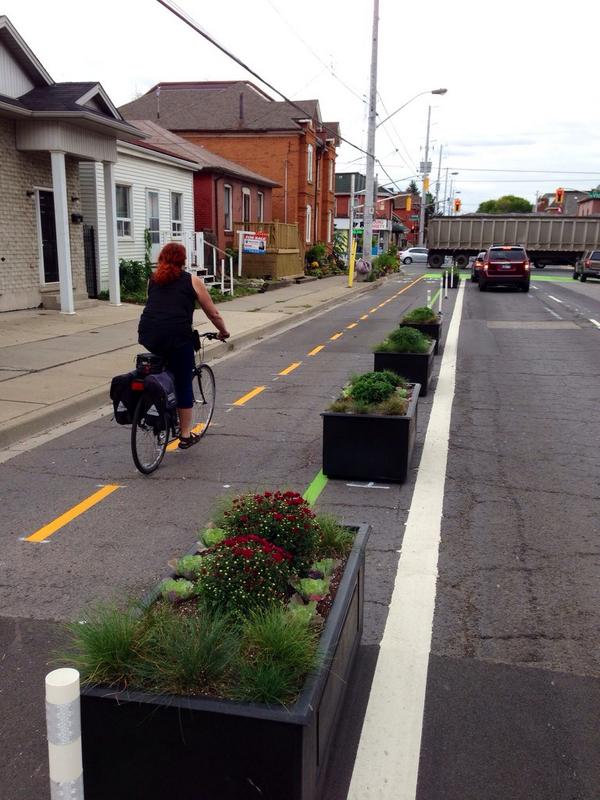 Cyclist riding past the Canon Cycle Track planter boxes (Image Credit: Jason Leach)
According to Anderson, "As this is a pilot project, we will be measuring and observing a number of factors including travel times (motorists, cyclists and transit to determine any impacts), parking, collisions, impacts to waste/recycling collection, impacts on road maintenance, winter control activities, damage to the buffers (planters, knock-down sticks and curbs) and a general survey (users'/residents' comments) of the bi-directional Cycle Track for Council's consideration."
Some areas might need additional knockdown bollards and rubber curbs to prevent automobiles from illegally parking in the cycle track. Yesterday, Beasley resident John Neary took a photo of a tow truck parked illegally on the cycle track near John Street.

Tow truck illegally parked in the Cannon cycle track (Image Credit: John Neary/Twitter)
Ward 2 Councillor Jason Farr confirmed that parking in the cycle track is not permitted and asked staff "to visit the location and see if enhancement [is] needed."
Intersection Conflict Zones
Another issue is the question of whether the cycle track pavement markings will extend through intersections, where the potential for left-turning cars crossing the path of cyclists creates a dangerous conflict area.
It is generally considered a best practice to continue cycle track markings across the intersection to raise the visibility of the cycle track and reduce the risk of collisions. According to the City, "We are reviewing the completed installation and operations to see if any additional pavement markings are to be added."

Painted conflict zone on a two-way cycle path in Winterthur, Switzerland (Image Credit: US Federal Highway Administration Office of International Programs)
Anderson wrote, "We want to ensure that we provide the right amount of information to both motorists and cyclists. In short, something will happen at the intersections. What exactly this is will be determined shortly."
Cycling Volumes and Automobile Flow
The City plans to install "permanent cycling counters that will continuously record riders" as part of the pilot. Unfortunately, there were no bicycle traffic counts before the cycle track was installed to provide a baseline. Anderson wrote, "Based on past observations, much of the bicycle traffic on this segment of Cannon has been observed to be riding on the sidewalks."
This is not surprising, since automobile traffic moved at dangerous, frightening speeds on Cannon and Cannon was only one-way westbound before the cycle track was installed.
The cycle track already seems to have reduced dangerous speeding on Cannon. Anecdotally, several drivers have reported that Cannon feels safer to drive on because traffic moves at a more reasonable 40-50 km/h.
One issue I have observed is that cars moving below 50 km/h are getting stuck behind red lights, causing them to back up.
The traffic lights are sequenced to provide a "green wave" for cars, which worked great when cars were cruising along at 50-60 km/h. It is worth revisiting the timing to match the lower average speed of automobile traffic, but so far, that hasn't happened. As with other issues, this may be reviewed over the course of the three-year pilot.
I hope they also consider eliminating the 7-9 AM and 4-6 PM parking restrictions on the north curb lane west of Victoria.
Not only does the decision to keep the north curb as a rush hour lane eliminate all-day curbside parking for local use, but also it means automobile traffic is racing just inches away from pedestrians on the north sidewalk.
In addition, it means the space buffer between the cycle track and the adjacent automobile lane is too narrow for additional planter boxes.
The reason staff gave for maintaining rush-hour traffic on three lanes west of Victoria is that reducing it to two lanes would introduce an unacceptable delay for the Cannon bus. It's hard to imagine that there was nothing HSR staff could do to accommodate a couple of hours a day when traffic volumes are heavier than usual.
Post a Comment
You must be logged in to comment.