Raise the Pedestrian
Pedestrians legally have the right of way at intersections, but drivers in Hamilton do not expect to have to stop for them. This expectation needs to change if Hamilton is to achieve inclusive streets.
By Brynn Horley
Published August 20, 2013
Growing up in Southern Ontario, I have since become a Haligonian. Over the past four months I have had the pleasure of living back in this beautiful, vibrant and welcoming city. However, having adapted to a Halifax lifestyle, walking around Hamilton has nearly resulted in my death on several occasions.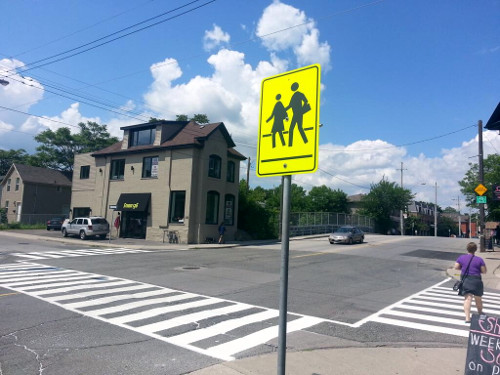 Crosswalk at Locke and Hunter (RTH file photo)
Halifax has a very special attitude towards the pedestrian. One glance across the roadway will have cars in all directions to come to a halt. The pedestrian is royalty and this condition is easy to get used to. As an occasional driver, I quickly adapted my driving due to the scorn of behaving otherwise.
This makes a lot of sense to me. I took sailing lessons as a kid and the rules on the high seas are clear and concise: sail over power. This means those with less mechanical advantage are to be given the right of way, giving safe mobility to all.
On several occasions during my stay in Hamilton, I have stepped off the sidewalk at a crosswalk, at intersections without lights or stop signs, foolishly assuming eye contact with drivers will result in their stopping to let me cross. I've had to scurry back to safety each time.
As far as I can tell, those mysterious white lines painted across the road have been a waste of your tax money, as they hold no meaning to drivers or local pedestrians. (The case of crossroads where there is a vehicle intersection but no marked pedestrian crossing is a topic for another day.)
Gil Penalosa, the renowned speaker on urban issues and Executive Director of 8-80 Cities, reminds us that designing streets and enforcing policies for the pedestrian and the disabled is the route to truly democratic cities, as every person is included.
Continuing to treat the car as king is to promote a caste system, where those who are unable or uninterested to own a car will continue to be discriminated against - and the Ontario Highway Traffic Act agrees:
140.1  (1)  Subject to subsection (2), when a pedestrian or a person in a wheelchair crossing a roadway within a pedestrian crossover,

(a) is upon the half of the roadway upon which a vehicle or street car is travelling; or

(b) is upon half of the roadway and is approaching the other half of the roadway on which a vehicle or street car is approaching so closely to the pedestrian crossover as to endanger him or her, the driver of the vehicle or street car shall yield the right of way to the pedestrian or a person in a wheelchair by slowing down or stopping if necessary.
This is legally the case in all provinces, and I have seen evidence that it is also the case in at least several American states.
Aside from some streets (which are more accurately described as highways), most streets in Hamilton have much resemblance to Halifax streets. So what is the major difference? Its not in design: therefore, it must be in driver and pedestrian expectations.
I'm no expert on human behaviour, so I won't delve into the 'why' but the differences I see are palpable. In Halifax, pedestrians walk with confidence, sometimes a foolish amount. They know their rights. They know that drivers also know the law and will yield.
Beyond this, there is a genuine concern for fellow citizens without the protection of metal armour. This might be what is missing in Hamilton: a failure to recognize that the driver of the car is as much a citizen as the pedestrian, maybe even a forgetfulness that it is in fact a person in control of the car.
This became obvious in a recent article in the Hamilton Spectator, where McMaster University Geography Professor Nikolaos Yiannakoulias is quoted saying, "What you really want to do is get the cars to behave properly".
He seems to believe that self-driving cars have arrived and now dominate. Reminder: currently 99.999% of cars do not have "behaviours".
So how do we return to an appropriate balance between drivers and pedestrians? Firstly, we need law enforcement to protect the rights of pedestrians.
I'm not suggesting that Hamilton Police cash in on decades of ingrained driving habits, but actively advocate for driver expectations to match the requirements of the law. Dole out reminders and stern warnings and eventually follow with more serious repercussions if necessary.
Take the state of New Hampshire: they do a great job in communities of all sizes at reminding drivers that the law protects pedestrians, as evidenced in this photo:

State Law: Yield to Pedestrians (Image Credit: New Hampshire Union Leader)
I hope in the meantime the good people out there who are also happen to be drivers actively shift their own expectations, reminding themselves that the pedestrian crossing the road is not the punchline of a bad chicken joke. They are as worthy a citizen as the driver is and deserve safe mobility.
I also think Hamilton could use some foolishly confident pedestrians. I'm not encouraging anyone to behave dangerously, of course, but because I truly believe that I deserve to cross the road even at marked crosswalks that don't have stop lights or stop signs, I'll stare down those drivers heading my way and I'll solidly plant a foot onto the asphalt.
This time, however, I'll keep one foot on the sidewalk until it's safe, rather than stroll casually into moving traffic.
Pedestrians need to demonstrate, cautiously, that they expect that drivers know that the law gives pedestrians the right of way; and drivers need to expect that occasionally they'll have to stop to let people cross the street.
Post a Comment
You must be logged in to comment.