Farr Introduces Motion to Build Two-Way Bike Lanes on Cannon
Ward 2 Councillor Jason Farr has introduced a notice of motion to implement a protected two-way bike lane on Cannon Street in time for the 2015 Pan American Games.
By Ryan McGreal
Published August 14, 2013
Ward 2 Councillor Jason Farr has introduced a notice of motion to implement a protected two-way bike lane on Cannon Street in time for the 2015 Pan American Games.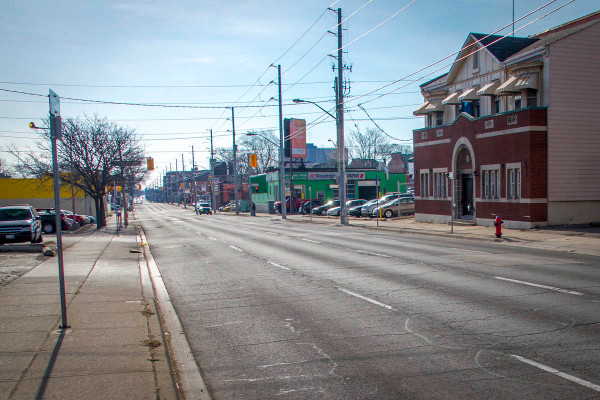 Cannon Street (Image Credit: Mike Goodwin)
Inspired by feedback from community meetings and workshops, the Cannon and Queen Two-Way Study Groups, the Yes We Cannon citizen campaign, the City's Cycling Master Plan, positive examples from other cities and a generally increasing awareness of the many benefits of Complete Streets, Councillor Farr's motion asks staff to design a bi-directional, physically protected bike lane between Sherman Avenue and Bay Street.
The motion also suggests options for physically separating the bike lanes, including bollards, paint, knockdown sticks or, preferably planters to delineate the lanes. Funding for the bike lanes would come from the Area Rating levy and other sources "to be identified by Public Works".
Currently, Cannon Street is configured as a four-lane, one-way street westbound. It is extremely inhospitable to pedestrians and cyclists.
Desperate Need
East-west travel in northeast Hamilton is a major gap in the city's bicycle network, as Justin Jones argued so eloquently in his RTH article introducing the Yes We Cannon campaign.
In the past few weeks, I have spent some harrowing and instructive hours trying to bicycle back and forth between the Central/North End neighbourhoods and Landsdale/Gibson. Despite my efforts, I was not able to find a single continuous east-west route on a secondary street, even including alleyways.
No matter which street I tried, I ended up having to bite the bullet and take either King, Cannon or Barton Street - none of which are in the least bicycle-friendly.
Just to be clear that I'm not exaggerating, here's a map of the east-west streets between James Street North and Gage Avenue North. Cannon and Barton are highlighted in blue, whereas the other east-west streets are highlighted in red (and the James North GO Station and Pan Am Stadium are identified with markers).
Even with a generous trip plan including sidetracks north or south on cross-streets, there is simply no way to get between Gage and James without taking King, Cannon or Barton at some point. And that doesn't even take into account the fact that some of these streets are one-way, to boot. (Sidenote: Burlington Street is also continuous, but aside from being quite a bit north of both the station and the stadium, it turns into a limited-access highway format east of Wentworth.)
Great Opportunities to Build Cycling Network
The case for protected bike lanes is strongly supported by the evidence, not only for increasing ridership but also for reducing injury and even boosting local retail business.
With emerging best practices from other cities, Hamilton is well-positioned to make its own commitment. After all, cities that don't move aggressively on building out their bicycle networks risk "being left behind" cities that do.
Hamilton already missed a great opportunity to repaint King Street with protected bike lanes on the cheap, by putting the bike lanes in a curb lane and making the next lane parallel parking. Since traffic volumes on King are so low (east of Catharine, King carries 14,400 cars a day on two lanes; east of Wentworth, King carries 16,400 cars a day on four lanes), there's absolutely no excuse not to re-allocate excess lane capacity to build badly-needed cycling infrastructure.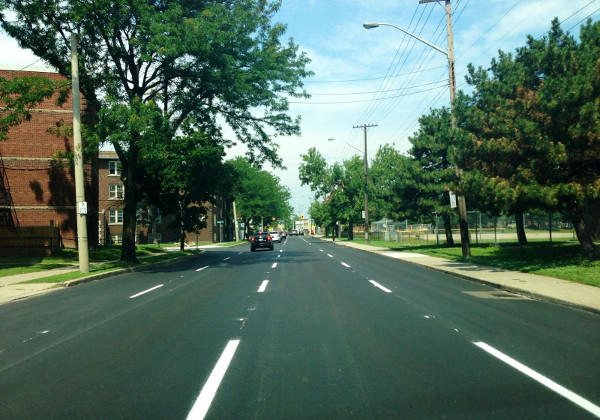 King Street East, repainted to look like it's still the 1960s (Image Credit: Jason Leach)
The traffic situation is even more amenable on Cannon. Just west of Sherman, it carries a measly 9,100 cars a day on four one-way lanes, or just 2,275 cars per lane. Even west of Mary, Cannon only reaches 16,700 cars a day on its four lanes.
Two lanes are plenty of capacity for that amount of traffic: the city should be aiming for around 7-9,000 cars per lane on city streets.
I've already made a case to convert Cannon to two-way and add protected bike lanes, and Jason Leach has written widely and enthusiastically about the kinds of things we can do to realize a successful transformation of Cannon from a community-crippling highway into a street that serves everyone's needs.
Text of Motion
Here is the full text of the notice of motion:
Notice of Motion for Monday August 12th, GIC:

Whereas, Councillors Farr, Morelli and McHattie had earlier established the One Way to Two Way Street Study Group through Council motion, and;

Whereas, community workshops/walkabouts have since occurred on both Cannon Street and Queen Street to evaluate current traffic conditions and consider options and alternatives, and;

Whereas, there is support from the study group along with increasing public support for the implementation of a "complete street" treatment of Cannon Street, which includes, but not limited to a Cannon Contra-flow blueprint from the Jamesville Neighbourhood Action Plan, the NE07 Ward 2 Participatory Budgeting Initiative and the YesWeCannon on-line campaign, and;

Whereas the City of Hamilton's Cycling Master Plan - Shifting Gears, has identified a plan for the implementation of a "Road Diet" configuration for cycling Infrastructure on Cannon Street, and;

Whereas, planning on the implementation of Complete Street approaches has been recently identified through the Social Planning and Research Council's draft Complete Streets Policy, and the joint Chamber of Commerce/HIVE/City of Hamilton Sustainable Mobility workshop featuring Gil Penalosa from 8-80 Cities, and;

Whereas, in cities like New York, Chicago, Vancouver and Toronto, similar pilot projects have served to test the efficacy of complete street approaches.

Whereas, Cannon street may provide for a direct multi-modal link to the Pan-am precinct.

Therefore be it resolved, that:

A) A bi-directional bike lane be installed as a pilot project on the south side of Cannon Street from Sherman Avenue to Bay Street, and;

B) That through the design phase, staff contemplate various methods that include, but is not limited to bollards, paint, knock down sticks, along with a preference toward planters erected to delineate a contra-flow bike lane from the auto traffic lanes.

C) That the implementation of a bi-directional bike lane pilot project on Cannon Street be funded from the following funding source, area rating capital reserves along with appropriate sources to be identified by Public Works.
Post a Comment
You must be logged in to comment.