City Orders Consultant to Pull Down Our Hamilton Website
The City just announced it has ordered Dialogue Partners to take down the 'Our Voice, Our Hamilton' website over offensive content.
By Ryan McGreal
Published January 09, 2013
Things just go from worse and worse for Dialogue Partners, the company the City of Hamilton hired to solicit public input on the city's top service priorities.
Earlier today, Graham Crawford noticed that the Our Voice, Our Hamilton website questionnaire created by the Ottawa-based consultancy includes the line:
Talk to people (Aboriginal, newcomer, low-income) who probably aren't showing up in large numbers at events.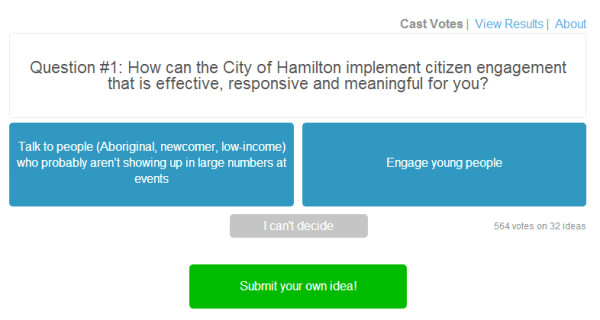 Screenshot of the questionnaire (Image Credit: Dan Jelly)
In two days, this disastrous project launch has managed to go from comical to defensive to downright offensive.
Crawford alerted City Council to this statement, and the City has responded by ordering the consultant to take down the website.
City media spokesperson Mike Kirkopoulos just issued the following brief statement:
The City of Hamilton has instructed our consultants Dialogue Partners to temporarily take down the Our Voice. Our Hamilton. website due to some offensive and inaccurate content.
Also today, the Spectator reported that Ward 4 Councillor Sam Merulla will be asking Council to terminate the contract with Dialogue Partners.
The article quotes Merulla saying, "I think they're at a point of no return. First impressions mean anything. Credibility means everything, and because their credibility is in question, we need to expeditiously cut bait and regroup."
According to a CBC Hamilton report, he's already got some support from other members of council.
Post a Comment
You must be logged in to comment.