Time for CBC Hamilton to Up its Game
It is crucially important that CBC is in Hamilton, even in the limited capacity of its current iteration. Yet the service we are currently receiving is not commensurate with other communities across Canada.
By Sonja Macdonald
Published October 11, 2012
The CBC in Hamilton is approaching a milestone of sorts. It's been almost 6 months since CBC launched its digital service in Hamilton. The service is the first of its kind for the national broadcaster and was designed to fill a longstanding void in the Hamilton region in terms of CBC service.
The original promise of the endeavour was to provide residents of the Hamilton region with their own content from the CBC, commensurate with other regions in the country, as well as to bring regional stories and events to regional and national audiences. Both of these goals are central to CBC's overall mandate.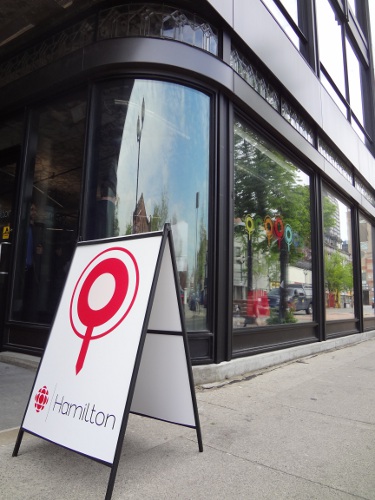 CBC Hamilton office on James Street North (RTH file photo)
While the arrival of CBC Hamilton was greeted with great fanfare, few of us were really sure what the new digital service would entail. Would it be a text based website focusing on Hamilton stories? Would it or could it provide additional audio-visual content in this highly concentrated media environment?
Would the service reach out to the various communities in the region (Ancaster, Dundas, Glanbrook, Flamborough, Waterdown) and report on unique events and issues for each while informing all of us about what is really going on in our city? And would it begin to chip away at the archaic view of our city that is so pervasive at the regional and national levels?
Certainly these are all feasible, but a tall order for one enterprise.
Promising Start
So almost a half year on, how is CBC Hamilton doing? Let's start with some of the positive elements of the service.
The national broadcaster demonstrated, early on, its commitment to the city with the establishment of its offices on James Street North in downtown Hamilton. It has begun the difficult process of working, alongside the rest of us, to reshape the city's image, for example the prominent coverage of Supercrawl 2012 on CBC Radio One Toronto and elsewhere.
Additionally, by its mere presence in the city, the national broadcaster appears to have had a positive influence on our commercial media, whether in broadcast or print. It's difficult to make a causal link here, but there are signs that other media outlets have upped their local commitments since the CBC's been in town.
This is a good thing - the greater number of outlets covering local stories, ideally highlighting different perspectives, only enlivens public debate.
Areas of Concern
While these are two very important contributions, there are also some areas where the CBC has not been so successful, so far. In format, content, and a level of service comparable to other Canadian communities, the national broadcaster has a unique opportunity to be innovative, but we haven't seen this yet.
First, let's look at the format of CBC Hamilton. It's important to understand the reason behind Hamilton's digital service. The digital option is due to the lack of available radio frequencies in the region for a local radio service.
A digital option is an alternative that offers a place on CBC's website for Hamilton specific content. When announced, many wondered what exactly this would entail. As it has turned out, this means primarily short text articles with only a very limited number of audio and video clips and a whole lot of tweets.
Is this all that a digital service can do? Likely not, as in the age of the web, broadcasting is no longer limited to just over the air frequencies. Locally, Smooth Jazz, formally 94.7 FM broadcasts online. In fact, many CBC Toronto listeners access their local radio station though the Internet or smartphone via CBC apps. The infrastructure is already in place for audio online content for CBC Hamilton, so why not take advantage of it?
Can we not have something akin to other cities where you can tune in to a web-cast in the morning or afternoon and listen to news, discussion, and entertainment based in, and about Hamilton? The community stations at McMaster and Mohawk are able to do this on a shoestring.
Surely CBC Hamilton - with five paid reporters and a national support network - can do this as well. We are not talking about streaming 24/7, just a few programs that allow for more in depth community dialogue and information.
This brings the discussion to content. While there is an interesting diversity of stories on the CBC Hamilton website, there is an alarming lack of depth on some very important issues.
While twitter posts of events on James Street North make for nice, light reading, there are some serious issues (both positive and negative) in our community that cannot, nor should not be summed up in 140 characters, let alone 140 words.
A very current example of this is the debate around a casino in downtown Hamilton. If you were to tune in to CBC Radio One in Toronto, you will hear an hourly update on the debate occurring in that city around the potential of a casino in their city, yet the same cannot be said for the coverage of the same issue here in Hamilton.
Potential for Improvement
The fact is we are not getting the same level of CBC journalism other communities enjoy.
Overall, it is still crucially important that CBC is in Hamilton, even in the limited capacity of its current iteration. Yet the service we are currently receiving is not commensurate with other communities across Canada.
The digital service provides the national broadcasting with multiple interesting and innovative options for expanding service for the region, beyond what is currently on offer. Additionally, as a model for future digital service in other parts of Canada, it is important that the Hamilton model is not squandered.
The potential is still there. What is needed, though, is greater focus and commitment on the part of CBC Hamilton to raise their game. We can only hope that the next six months see things improved.
Post a Comment
You must be logged in to comment.