Searching for Answers to Hamilton's Love of One-Way Streets
Despite the success of the James/John two-way test case, why were we more progressive a decade ago than today?
By Keanin Loomis
Published May 16, 2012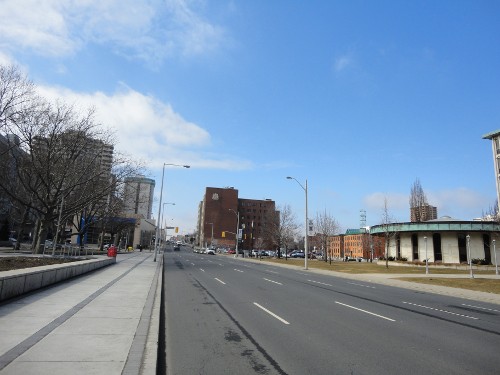 Main Street: five-lane expressway through the core (RTH file photo)
When I find myself growing frustrated at the slow pace of change in this city (I'm admittedly restless), I start to think about the people who have been banging their heads against the wall well before I got here.
I calm down when I'm assured that the rate of progress has actually picked up in the last few years ("You should have seen this city 10 years ago!," I am constantly told), but I've come to admire the endurance, determination and hopeless optimism it takes to invest in this city.
Adrian Duyzer's account of the On the Cusp event last week at HWDSB (R.I.P.), however, reminded me that not too long ago, the City of Hamilton embarked upon a progressive initiative that today can only be considered an unmitigated success: the conversions of James and John from one-way to two-way streets.
The quote Adrian attributed to Terry Cooke piqued me the most:
In 2000/2001 we did an incremental pilot project of converting John and James to two-ways. It's been totally successful. Why we haven't seen our way through to getting rid of the five-lane expressways in our city defies comprehension.
And now I find my blood pressure rising again.
One of the most distinguishing features of this town is its one-way streets. Out-of-towners always comment on it - and usually with a sneer, because, as we all know, the thoroughfares do not present Hamilton at its best.
It's immediately obvious to any visitor that a long time ago, our civic leaders sacrificed quality of place to accommodate the automobile and facilitate its quick passage from one end of the city to the other.
The fact that our streets are still one-way shows that we cling to out-of-date ideologies. It shows, quite frankly, that we don't have the highest regard for our city.
There is certainly no sense in blaming our leaders of past eras - there was a contagion running through every municipal government in North America. Our parents' and grandparents' generations made a lot of bad decisions as they tinkered with society-building in the post-War era. Architecture from that era is ugly. Suburbs and highways killed cities and neighborhoods. Hell, rivers spontaneously combusted!
But I am interested in how, in the subsequent decades, Hamilton's city leaders came to experiment in reestablishing two-way traffic on James and John. Not being a Hamiltonian at that time, I don't have any knowledge of the genesis of the initiative and how it got approved and implemented.
What fault-lines in the community were revealed? I'm sure there must have been some controversy surrounding it and a lot of prognostications of how the sky would fall if we were to actually embrace change, but presumably a group of decision-makers actually provided some vision to change the status quo and then some leadership to make it happen.
It seems so out-of-character in comparison to today.
In the last few years I've come to call Hamilton home, I can't recall having heard one peep from City Hall about two-way traffic on Main, King and Cannon - despite the success of James Street.
Have any studies been undertaken pertaining to converting Main-King-Cannon back to two-way? Many people obviously supported the James-John conversion: where did they go and why did the experiment not go further?
If Terry Cooke is struggling for the answers to those questions, I presume that no one has actually been forced to defend the status quo.
Some context on this issue would help me going forward, as I try to make sense of why certain thoroughfares continue to blight our city without any discussion of whether we should at least talk about making those streets work better for the neighborhoods they bisect.
---
Editor's note: This article is meant to spur a discussion, not only in the comments but also in published responses. We encourage Hamiltonians to submit well-written, thoughtful and evidence-based essays that move the discussion forward. Please send submissions to editor@raisethehammer.org.
Post a Comment
You must be logged in to comment.