Power Centres and the Powerless Centre
By Ryan McGreal
Published December 04, 2006
One thing the Hamilton Spectator's November 20, 2006 traffic report demonstrated is that Hamiltonians are trapped in a self-reinforcing cycle of auto-dependency that is moving the city's centre of gravity away from its more energy-efficient, sustainable core.
Ted Mitchell analyzed the data and found that traffic on the city's key mountain highways - 403/Linc, QEW/20, and QEW/403 - is growing faster than the city's population. Mitchell concluded:
We are growing in numbers and buying cars at about the same rate of about 1 percent annually. But on the roads, the use of vehicles is increasing about 3 to 4 times the rate of population growth.
All the talk about GRIDS and its vaunted nodes-and-corridors aside, we are still building an aggressively zoned, automobile-based, highway-connected land use and transportation system.
Power Centres
This extends to the recent approval of so-called "power centres", big box commercial plazas of warehouse-sized stores surrounding a vast central parking area, at key locations around the city's edge.
The development planned for Clappison's Corners at Hwy. 5 and 6 may be the most contentious. Hwy 6, which cuts through the escarpment from the 403 north through Flamborough and on to Hwy 401 and Guelph, is already treacherously clogged and has little room to expand.
The intersection itself is a multi-lane nightmare, built at a scale totally inhospitable to pedestrian or cycle traffic, and doomed to degrade further with the addition of the new retail conglomerate.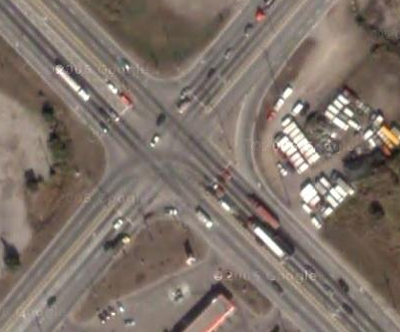 Clappisons Corners (Image Credit: Google Maps)
How will 5 and 6 cope with all the new growth in traffic this development will attract? Enter the latest in an ever-receding highway nirvana, the Mid-Peninsula Transportation Corridor.
Mid-Penitentiary
The Mid-Pen, mainly a NAFTA trucking route, would start somewhere in Niagara at the Canada-US border, cut a wide arc around Hamilton (bypassing the sensitive Niagara growing regions), and join the tangle of 400-series highways somewhere between Hamilton and Burlington.
Formally proposed by the Harris provincial government, it stalled under the less dogmatic McGuinty government, whose heart just wasn't in a bitter fight with environmentalists and NIMBYs.
Former Hamilton Mayor Larry Di Ianni, desperate to see his dream of a colossal city of zones and expressways (Le Corbusier's Tower in a Park on a regional scale) come to fruition, led a delegation to Queen's Park earlier this year begging the Province to change its mind.

Proposed route of the mid-peninsula highway (Image Credit: COPE/NOMPH)
Imagine what the Mid-Pen would do once built: establish a new outer rim of the city, far from existing development, with interchange after interchange just waiting to be built into new subdivisions, strip plazas, and warehouse outlets.
Property speculators and developers would be delighted to snap up farmland and churn out pressboard-and-vinyl mchouses at exorbitant gains, unloading many of their costs onto city taxpayers.
A Fait Accompli
I recently had to drive to Mud St. and was shocked by its vast scale, surrounded by the backyards of huddled, squirming suburban houses and the half-empty parking lots of utilitarian plazas.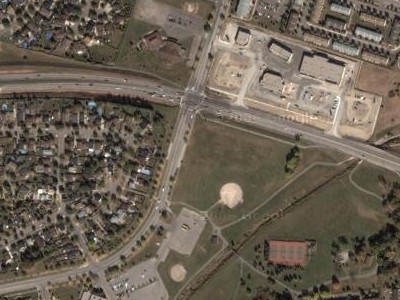 Mud St. at Paramount Dr. (Image Credit: Google Maps)
With the Red Hill Expressway a fait accompli, it's probably too late for the region around Mud St. short of a major retrofit (more on this in a future article). That damage is already done.
These new forms are a distillation of the suburban essence. They're pure sprawl, purged of any lingering, nostalgic notions of urban traditions.
The Logic of Sprawl
The logic of sprawl - low density, single-use buildings in single-use zones, commuting to destinations (rather than having destinations nearby) - is applied more fully during each iteration, largely in response to the problems of the previous iteration.
The suburb built 20 years ago is mired in traffic, so the new exurb needs even wider streets with bigger dividers and more lanes, turn lanes, and treatments that serve cars at the expense of pedestrians (try crossing a six- or eight-lane arterial road).
The commercial buildings are even bigger (reflecting the logistical trend away from stores and toward retail warehouses), so they need bigger parking lots, which further separates them from each other and from anything else.
Since the shopping centres are so ugly and hostile, they need to be separated further from residential zones via walls, embankments, berms, collectors, and so on.
Sprawl's Legacy Turns Inward
This is the legacy of a half-century of experiment with this built form: a city flying apart, consuming itself to spread farther and faster across the landscape in an inhuman wasteland of highways, vast parking lots, writhing housing crescents, and vile concrete boxes.
Into the gaping void left in the city's heart, the same purveyors of dreck seek to work their one-trick charms afresh, "renewing" industrial failures into more box stores and in the process wiping out the last few real neighbourhoods that managed to survive the upheaval until now.
Centre Mall is already reinventing itself as a big box block, hoping to attract suburban shoppers down the mountain, and Smart Centres just announced another retail warehouse metastasis at Centennial Parkway and the QEW.
Is there any hope for Ottawa Street, let alone embattled, historic Barton? Does anyone at City Hall care enough to yank back on the reins before we ride the misery-go-round yet again?
Post a Comment
You must be logged in to comment.