Beckett Drive Reopening Delayed to Mid- to Late-October
By RTH Staff
Published July 31, 2013
According to a news release from the City, the reconstruction of the Beckett Drive escarpment access will remain closed until mid- to late-October.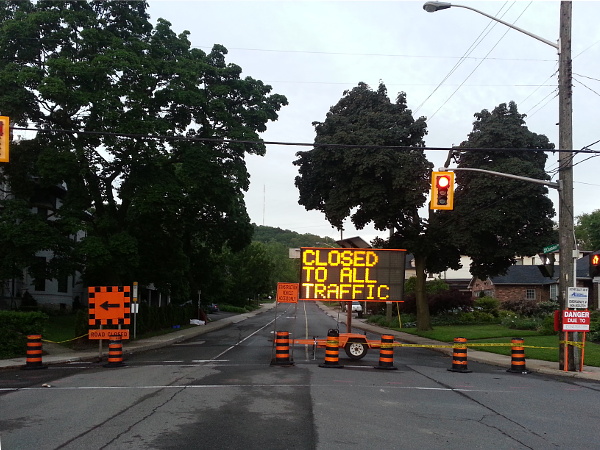 Queen Street south of Aberdeen is closed for the summer
The access was closed between Aberdeen Avenue and Fennell Avenue on June 3 to rebuild the access, construct new retaining walls, improve drainage and widen the sidewalk south of the top of the Dundurn stairs.
It was supposed to re-open on Labour Day weekend, but complications in the reconstruction work mean the work won't be finished in time. The release quotes Gary Moore, director of engineering services in the Public Works Department:
The delays are no fault of the contractor. The construction schedule was aggressive and this is a very complex project made more difficult because of the unique characteristics of the escarpment cut, slope stabilization issues and the presence of Butternut trees, which are an endangered species and required extended collaboration with the Ministry of Natural Resources.
Contractor hours have been extended to get the job completed as quickly as possible, and the City plans to work with Mohawk College, Hillfield Strathallan College, McMaster University and St Joseph's Hospital to mitigate traffic impacts once school starts again.
Beckett Drive normally carries 21,000 automobiles a day on just one lane in each direction. During the closure, traffic volumes have been high on the nearby James Mountain Road access, but the other accesses, including the Jolley Cut and Claremont Access, remain free-flowing even during rush hour.
See also:
Post a Comment
You must be logged in to comment.