Rush-Hour 'Gridlock' on King Between Sanford and Wentworth
By Bob Berberick
Published July 08, 2013
The last time I submitted a photo of Wilson and Wentworth, there was a major collision and traffic was down to one lane. The photo illustrated that there was no gridlock, not even a delay. There wasn't any traffic at all.
The photo was taken at 11:00 AM and a reader jokingly criticized me of being a hippie with no job. I'm retired but the point was taken.
Today at 4:10 PM (rush hour as I remember), I cycled King Street East from the Delta to Wellington. There is resurfacing on King at the Delta and traffic was down to one lane. Were there delays? Yes, for maybe a minute.
Once past the major construction, there were other minor work crews along the way, dropping the available lanes down to two.
There was not one instance of delay. The only time traffic came to a stop was for a traffic light or when a transport truck had all of the lanes blocked.
Between Sanford and Wentworth, I took the following two photos of what was behind and ahead of me, during rush hour! (Sorry, I don't usually yell.)
Looking East: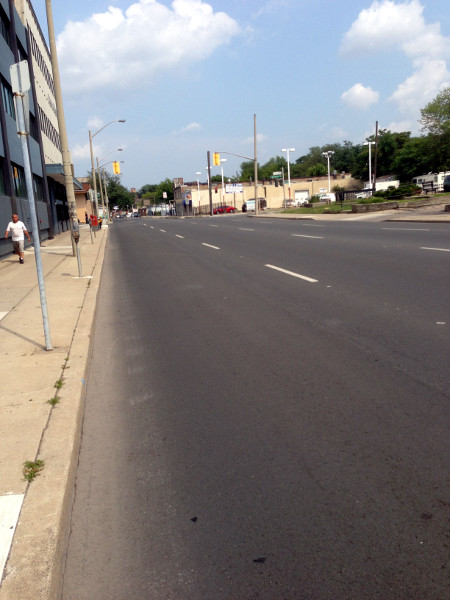 King Street between Sanford and Wentworth, looking east
Looking West: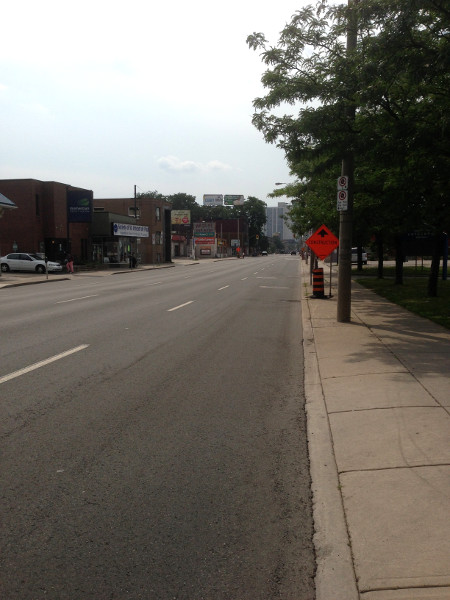 King Street between Sanford and Wentworth, looking west
This continues to amaze me on two fronts:
That people continue to say that two-way streets will cause delay and gridlock.

That sections of this road have been recently resurfaced and more is being done as I write this but no bike lanes or pedestrian improvements are being added.
It is clear to me that this area would be perfect for improvements for pedestrians and cyclists and would have little or no affect on drivers. Everybody wins!
Sadly, I assume that this is not going to happen, based on the sections of King that have been recently resurfaced with no consideration given to anything other than the car.
Post a Comment
You must be logged in to comment.