More Details on New Downtown Supermarket
By Ryan McGreal
Published August 18, 2012
The new Nations Fresh Food supermarket coming to Jackson Square will be a full-service grocery store. The company opening the store, Oceans Fresh Food Group, is still working with Yale Properties, the company that manages Jackson Square, to finalize the design before the store opens next spring.
In an email response to RTH, Yale Properties licencing manager Jocelyn Mainville explained that the store will provide a full suite of grocery staples as well as a wide variety of ethnic foods. "I can buy anything that I need for my family (me, hubby and 2 boys) in addition to having access to a wide range of products (including meat and produce) that I have never seen before."
The store will in the west end of Jackson Square, in the area that was recently used as a temporary home for the Farmers' Market while its permanent location on York Blvd was being renovated.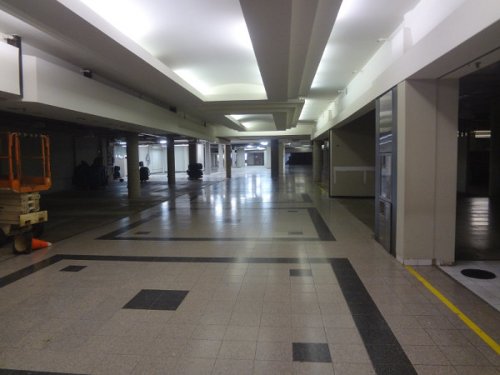 The new Nations Fresh Food supermarket will open in the west end of Jackson Square in the former temporary site of the Farmers' Market
It sounds like the new store will open directly onto Bay Street. Mainville writes, "Nations is still designing the store, we will see more (renderings) in the coming weeks."
In addition, shoppers will be able to park in the underground parking garage beneath Jackson Swuare. According to Mainville, "There will be a parking promotion with a minimum purchase. We are also installing two new (large) passenger elevators allowing patrons to take their grocery carts right down into the underground parking."
No Supermarket Grant
Earlier this summer, Glen Norton, the City of Hamilton's Urban Renewal manager, presented a staff recommendation to Councillors to offer a one-time forgivable loan of up to $650,000 to encourage a new supermarket downtown. Council took a dim view of the proposal.
RTH contacted Norton to ask about the announcement of the new Nations Fresh Food store. Norton confirmed that the store is opening without any special grants or other incentives from the City. Back in June, Norton told Council that there were a number of discussions ongoing about a potential grocery store, and that a business might go ahead and commit to get ahead of possible competition for a grant.
Asked whether the $650,000, which is already allocated for downtown investment in the 2012 budget, could be used instead to make the Gore Park pedestrian plaza permanent, Norton wrote, " we will have to take new proposals for the money to Council. Gore could certainly be one of those."
Post a Comment
You must be logged in to comment.