Bike Lanes Coming to Dundurn North
By Ryan McGreal
Published April 20, 2012
this blog entry has been updated
I was excited when the City installed bike lanes on Dundurn Street South, but disappointed to find out the city had no plan to extend those bike lanes north past Main and connect with the bike lanes on York Boulevard.
Today, I'm excited again: next week, the City's Public Works Department is installing bike lanes on Dundurn North between King Street and York Boulevard.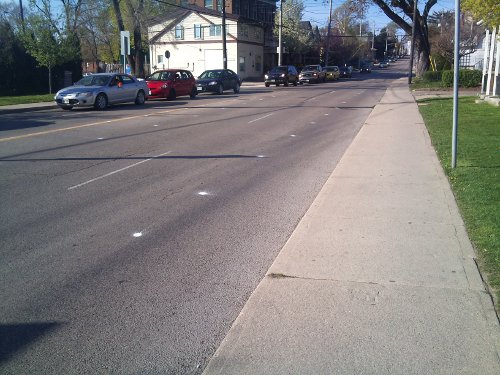 Paint spots on Dundurn Street North mark the location of the upcoming bike lanes (Image Credit: Joey Coleman)
Dundurn North is currently two northbound lanes and one southbound lane with anorexic sidewalks and fast through traffic. Public Works will remove one of the northbound lanes and use the reclaimed space to install curbside bike lanes in both directions.
If you're paying attention, you may have noticed a gap between Main Street and King Street. A news release issued today quotes Ward 1 Councillor Brian McHattie saying, "The next step is to work with Fortinos/Loblaws to connect the Dundurn bike lanes. My goal is to see the Ward One cycling system in place by 2014."
Another disconnection runs on York Boulevard between Dundurn and Queen Street, where bike lanes were installed as part of the streetscape master plan.
In an email response to RTH, McHattie clarified that the city has recognized the need to connect this section of York with bike lanes.
We have identified the need to complete that bike lane along York via the Strathcona Transportation Plan (to be completed this fall). The study acts as an environmental assessment, which we need in this case as we'll be seeking to remove two car lanes on York from Dundurn to Queen, turning those into bike lanes.
McHattie is among the strongest council supporters of a continuous cycling infrastructure, and he has been active in seeking to close the continuity gaps in Ward 1.
Update: added photo of markings on Dundurn Street North.
Post a Comment
You must be logged in to comment.