Tell Them to Truck Off
Taking the trucks off Dundurn North is a small inconvenience for truckers and a potentially life-saving victory for families who live with their faces pressed up against a minor arterial road.
By Jen Dawson
Published May 20, 2010
Let's tell them to truck off.
I'm talking about the trucks on Dundurn Street North, that narrow, noisy stretch of road that runs from Dundurn Castle to the King St. Esso and is by turns a congested bottleneck and an Indy-500 speedway.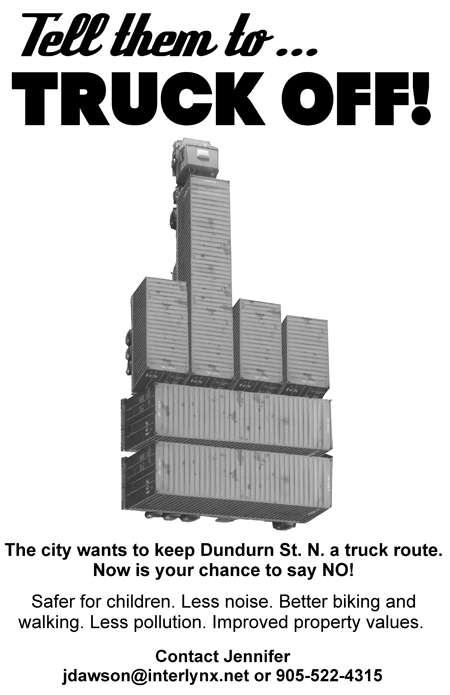 'Tell them to Truck Off!' Download this poster as a PDF
The city estimates that Dundurn North carries 11,652 vehicles every 24 hours, of which 477 are "commercial vehicles."
Dundurn North is a two-way, three-lane road that rips through the heart of a dense residential neighbourhood. There are no stoplights or stop signs to slow traffic or permit safe crossing. It is a dangerous river of asphalt that our most vulnerable citizens must ford to reach important community destinations like Strathcona Elementary School, Victoria Park and downtown Hamilton.
But quite frankly, crossing Dundurn North is enough to scare an able-bodied, devil-may-care pedestrian like me at times. I've had a few close calls.
All but six of the buildings on Dundurn North are detached and semi-detached homes. Almost a third of these homes touch or cross over the city property line. Residents open their front doors and they're pretty much on the sidewalk.
Anorexic Sidewalk
And what a sidewalk it isn't. Measuring a mere four feet, ten inches wide, a third of which is lost to slope whenever there's a curb cut for a driveway or intersection, the sidewalks of Dundurn North are skinny to the point of anorexia.
Pedsafe, an office of the U.S. Department of Transportation, recommends that sidewalks on arterial roads are six to eight feet wide, with an additional four- to six-foot buffer between the sidewalk and the road.
That's a recommended ten- to 14-foot wide space between me and a big rig, versus the reality of less than five feet on Dundurn North You do the math.
This is no place for a truck route.
That's why area residents and the Strathcona Community Council - the neighbourhood association representing the interests of citizens living east of the 403, west of Queen Street, south of the harbour and north of Main Street - want Dundurn North removed from the city's truck route.
The time is now.
Chamber Lobbied for Dundurn Truck Route
The recommended truck route network comes to Public Works Committee on May 31. While the November 2009 recommended truck network did not have Dundurn North on it, the current version does.
The Hamilton Chamber of Commerce caused the city's about-face, having lobbied to keep Dundurn North as a truck route.
The Chamber's argument is ostensibly about safety. Chamber reps believe that trucks coming off the 403 from Toronto onto Main St. near the Fortino's Plaza cannot safely negotiate the lane changes necessary to access Dundurn Street south of Main.
These trucks, the Chamber maintains, must be allowed to access the stretch of Dundurn St. south of Main by way of York Blvd and Dundurn North.
A few volunteers have been standing on street corners, counting trucks. Our preliminary survey of truck movements at King and Dundurn shows that the Chamber may be making a mountain out of a molehill. Eight out of every ten trucks coming from Dundurn turn right at King or left at Main and don't travel on Dundurn south of Main at all.
These trucks can travel up Queen, with its three lanes of one-way traffic and very little street-level residential development, and turn right onto King.
Traffic Engineering is Stalling
Traffic Engineering and Operations staff don't like the conflict, and they're looking for an excuse to stall decision-making. They recommend keeping Dundurn North a truck route until "the rapid transit project is defined," at which time "it may be possible to revisit this recommendation."
Last time I checked, Hamilton already had a rapid(ish) transit service. Just as there is a B-Line stop at King and Dundurn now, there will be an LRT stop at this location once Hamilton's east-west line is built.
Many passengers will have no choice but to walk along Dundurn St. to access this stop - a walk which, in its current state, is a social marketer's worst nightmare.
It is the anti-brand for a livable community.
Walk More and Fear Less
This is not the time to wait and see. This is the time to force the conditions that will encourage people to walk more and fear less.
In a way, it's not fair. Truck drivers, for the most part, are highly trained and considerate users of the road. They are a victim of circumstance. Their rigs are often big, and Dundurn North is a narrow urban street with only one lane in the direction that 70 percent of the trucks want to travel.
Some commercial vehicles, like courier and postal trucks, are defined as "trucks" but aren't much bigger than some of the monster pick-ups and SUVs that fly down the street.
That doesn't stop me from wanting trucks off Dundurn North. It's a small inconvenience for truckers and a potentially life-saving victory for families who live with their faces pressed up against a minor arterial road.
We'll work on getting a stop light next.
Join the Campaign
Join the Truck Off! campaign. Write a quick-and-dirty letter addressed to "Chair and Members of the Public Works Committee," and email it to Carolyn Biggs, city clerk, at carolyn.biggs@hamilton.ca by Monday May 24.
Let council know how trucks on Dundurn North affect you and your family and why you want them to Truck Off!
Post a Comment
You must be logged in to comment.